11 Reasons You Need Umbrella Insurance Right Now
An umbrella insurance policy can protect your assets and future earnings from expensive lawsuits.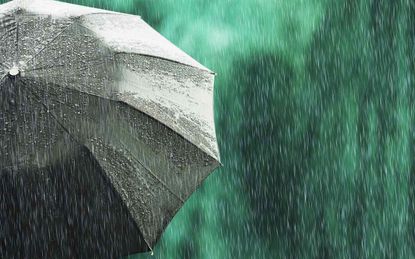 (Image credit: Getty Images)
An umbrella insurance policy can protect your assets and future earnings from expensive lawsuits. This type of policy increases the liability limits beyond the coverage offered by your auto and homeowners insurance policies. "Catastrophic financial loss could occur in seconds," says Ana Robic, chief operating officer of Chubb Personal Risk Services. The cost of a lawsuit, medical expenses and legal fees can devastate your savings, but you can buy an umbrella policy that can provide millions of dollars of coverage for hundreds of dollars in premiums.
You can usually add $1 million of extra coverage for about $150 to $350 per year, and each additional $1 million of coverage costs $75 to $150. (You generally need to have at least $300,000 in liability coverage from your home insurance, and $250,000 per person and $500,000 per accident of bodily injury coverage from your car insurance first.) Use our umbrella insurance calculator to help estimate how much coverage to get. Check with your insurer and agent about what your home or auto insurance policy will cover and gaps you need to fill. An umbrella policy may be particularly valuable if you have the following risks.
1/11
You Have a Teenage Driver
The risk of having an accident rises significantly when a driver is young, which is why auto insurance premiums are so high when you add a teen to your policy. An umbrella policy can pay out above the liability limits on your auto insurance policy if your teenager has an accident and injures somebody else or damages their car. It's also a good idea for drivers of all ages to add underinsured/uninsured motorist coverage up to the liability limits of their umbrella policy. This protects you from damages and injuries caused by a driver who doesn't have insurance or has too little liability coverage to cover your bills. It usually costs $100 to $200 per year to add uninsured/underinsured motorist coverage to your umbrella policy.
2/11
You Don't Choose Your Words Wisely
Social media gives you—and your children—multiple outlets to express yourself. But if your remarks cause others harm, they can sue you for personal injury. Nationwide Insurance offers these examples: You vent frustration about your kitchen remodel in an online review, and the contractor sues you for loss of business. Or your teenager forwards an inappropriate picture of a classmate to his friends, and the classmate's parents sue everyone who saw it. You might also be at risk if you write a letter to the editor, picket a business, or speak out at a town council or school meeting.
Most homeowners insurance policies provide coverage for personal injury up to the limits of your liability coverage. If yours doesn't, you can probably add it by buying a bundle of extra coverages that typically costs $50 to $100 a year, says Spencer Houldin, president of Ericson Insurance Advisors, in Washington Depot, Conn. Beyond that, you'll need umbrella coverage. A personal-injury claim, however, will be excluded from any coverage if you intentionally say something to harm someone else, by lying, for example.
3/11
You Party Hearty
Entertaining brings with it all sorts of risks, such as a guest who falls on your property or is injured diving into your pool. And then there's the "social host liability." That's the legal term (also known as "Dram Shop Liability") for the criminal and civil responsibility of someone who provides liquor to his or her guests.
According to the Insurance Information Institute, 43 states have a version of this law. Generally speaking, if your guests—including your underage kids and friends who have imbibed—leave the party and injure others while driving under the influence, they and you could be sued for negligence. Check with your insurance agent to find out what your liability is in your state, what coverage your homeowners policy provides to social hosts, and what additional protection you might need through umbrella coverage.
4/11
You Have a Swimming Pool
Any homeowner could be sued if someone is injured while visiting their home, but the risk gets much higher if you have a swimming pool—where someone can have a life-changing head or neck injury or drown. "There can be a tragic scenario with lifelong care issues," says Chubb's Robic. Your homeowners insurance, under its medical payments coverage, can pay some of the medical expenses, but the liability coverage—and umbrella policy—can help with some of the more expensive long-term-care needs.
5/11
You Own a Trampoline
Recreational use of a trampoline is so dangerous that the American Academy of Pediatrics has long urged parents not to let their kids use one. Three-quarters of injuries occur when multiple people are jumping, especially an adult with a child.
Case in point: In 2012, a woman in New York state joined her nephew in jumping on his home trampoline. When the child jumped out of sync with her, she was thrown off balance, her foot struck the mat, and she fractured multiple bones in her foot, resulting in multiple surgeries, ongoing pain, an altered gait and the likelihood of future arthritis and more surgery. In 2016, a jury awarded her $220,000 for past pain and suffering and $580,000 for future pain and suffering.
Umbrella insurance typically covers the same things as the liability portion of your underlying homeowners insurance coverage. If you're thinking about getting a trampoline, or already have one, check your homeowners coverage. A trampoline, like a swimming pool, is considered an "attractive nuisance," meaning it may tempt others to use it without the owner's permission. Insurers may forbid them entirely and cancel your homeowners policy if they find out you have one. They may also exclude coverage for claims arising from it, charge a "nuisance surcharge," or require netting or a locked fence to limit access to it, according to Lawrence and Associates, a law firm in Cincinnati, Ohio. Once you've got the underlying coverage squared away, you can look into umbrella insurance.
6/11
You're on a Nonprofit Board
If you serve on a nonprofit board, you could be at risk if someone sues the group and its directors. "The biggest exposure is for things like bad decisions, harassment claims, libel or slander," says Bill Wilson, founder of the InsuranceCommentary.com blog. Most nonprofit boards have directors and officers insurance that protects these people from lawsuits, but ask about the coverage and the limits. Unfortunately, many boards have low limits, says Robic, of Chubb. "Say they have $1 million in liability limits and there are 14 members on the board," she says. "If there's a claim that names the 14 board members and the board itself, it could reach those limits and leave you exposed." Your umbrella policy may be able to protect you beyond those limits; you may need to buy an endorsement to add that coverage to your policy.
7/11
You Coach a Youth Sports Team
Before you sign up to coach a youth sports team, ask what coverage the league or sponsor has to protect you from lawsuits if, for example, someone's car is dented by a fly ball or a child is injured in a game or practice. Many leagues have liability insurance, but it's a good idea to ask your insurance agent whether you should get extra coverage as an individual, says Wilson, of the InsuranceCommentary blog. "I'd recommend having an umbrella policy, and I'd increase my homeowners insurance medical payments coverage to the maximum in case you injure someone," he says. "Make sure there is no exclusion for athletic activities."
8/11
You Have a Long Commute
The more miles you drive and the denser the traffic, the greater your risk of having an accident. In 2018, 40,000 people died in car crashes and 4.5 million were seriously injured, according to the National Safety Council. When car accidents result in injury or death, drivers, their passengers, families or estates can sue for recovery of past and future medical expenses, lost wages or earning capacity, as well as pain and suffering. A spouse or family member of the injured party can sue for loss of consortium (the benefits of a spousal or family relationship).
That was the case in 2013, when a 63-year-old Maryland man was stopped at a stop sign and a pickup truck swerved and hit his vehicle, ejecting the man from his car, according to VerdictSearch.com. The man died. The offending driver admitted that he had fallen asleep at the wheel. The widow successfully sued and was awarded $2.5 million.
You can be sued even if you didn't receive a ticket or weren't found at fault. "Large losses can and do happen, and claims arise even if one does nothing wrong—and that is where umbrella policies can help you sleep better knowing that your assets are protected," says John G. Farnan, an attorney specializing in insurance litigation in Cleveland, Ohio.
9/11
Your Good Dog Has a Bad Day
Bites and other dog-related injuries added up to almost $700 million—more than one-third of all homeowners liability claim dollars paid out—in 2017, according to the Insurance Information Institute and State Farm.
In one case in 2012, a New Jersey woman was watching her friends' dog, a mix of German shepherd and chow chow, in their home, according to VerdictSearch.com. When the woman rose from a chair, the dog jumped, bit the woman's face, knocked her backward and stood on her until she beat it off. She required surgeries for a facial laceration and back injuries, as well as physical therapy and management of chronic pain. The woman sued the dog owners. A jury awarded her $100,000 for the facial injury and $750,000 for her back injury and her husband $100,000 for loss of consortium.
Again, because an umbrella policy typically covers the same things as your underlying homeowners insurance, review your policy to see if it covers animal liability. Some policies include a "canine liability exclusion" for bodily injury or property damage due to direct physical contact with your dog. Some policies exclude coverage of certain animals, breeds of dog or working dogs, such as service, therapy or guard dogs. Others limit coverage to $25,000, even if your policy has a higher overall liability limit. Once you've got the underlying coverage you need, get the umbrella.
10/11
You Have a Second Home
The more houses you own, the greater your exposure to liability. Plus, unlike your primary home, a second or vacation home more likely will be unoccupied and unsupervised for long periods. Your risk goes up if your homes have a so-called "nuisance" risk, such as a swimming pool or hot tub that may lure uninvited guests in your absence.
Renting out your primary or secondary home over the short term or long term is another source of risk. Your standard homeowners policy may not cover losses incurred while your home is rented. And you may need specialized homeowners coverage (an endorsement to your current homeowners policy, a business policy—either a hotel or a bed-and-breakfast policy—or a landlord or rental dwelling policy), says the Insurance Information Institute. An umbrella policy can provide additional protection. And take steps to make sure your property is secure against uninvited guests.
11/11
You Hire Domestic Help
If you employ domestic workers—such as a nanny, housekeeper or cleaning person, gardener, or caregiver for an elder—in your home, you may need more than an umbrella to protect you from liability. Multiple layers of protection include liability coverage under your homeowners policy, an umbrella policy, an endorsement to either of those, and workers' compensation coverage.
Allegations by domestic workers of wrongful acts, such as discrimination, wrongful termination or sexual harassment by their employers are on the rise, says Chubb's Robic. An endorsement for Employment Practices Liability (EPL) coverage will protect you against those types of claims.
Your state may require you to purchase workers' compensation insurance to cover medical expenses and lost wages for an employee who suffers an injury while on the job; check with your state's department of labor or see Chubb's guide. In states where workers' comp is required, it's part of the liability portion of a homeowners policy or it's available by endorsement. In states that don't require it, you may need to shop widely for a specific provider because not all personal-lines insurers offer it. Workers' comp isn't covered under umbrella policies, says Robic.
If you hire domestic help, not to mention contractors, caterers and decorators, to work in your home through a third-party agency or vendor, ask to see its certificate of insurance. If the vendor's employee is injured on site, its commercial liability policy will cover the associated costs.
CALCULATOR: How Much Umbrella Insurance Do I Need?

Contributing Editor, Kiplinger's Personal Finance
As the "Ask Kim" columnist for Kiplinger's Personal Finance, Lankford receives hundreds of personal finance questions from readers every month. She is the author of Rescue Your Financial Life (McGraw-Hill, 2003), The Insurance Maze: How You Can Save Money on Insurance -- and Still Get the Coverage You Need (Kaplan, 2006), Kiplinger's Ask Kim for Money Smart Solutions (Kaplan, 2007) and The Kiplinger/BBB Personal Finance Guide for Military Families. She is frequently featured as a financial expert on television and radio, including NBC's Today Show, CNN, CNBC and National Public Radio.