9 Ways to Get Extra Cash From Your House
If you're a homeowner looking to rake in some extra money, whether to fund a much-needed renovation or to afford a much-needed dream vacation, don't dismiss using your house as a means to generate additional income.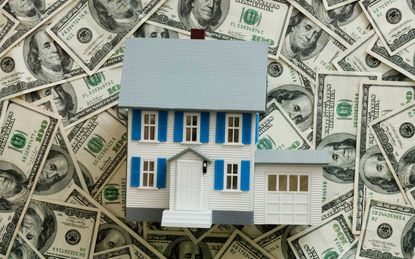 (Image credit: Getty Images)
If you're a homeowner looking to rake in some extra money, whether to fund a much-needed renovation or to afford a much-needed dream vacation, don't dismiss using your house as a means to generate additional income. We're not talking about the typical work-from-home business opportunities that were commonplace years ago, either. No hours spent stuffing envelopes on your couch here.
Our round-up of money-generating opportunities for homeowners range from the off the beaten path (renting out your home for a film shoot) to the tried and true (tapping into your home's equity). Check out all of them and decide for yourself which ideas are right for you.
1/9
Rent Out Your Home While Away
Why pay for a house sitter when someone will pay to stay in your home while you're away on vacation. Renting out your home through sites such as Airbnb.com, FlipKey.com and HomeAway.com is a relatively easy and reliable way to earn some additional income. For each site, you'll need to register to create a free listing that travelers in search of a place to stay in your area can view. You set the rental amount, dates of availability, as well as establish a refund policy in the event a renter decides to cancel the reservation. Airbnb and FlipKey charge a 3% service fee based on the rental amount for confirmed bookings. HomeAway charges 5%.
Keep in mind that some municipalities have restrictions on short-term rentals. Check with your local government before you list your property for rent. Note as well that condo, co-op and homeowner associations may have their own rules on short-term rentals. On the plus side: The rental income you collect is tax-free as long as you don't rent out your house for more than 14 days per year.
2/9
Rent Out Your Driveway
Major cities including Washington, D.C., San Francisco and New York City are notorious for lacking ample street parking. Tourists looking to explore local hot spots, renters who don't have designated parking of their own and daily commuters are often left battling for metered parking spots during peak drive times or having to rely on overpriced and overcrowded parking garages. This is where your driveway or privately-owned parking space can turn into an income source.
When you're not using it, you can rent out the space to those in need of hassle-free parking options through sites such as JustPark.com and CurbFlip.com. Both allow you to create free listings to rent out your parking spot at an hourly, daily or monthly rate. You'll need to register to create a listing and link your bank or PayPal account in order to receive payment from renters. It's important to note that those with parking that's close to public transportation or major attractions (stadiums, performance venues, trendy neighborhoods and such) will likely experience the highest demand.
JustPark charges a 3% fee on all short-term bookings. For long-term bookings (more than two consecutive months), the charge is 20% for the first month and 3% thereafter. CurbFlip charges 16% of your listed parking rental price for completed transactions, while PayPal (required to use CurbFlip) deducts an additional 3% from your rental payment.
3/9
Turn Your House Into a Film Set
Ever wonder how those iconic homes from some of your favorite television shows and films made it on screen? You know the ones we're talking about: The quaint North Hollywood rambler that housed the "Brady Bunch" or the infamous red brick Chicago McMansion from the "Home Alone" franchise.
If you think your place has the stuff that screen magic is made of, you may be able to cash in by connecting with location scouts for television and film productions. How do you get started? "Collect a few good pictures of your property and send them with your contact information to location scouts and film commissions in your area," says Jim Baldwin, owner of Baldwin Production Services, a San Francisco-based location scouting company that specializes in commercial media. Baldwin suggest searching online and contacting your state's film office.
In California and New York, for example, the state film commissions maintain an online directory of vetted location scouting websites homeowners can contact. In Georgia and Maryland, the state film commissions encourage interested homeowners to submit images of their properties and contact information directly to them. Then, the film commission forwards this information to film production crews slated to shoot in the area.
How much money you can make? "Fees can range from hundreds to tens of thousands of dollars per day, depending on what and where the location is, how long [the home is] used and what the shoot entails," Baldwin says. However, make sure you're really prepared to open up your personal space to this type of experience before committing to it in writing, advises Patti Brashears, owner of Featured in Films, a location scouting company based in the New York area that has worked with TV shows including NBC's "30 Rock" and HBO's "Boardwalk Empire." The experience can be overwhelming for some owners, even though the home will be restored to its original state once the production ends.
4/9
Become a Pet Sitter
Love animals? Apply to be a pet sitter through an online-based service such as Rover.com, which claims to have more than 60,000 sitters who provide in-home boarding for dogs only, its most popular service. Professional certification isn't required, though you will need to undergo a background check. The site provides training resources, and sitters set their own schedules and prices (of which the site charges a 20% fee per booking). Rover sitters are considered independent contractors.
You can also try to pick up in-home pet sitting gigs by contacting local pet boarding providers. Each company will operate differently, so be sure to ask lots of questions upfront: Do you need to have a pet sitting certification? Do you need to be insured and bonded? How are reservations and payments handled? Rates will vary based on where you live. Care.com, a site that connects caregivers (for both pets and people) to clients, has a handy calculator that spits out suggested hourly rates for pet sitting based on your zip code.
5/9
Convert Your Backyard Into a Dog Park
If actual pet sitting in your home isn't your cup of tea, consider creating a dog park on your property instead and charging space-challenged pet owners to use it. Look no further than Sniffspot.com, "the Airbnb for dog off-leash areas," for help monetizing you lawn.
Sniffspot's stringent procedures and safeguards include verification of pet vaccinations and flea prevention, screenings for aggressive dogs (they'll be banned) and insurance against damage to your property. Pet owners are responsible for cleaning up after their dogs.
All types of properties are welcome to be listed on the site. The default starting price is $4 an hour per dog, but property owners can set their own rates. Sniffspot collects the funds and keeps 12%, plus a 10% marketing surcharge for hosts joining the site since July 2018.
6/9
Sell Unwanted Stuff From Around the House
You've got a closet full of clothes that you no longer wear, and there's that rice cooker that's been sitting in your kitchen pantry unused for years. Don't forget about all that baby gear that your kids no longer need that's collecting dust in the basement.
Instead of throwing out unwanted items the next time you declutter, consider selling them online at sites such as Tradesy.com and Poshmark.com for clothing and accessories items, or Gazelle.com for mobile devices and computers. There's also the LetGo mobile app for household goods. The items you're looking to resell must be in good condition.
Here's how it works: For Tradesy, Poshmark and LetGo, you'll need to create an account before posting a free listing to attract buyers. (Gazelle doesn't require listings because you're selling your unwanted electronics directly to the site rather than to an individual buyer.) On Tradesy and Poshmark, the transaction process is done completely online with the seller shipping the sold items to the buyer. LetGo urges sellers and buyers meet in person in a public place to complete the transaction and to pay with cash.
Tradesy deducts a flat fee of $7.50 on all sales under $50 and takes 14.9% of the purchase price on items sold over $50. Poshmark charges a flat fee of $2.95 for sales under $15 and takes 20% of the purchase price for those over $15. LetGo doesn't charge users a fee; rather, it makes money off ads on the app.
7/9
Take Out a Reverse Mortgage
Reverse mortgages allow older homeowners who are house-rich but cash-poor to borrow against the equity that's built up in their primary residence. To qualify you must be at least 62 years old, live in the home and have already paid off most or all of your mortgage.
The only reverse mortgage insured by the federal government is a Home Equity Conversion Mortgage, or HECM. After meeting with a HECM counselor, you apply for a reverse mortgage through an FHA-approved lender. The amount you get depends on your age, current interest rates and the appraised value of the property. You can receive your money in several ways including as a lump sum, as fixed monthly payments or as a line of credit. There are limits on how much the reverse mortgage can pay out in the first year.
Be aware that a reverse mortgage isn't free money; it's a loan that must be repaid when the homeowner dies, sells the home or moves out. Meantime, property taxes and insurance premiums must be kept current. If you can't afford to pay out of pocket to cover the costs associated with the reverse mortgage – such as origination fees and mortgage insurance premiums – they can be covered by the loan proceeds. However, financing the various closing costs will reduce the total amount of money you receive.
8/9
Tap Into Your Home's Equity
If you've been steadily paying off your mortgage for years while the value of your home has been on the rise, then you probably have a fair amount of equity built up. Under the right circumstances, it can be smart to borrow against this built-up value when you need cash.
There are two common ways to tap into your home equity: a home equity loan or a home equity line of credit. A home equity loan offers a lump sum that you usually pay back monthly at a fixed interest rate. A HELOC is a line of credit that your access only when you need the cash. Interest rates on HELOCs tend to be variable, meaning they might go up or go down over time. A third option is a cash-out refi, in which you receive cash back when you refinance your primary mortgage. A cash-out refi tends to have higher closing costs, plus you might lengthen the time it'll take to pay off your mortgage depending on the new loan term you choose.
Think hard about how you'll spend the money. As long as you use it to buy, build or substantially improve your home, Uncle Sam allows you to deduct the interest you pay on up to $100,000 of home equity loans or HELOCs. But use the money to pay for, say, a new car or a Caribbean vacation, and the interest is no longer deductible.
9/9
Get a Roommate
Unlike short-term rentals, renting out a spare room in your house on a long-term basis can create a predictable monthly income stream that can be used to pay off your mortgage faster. Putting an extra $250 a month toward a $150,000, 30-year mortgage at 5% would erase the debt 12 years early. Even an extra $100 a month retires the mortgage six and a half years early.
You'll need to pay taxes on the rent you collect, but you may be able to write off some of the rental expenses such as insurance premiums and utilities. Tax software or your tax adviser can help you sort out the deductible amounts of certain expenses based on the portion of your home that's rented out. Also, the IRS has an interactive tool that can help you determine if your rental income is taxable and your rental expenses are deductible.
Seek out roommates through word of mouth or place an ad on a site such as Craigslist.org. Looking at Craigslist and other classified listings for your area will also help you figure out how much to charge in rent. Bonus: If you live alone, a roommate can provide companionship as well as rent check.

Browne Taylor joined Kiplinger in 2011 and was a channel editor for Kiplinger.com covering living and family finance topics. She previously worked at the Washington Post as a Web producer in the Style section and prior to that covered the Jobs, Cars and Real Estate sections. She earned a BA in journalism from Howard University in Washington, D.C. She is Director of Member Services, at the National Association of Home Builders.