14 Little-Known Credit Card Perks
Rewards points and cash back aren't the only benefits of paying with plastic.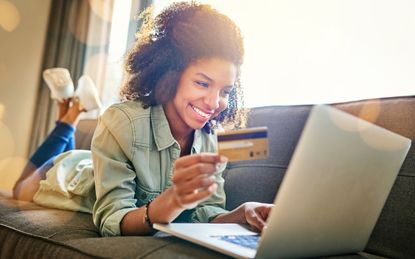 (Image credit: Getty Images)
Rewards points and cash back aren't the only benefits of paying with plastic. Card issuers offer extras that range from extended warranties on items you purchase with a card to free museum admission to travel insurance. Even if you're familiar with your cards' benefits, now is a good time to review them because several issuers are altering their perks. Here are 14 little-known benefits your credit card may offer.
1/14
Free TSA PreCheck or Global Entry
At one time, only premium travel credit cards with annual fees in the hundreds of dollars refunded the application fee for TSA PreCheck ($85 for five years) or Global Entry ($100 for five years) when you charged the fee to the card. But now the PenFed Pathfinder Rewards card, which charges no annual fee, also refunds the fee for one of the two services that let you zip through airport security.
Other cards with relatively reasonable annual fees offer the perk, too, including the Capital One Venture card ($95 annual fee, waived the first year). Our favorite premium travel card, the Chase Sapphire Reserve ($450 annual fee), also reimburses the charge. Typically, credit cards that refund the PreCheck or Global Entry fee will do so every four or five years.
2/14
Coverage for Damaged or Stolen Products
Through a benefit known as purchase protection, several card issuers will repair, replace or reimburse you for items you charge to your card if they are damaged or stolen within a certain time—typically 90 or 120 days—after purchase. American Express has extended its window from 90 to 120 days for cardholders in most states to make a claim, with maximum coverage of $1,000 to $10,000 per item, depending on the card. (Indiana and New York residents continue to have 90 days.) The Chase Freedom and Chase Sapphire Preferred cards also have a 120-day claim period and will replace, repair or reimburse up to $500 per item.
3/14
Price Matching
If you use a credit card to buy an item that later goes on sale, your card might refund the difference. For example, Citi cardholders who register purchases they make with their cards will receive the difference in price if Citi finds the same item for less within 60 days of purchase. Typically, however, you must watch for sales yourself. Discover, for example, will refund the difference up to $500 if you find a lower price within 90 days.
But some card issuers are cutting back on this benefit—usually called price protection—as they contend with third-party apps that streamline the claims process for customers. Chase is dropping price protection from its cards, for example, and Citi is lowering the refund limit per item from $500 to $200 and cutting the yearly cap on total reimbursement from $2,500 to $1,000.
4/14
Return Protection
If a retailer won't accept a return, some cards will reimburse you for the cost of an item purchased with your card. Typically, you can get a refund within 90 days of a purchase. American Express and Citi cards (except the Citi Costco Anywhere Visa card) reimburse up to $300 per item (although select Citi cards offer a higher refund). Certain items, such as jewelry, perishables and tickets, are often not covered.
Return protection is another feature on which some card issuers are scaling back. Chase is dropping return protection from all of its cards except the Chase Sapphire Reserve, which offers up to $500 per item, and Discover has removed the feature from all of its cards. (Discover also cut purchase protection, extended warranties and other benefits.) Citi's return protection no longer covers firearms, ammunition, tires, jewelry, furniture and appliances.
5/14
Special Access to Tickets and Events
You may be able to get presale or preferred tickets and access to professional sporting events, concerts, shows and other happenings thanks to your credit card's benefits. Holders of Citi credit and debit cards, for example, get such perks through Citi Private Pass. Private Pass also includes offers for events such as private wine tastings and discounts at food festivals and select restaurants.
Holders of eligible Visa Signature cards can use concierge services to get assistance making restaurant reservations, booking trips, and buying sports and entertainment tickets. And if you have one of Chase's Sapphire credit cards, you can attend private dining events at restaurants around the country and get special access and packages for such events as the Sundance Film Festival and the PGA Championship.
6/14
Cell-Phone Replacement
Replacing a damaged or stolen cell phone could cost you hundreds of dollars. Some credit card issuers will cover the cost of a new phone, as long as you use the card to pay your cell phone bills. Lost phones usually aren't covered.
With any Wells Fargo consumer credit card, as well as the Barclays Uber Visa, you're eligible for up to $600 per claim, or a maximum of $1,200 per year (with a limit of two claims annually with Uber Visa), minus a $25 deductible. The Chase Ink Business Preferred card provides coverage of $600 per claim for you and any employees listed on your cell phone bill, with a $100 deductible (the total yearly coverage limit is $1,800 and three claims).
7/14
Identity Theft Services
As data breaches become more numerous, some card issuers have added identity theft assistance to their benefits. If you have a Citi credit card and become an ID theft victim—even if the theft isn't related to your Citi card—Citi will help you review and monitor your credit report with TransUnion, advise you on completing forms such as police reports, and assist you in contacting any other creditors. Similarly, Mastercard helps cardholders obtain free credit reports and replace stolen credit and debit cards.
Mastercard holders can also sign up to have the company look out for indications that their personal information is for sale to crooks on the internet. If you have a Discover card, you can sign up for free monitoring of the dark web for your Social Security number and get alerts if a new account appears on your Experian credit report. Capital One's CreditWise tool — which you can use even if you're not a Capital One customer — monitors your Experian and TransUnion credit reports and alerts you if your Social Security number appears on a new credit application or if your SSN or e-mail address pops up on the dark web.
8/14
Free Admissions and Memberships
Bank of America and Merrill Lynch cardholders can get free admission to more than 200 museums, science centers, botanical gardens and other venues in more than 120 cities on the first weekend of each month. Participating institutions include New York's Metropolitan Museum of Art, Chicago's Shedd Aquarium, the Newseum in Washington, D.C., and the Portland (Oregon) Children's Museum.
American Express cardholders, as well as those with Mastercard World and World Elite cards, get a free membership to ShopRunner (the standard annual fee is $79). The service offers free two-day shipping and free returns with more than 100 retailers.
9/14
Rental-Car Insurance
Most major credit cards offer secondary rental-car insurance, picking up costs that aren't covered by your personal auto insurance policy if your rental is wrecked or stolen. Declining the collision damage waiver offered at the rental-car counter could save you $9 to $30 a day. (But note that your credit card or personal auto policy may not fully cover charges for "diminished value" or "loss of use.")
Because coverage varies, even among cards within the same network, you should call your credit card issuer before you rent the car. In general, you must use the credit card to book the rental, and you must decline the collision damage waiver when you rent the car.
A few cards, including Chase Sapphire Preferred and Chase Sapphire Reserve, offer primary insurance, which allows you to use the card's benefit without first tapping your personal auto insurance policy. Filing a claim with your insurer can cause your premiums to increase, so relying on primary credit card coverage instead could save you big bucks.
10/14
Baggage Fees
Airline-branded credit cards may offer a free checked bag for flights purchased with the card. For example, if you use a Gold, Platinum or Reserve Delta SkyMiles credit card to purchase tickets, the baggage fee is waived on the first checked bag for you and up to eight traveling companions.
Some other cards refund airline incidental fees, which may include charges for checked baggage as well as in-flight food and drinks and other services. The PenFed Pathfinder Rewards card, for instance, has no annual fee and refunds up to $100 in incidental fees a year.
11/14
Travel Insurance
If you encounter a snafu while traveling, your card may refund you for expenses related to the incident if you booked the trip with the card. Travel accident insurance offers financial assistance to you or your beneficiaries — similar to a life insurance policy — if you or someone in your party dies or is dismembered on a trip. Trip cancellation, interruption or delay coverage may provide a refund of airfare or hotel expenses if you miss a trip because of illness or severe weather or reimbursement of lodging and meal expenses if your flight is delayed. Or your card may come with insurance for lost, damaged or delayed luggage.
Chase Sapphire Preferred and Chase Sapphire Reserve have some of the best benefits. Both offer up to $10,000 per trip in cancellation and interruption insurance; up to $500 in expenses related to a delayed trip; up to $3,000 per passenger in lost luggage reimbursement; and up to $100 reimbursed a day for five days for essentials in delayed baggage (such as toiletries and clothes). Plus, Reserve provides up to $1 million in travel accident insurance ($500,000 with Preferred), up to $100,000 in evacuation coverage for injury or illness, and up to $2,500 for emergency medical or dental expenses.
12/14
Free Currency Conversion
When traveling overseas, buying local currency from exchange bureaus can be particularly costly because of high fees and unfavorable exchange rates. Get a better deal by paying for goods and services on your trip with your credit card instead of cash. You'll get a better exchange rate, and you can avoid fees entirely by using a card that doesn't ding you with foreign-transaction fees. Capital One, Discover, HSBC and Pentagon Federal Credit Union charge no foreign-transaction fees on their credit cards. Other issuers waive the fee on some of their travel rewards cards.
13/14
Extended Warranties
Before you pay a merchant to extend the warranty of a product you buy, check to see whether your credit card offers additional coverage free. Most major card issuers offer this benefit and extend the warranty by one year. Notably, Citi credit cards extend the warranty by two years. American Express extends the warranty by two years on items with manufacturer warranties of two to five years. Amex will match the length of the warranty if it's less than two years. (An exception: Indiana residents continue to get just one year of extended coverage for original warranties of one to five years, or a match of warranties of less than one year.)
14/14
Free Credit Scores
American Express, Bank of America, Barclays, Citibank, Pentagon Federal Credit Union and Wells Fargo, among others, provide cardholders free FICO credit scores. Discover lets you check your Experian FICO score free, whether you have one of its cards or not.
USAA offers free Experian VantageScore credit score updates to its members. Capital One CreditWise and Chase Credit Journey provide a free VantageScore and credit report monitoring to both customers and noncustomers. (Both tools monitor your TransUnion report; CreditWise tracks your Experian report, too.)
Contributing Editor, Kiplinger's Personal Finance
Lisa has spent more than15 years with Kiplinger's Personal Finance and heads up the magazine's annual rankings of the best banks, best rewards credit cards, and financial-services firms with the best customer service. She reports on a variety of other topics, too, from retirement to health care to money concerns for millennials. She has shared her expertise as a guest on the Today Show, CNN, Fox, NPR, Cheddar and many other media outlets around the nation. Lisa graduated from Ball State University and received the school's "Graduate of the Last Decade" award in 2014. A military spouse, she has moved around the U.S. and currently lives in the Philadelphia area with her husband and two sons.