The Worry-Free Way to Rent a Car
On the perennial question of whether to take the extra insurance coverage, our advice may surprise you.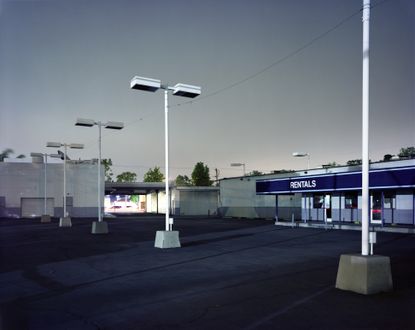 (Image credit: ©Tom Paiva Photography/Blend Images LLC)
When you're standing at the rental car counter, eager to start your vacation, the last thing you want to hear is a sales pitch. But chances are the agent will hit you with a list of add-ons and fees with obscure names that can quickly double the daily rate you thought you were getting. We asked experts what's worth paying for and what's just padding the pockets of the rental car company.
Collision coverage. If you have an auto insurance policy for your own vehicle, it usually covers damage to the rental car and other property, plus liability up to your policy's limits. On top of that, all the major credit card networks offer rental car insurance on some or all of their cards, provided you pay for the rental with the card you used to reserve the car and decline supplemental coverage from the rental firm. Assuming you follow the card company's rules for triggering coverage—including the length of the rental and the type of car you get—it can fill in gaps once you file a claim with your insurer. So you don't need the rental company's collision damage waiver (CDW)—also known as a loss damage waiver (LDW)—which for an extra $9 to $30 a day covers physical damage to the rental car. Right?
Not so fast. Even if you're covered under your own policy for liability and accidents, you may be on the hook for two charges that your insurance or credit card typically won't cover in full—or at all. One is "diminished value," which is the difference in resale value for a car before and after an accident. Bill Wilson, an insurance educator and founder of industry blog InsuranceCommentary.com, says most charges he has seen run between $1,000 and $2,500, but he has seen the penalty go as high as $7,000. The other is "loss of use," which refers to the daily income the rental company loses while a car is being repaired.
Subscribe to Kiplinger's Personal Finance
Be a smarter, better informed investor.
Save up to 74%
Sign up for Kiplinger's Free E-Newsletters
Profit and prosper with the best of expert advice on investing, taxes, retirement, personal finance and more - straight to your e-mail.
Profit and prosper with the best of expert advice - straight to your e-mail.
To protect yourself, it is worth coughing up the money for the CDW, says Wilson. Spencer Houldin, president of Ericson Insurance Advisors, in Washington Depot, Conn., agrees. "There are no headaches," he says. "You drop off the car, say 'Have a nice day,' and you're set." As an added bonus, if an accident doesn't trigger your liability coverage, you can avoid notifying your insurer.
What about supplemental liability insurance? If liability coverage on your auto policy extends to vehicles you don't own, you probably don't need to buy it, says Wilson. And the rental car company may automatically provide a small amount of liability coverage. (For more details, see Who Pays When You Crash a Rental Car?)
Prepaid fuel. Prepaying for a tank of gas is convenient, and what the rental company charges for a gallon of gas is usually competitive with, or even cheaper than, the going rate at nearby gas stations. But to come out ahead, you have to return the car with the gas tank nearly empty. If you refuel yourself, watch out for "gotchas," such as Dollar's and Thrifty's rule that you must fill up within 10 miles of your drop-off site and show the receipt to avoid a fee.
Airport fee. You can't avoid local taxes and certain surcharges levied by the state or local government, which often have such vague names as "arena cost recovery" and "domestic security fee." But if you rent at off-airport locations, you may be able to avoid some airport-related fees that rental agencies pass on to customers. "Concession recovery fees" and similar airport fees can add 10% or more to your rate and may extend to rental-car branches within a certain radius of the airport (typically 10 to 20 miles), says Sharon Faulkner, executive director of the American Car Rental Association. Some rental com­panies, such as Avis, Hertz and Enterprise, offer free pickups at certain off-airport locations, such as a hotel. If yours doesn't, calculate the cost of a cab or public transit to see if the extra schlep is worth it.
Watch out for other fees. You'll pay about $12 a day in most states to add another driver. Sometimes spouses, domestic partners and coworkers are exempt from this fee; spouses are always exempt in certain states, including California. Driving on toll roads? A toll transponder will cost you a few bucks per day. Alternatively, you can bring your pass from home as long as it works in your destination (E-ZPass works in most states east of the Mississippi, and SunPass works throughout Florida). Just tell your toll pass provider beforehand that you're transferring the transponder to a rental.
You may be charged a late fee if you return the car past the usual 29-minute grace period. For example, Hertz penalizes latecomers who don't call to extend the rental an additional $12 per day, up to a maximum of $60. And you could be slapped with a fee for returning the car early. For example, Fox Rent A Car increases the rate by $20 per day when you bring the car back before the scheduled return date (but the total won't exceed the estimated amount at the time you booked).
One charge you probably won't have to deal with is a cancellation fee. Unlike airlines and hotels, car rental companies typically don't charge customers for backing out of a reservation, even at the last minute. There can be exceptions if you booked a specialty car or in peak periods by phone, or you prepaid for your reservation or hopped on a promotion. In general, though, you can book a car as far in advance as you like and still have plenty of time to change your plans—or shop for a better rate.
Get an even better deal
Most of the major rental agencies in the U.S. are grouped under three major corporate umbrellas: Avis Budget Group, Enterprise Holdings and Hertz Global Holdings. But all of the agencies compete hard for your business, meaning it pays to shop around at all of the major (and smaller, discount) brands.
Compare prices. Use a search site such as Kayak or CarRentals.com. Once you've whittled down a few options, head to the rental company's website to check for coupons or specials, such as Avis's recent free third rental day over a weekend, or Hertz's deals for those age 50 and over. Sarah Schlichter, senior editor at SmarterTravel.com, also suggests searching the name of the rental agency online with the phrase "discount code" or "coupon code" to unearth savings.
Consider prepaying. Rental car companies advertise savings of 5% to 35% if you prepay for your vehicle. The catch is that you may incur a cancellation fee of $50 to $150 if you back out (the cost rises if you cancel within 24 hours). On many rental car websites, the two rates are displayed side-by-side.
If your plans are locked in, you can usually save with Hotwire's "Hot Rate" rentals or Priceline's "Express Deals" (available for rental cars on the mobile website and app only), which offer low prices in exchange for a blind booking (you don't find out the rental agency until after you've paid). However, you'll forfeit the whole price if you cancel.
Sign up for loyalty programs. If you rent on a regular basis, join a rental company's loyalty program to earn points you can redeem for future rides and upgrades. You might get better treatment and a more seamless experience, with a dedicated queue and your contract printed out and ready to go. Avis's Preferred and Hertz's Gold Plus Rewards programs even let you bypass the counter and go straight to your vehicle.

Associate Editor, Kiplinger's Personal Finance
Miriam lived in Toronto, Canada, before joining Kiplinger's Personal Finance in November 2012. Prior to that, she freelanced as a fact-checker for several Canadian publications, including Reader's Digest Canada, Style at Home and Air Canada's enRoute. She received a BA from the University of Toronto with a major in English literature and completed a certificate in Magazine and Web Publishing at Ryerson University.