Office Technology of the Future
Throughout its 90-year history, The Kiplinger Letter has forecast scores of technical innovations that revolutionized the way we live and work.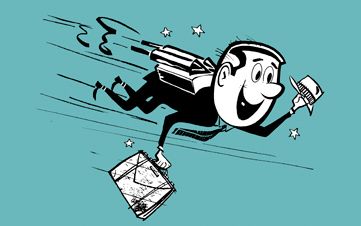 (Image credit: Thinkstock)
Throughout its 90-year history, The Kiplinger Letter has forecast scores of technical innovations that revolutionized the way we live and work. In 1959, for example, we wrote about the coming of revolutionary new office machines: copiers and printers. In 1963, we referenced "pocket gadgets" that would allow you to call anyone from anywhere. In 1979, we wrote that future offices would no longer need to store documents in musty file cabinets — they would turn to electronic data storage instead. And in 1987 we forecast that clunky desktop computers would give way to "notebooks."
What's next? Check it out.
1/9
Sensors That Track Your Every Move
Employee badges with embedded sensors will keep tabs on workers throughout their workday, providing insights on employee behavior that can inspire changes to office design, meetings and more. Excess fidgeting by workers at their desks may suggest it's time for new office chairs, for example. And lackluster meeting participation may mean meetings need to be shortened or made livelier.
Sensor-collected data by aggregators such as Sociometric Solutions will help managers change workplace practices to boost productivity. Data gleaned from the badges is supposed to be used to illustrate broad workplace trends and not to track individual workers' behavior. Privacy advocates are skeptical.
2/9
Smart Work Clothes
Work clothes of the future will be much more comfortable than whatever you're wearing today. Fabric that will tighten itself to provide more warmth and expand when it senses that you need to cool off will prevent many a future fight over office thermostat settings — saving businesses money on heating and cooling bills. Next-generation apparel will also charge your mobile device and become yet another platform for computing via embedded transistors that will, among other things, devise and display a name tag.
3/9
Roaming Robots
Zipping around the office or shop floor with video monitors perched on their heads, robots will provide managers and security personnel with round-the-clock video of what's going on where and who's doing what.
The mechanical workers will be capable of stopping and chatting with human counterparts — even joining them for conversation at a lunch table. The interactions will help to boost information sharing and productivity, lessening the need for managers to physically make the rounds. One robot in the works, the Double from Double Robotics, uses Segway-like wheels and can be controlled by an iPad. It weighs 15 pounds and costs $2,000. Another mobile bot, the Ava 500, from iRobot and Cisco, will debut next year. It'll be powered by autonomous driving software that steers it to a charging station after each use.
4/9
A Computer That Reads You
Picture Tom Cruise manipulating a computer with his hands in the sci-fi hit Minority Report. Future meeting rooms will feature several computer screens working in tandem. Spatial computing technology will let you fling PowerPoint presentations to screens mounted on different walls with gestures or motion-enabled remote controls. You'll be able to drag and drop files on different screens and manipulate visual models by waving your hand, nodding your head or even using your eyes. Sales teams will love this new way to "wow" clients during sales pitches.
5/9
Wireless Charging
Such charging will be a big help as employees increasingly rely on mobile devices. Desks and office furniture will come equipped with built-in chargers. Companies such as LG, Texas Instruments and HTC are releasing devices with built-in wireless charging capability. By 2014, Intel's notebooks and chips will support wireless charging. You'll never need to find a plug or ask for a cord again.
6/9
Office Drones
Small drones will be able to autonomously navigate the corridors and stairwells of office buildings and factories to track down workers, deliver small packages and provide "eyes and ears" for surveillance. Some will also be equipped with small screens, enabling real-time video chats with workers. Equipped with onboard cameras and computer-powered vision to avoid obstacles and map out pathways, drones will be able to swiftly travel up and down floors of buildings more easily than grounded robots.
One drone being tested indoors: the two-pound Parrot AR quadricopter (pictured here), which measures two feet by two feet. Others will be small as a bird or even an insect. Researchers are still in the early stages of building drone technology for indoor use, but their uses will spread quickly.
7/9
Artificial Intelligence at Your Desktop
Say goodbye to e-mail overload. Smart software being developed at Carnegie Mellon University will bring high-level automation to your workspace, letting you spend more time on other things.
Someone writes you with a question? The software can draft your response by scraping the Web or other databases for relevant information. Having a computer take over some of the most mundane e-mail and computer tasks could be a huge time-saver: Research shows that workers spend about half of their time on the job e-mailing and searching the Internet.
Other artificial intelligence software in the works will automatically gauge a cost-benefit analysis of an incoming phone call during a meeting. If it passes muster, it goes through. Otherwise, it goes right to voice mail.
8/9
So Long, Office Computer
By 2016, nearly 40% of U.S. businesses will have weaned workers off corporate-issued devices, such as iPads, BlackBerrys and even desktop computers, in favor of letting workers use devices of their choice. The move is helping companies to save lots of dough by trimming hardware and software purchases and IT staff (because people with their own devices are fairly adept at keeping them functional without outside help). Most companies will subsidize the cost of a phone plan, allocating a fixed amount, such as $50 per month. Workers will be asked to cover the rest of the cost.
Security is a concern, of course, with so many diverse devices in the workplace. But software solutions will help. Software from companies such as AirPatrol, for example, can automatically sense and turn off smart phone cameras in sensitive corporate areas, preventing secrets from spilling out.
9/9
Senior Associate Editor, The Kiplinger Letter
John Miley is a Senior Associate Editor at The Kiplinger Letter. He mainly covers technology, telecom and education, but will jump on other important business topics as needed. In his role, he provides timely forecasts about emerging technologies, business trends and government regulations. He also edits stories for the weekly publication and has written and edited e-mail newsletters.
He joined Kiplinger in August 2010 as a reporter for Kiplinger's Personal Finance magazine, where he wrote stories, fact-checked articles and researched investing data. After two years at the magazine, he moved to the Letter, where he has been for the last decade. He holds a BA from Bates College and a master's degree in magazine journalism from Northwestern University, where he specialized in business reporting. An avid runner and a former decathlete, he has written about fitness and competed in triathlons.