Take These Steps to Make Your Finances Impenetrable to Threats
Your home's windows keep out all sorts of threats. A good financial plan — one that's resistant to cracks — does the same thing.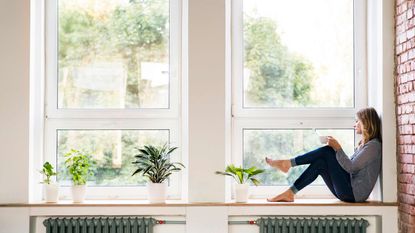 (Image credit: Getty Images)
As I was looking out my window this weekend, I noticed a miniature battle between a small spider and a fly. The spider was doing its best to attack the fly, however the fly was on the outside of the glass, and the spider was on the inside. It was amusing to watch the fly move around the outside the window, while the spider tried valiantly to pounce. Driven by instinct, not logic, this dance went on for several minutes, and obviously, the spider failed to capture its prey.
Somewhat like life for all of us, there are "spiders" of all sorts looking to attack us. In terms of financial success, these threats come from several directions. There are threats to our livelihood — which may come in the form of bad personal decisions or crises at our jobs or businesses. Threats to our assets — which are realized from bad decisions, bad markets or possibly from lawsuits. Threats to our health — from environmental factors or personal decisions. The list is seemingly endless.
It occurred to me that personal success is very attributable to how impenetrable your "window glass" is to outside threats. The degree to which you build this barrier with care and thoughtfulness is an important factor to achieving your financial and personal goals. If you decide to go home every night and sit on the couch eating pizza and chips, your health may suffer. If you spend every dollar you make and don't set aside something for retirement, your retirement income will suffer. If you make spur-of-the-moment investment decisions without regard to a sound plan, your investments may suffer. If you don't secure your family's financial future with adequate life insurance, your family may suffer.
Subscribe to Kiplinger's Personal Finance
Be a smarter, better informed investor.
Save up to 74%
Sign up for Kiplinger's Free E-Newsletters
Profit and prosper with the best of Kiplinger's expert advice on investing, taxes, retirement, personal finance and more - straight to your e-mail.
Profit and prosper with the best of Kiplinger's expert advice - straight to your e-mail.
I've been a financial planner for 22 years, and I've witnessed remarkable things happen when clients take the time to plan and follow their plan with diligence. Many of our clients have created good habits throughout their lives, and it shows when we start working with them. A few never put much thought into it but have succeeded in spite of themselves thanks to regular contributions to their retirement plan and the markets working for them over their lifetimes.
I believe that one of the most important steps a person can take with reference to their financial success is employing a competent, objective and independent financial adviser to provide them with not only a sound financial plan, but also serve as a sounding board, and to help them make the best decision when faced with a "crack in the glass."
My experience tells me that you should take the following steps to help your financial life to be impenetrable:
Know yourself and how you make decisions about money. In addition to the help of a qualified adviser, there are tools you can use to evaluate your financial decision-making. We all have life experiences and predetermined ways of thinking that can influence our decisions — whether they are situational (the market tanking, the economy contracting, experiencing a job loss, etc.) or just the result of thinking that is not based in logic. Some great resources on this subject are the books Thinking Fast and Slow by Daniel Kahneman and The Millionaire Next Door by Thomas Stanley and William Danko.
Build adequate liquidity and emergency funds prior to investing in risk-concentrated assets (like stocks, real estate, etc.). The amount of money set aside for emergencies varies based on your career, income and day-to-day budgetary needs, among other factors. Someone with a stable career position, or who owns their own business with reliable income streams may need less of an emergency fund than someone just starting out or who is in a volatile industry.
Be wary of debt. This is a major threat today, with home prices rising and the cost of automobiles reaching unbelievable levels. It's also easier than ever to make purchases in a split second and worry about paying for them later.
Know your personal balance sheet — assets, liabilities and surplus capital — and keep it updated. Again, this is where a competent adviser can help you and keep you on track.
Be clear about your future goals and have a plan for funding them. For example, know when you hope to make work "optional," how much college education will cost for your children, how much that lake house will cost and when you want to buy it, how much health care will cost in retirement, and any other goal that is important to you.
Adjust, adjust, adjust. Life happens. As soon as you create your plan, it's out of date. Talk to your adviser on a regular schedule to keep your plan current and discuss any changes that should be made. A good financial plan looks more like GPS and less like a roadmap.
Don't change with the wind. The economy, markets and personal circumstances change, but that doesn't mean you should scrap your plan at every intersection.
Pay attention to things within your control. These include such things as taxes (to a certain extent), savings, spending and investment strategy. Too many people these days get wrapped up in all sorts of information that is either untrue or impossible to know. Stop paying attention to media and social opinions and defer to your trusted adviser.
Hire a competent fee-only adviser who conforms completely to the fiduciary standard. You want someone who will absolutely put your interests first and is who not conflicted by external compensation, like product commissions. Having someone who is a financial expert and serves as a "family CFO" is a tremendous advantage when avoiding the multitude of financial "spiders" out there looking to take a bite of your money. Paying the fee for this type of service is invaluable.
By performing a little self-evaluation today and paying attention to these small steps, you can strengthen your impenetrable glass and avoid being eaten by the spiders.
Founding Partner, Artifex Financial Group
Doug Kinsey is a partner in Artifex Financial Group (opens in new tab), a fee-only financial planning and investment management firm in Dayton, Ohio. Doug has over 25 years experience in financial services, and has been a CFP® certificant since 1999. Additionally, he holds the Accredited Investment Fiduciary (AIF®) certification as well as Certified Investment Management Analyst. He received his undergraduate degree from The Ohio State University and his Master's in Management from Harvard University.