Tips for Working with a Financial Adviser Virtually
A financial professional who took his firm digital years ago shares ways to get the most out of your adviser relationship as you socially distance.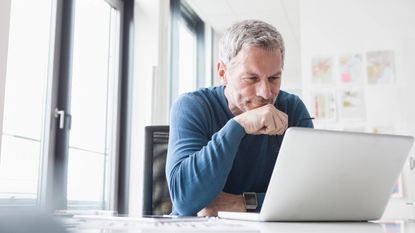 (Image credit: Getty Images)
Without a doubt, 2020 has more than earned its nickname, "the year of uncertainty." With the evolving COVID-19 pandemic and its economic repercussions, anxiety and financial stress have been unavoidable. A recent survey found that 75% of Americans (opens in new tab) have experienced financial insecurity.
In the midst of the uncertainty, nearly 60% of people (opens in new tab) say the COVID crisis made them recognize the need for life insurance and long-term care insurance. And almost half say the pandemic has heightened the need to protect their retirement income. As a result, one in four people (opens in new tab) is seeking professional financial advice for the first time. And, just like everything else, working with a financial adviser looks a little different in the wake of social distancing.
With most face-to-face meetings off the table, consumers and advisers alike are embracing technology and meeting virtually. While this type of remote advice is new to many folks, it's something I've been doing for years. Reinventing access to personalized, expert insurance advice is what led me to leave a 20-year career as an actuary to create an online insurance agency in 2018. Since then, we've helped thousands of clients find the right life insurance, long-term care insurance and income annuities to meet their retirement goals.
Subscribe to Kiplinger's Personal Finance
Be a smarter, better informed investor.
Save up to 74%
Sign up for Kiplinger's Free E-Newsletters
Profit and prosper with the best of expert advice on investing, taxes, retirement, personal finance and more - straight to your e-mail.
Profit and prosper with the best of expert advice - straight to your e-mail.
Digital agencies like ours enable consumers to take more control of the process, explore options at their own pace, and speak with an adviser when they're ready, without high-pressure sales tactics. Plus, there are no geographical constraints. People can seek out the right adviser for their needs, regardless of where they live. For example, I recently helped a doctor in Alaska find the right long-term care insurance for her needs, and our interactions were completely virtual.
How to meet virtually with confidence
With COVID-19 accelerating the comfort level with virtual interactions, more consumers will be accessing financial and insurance advice online. Based on our experiences, here are four essential tips for making the most of working with your adviser virtually.
1. Seek and check.
The biggest difference in finding a virtual adviser vs. a traditional in-person relationship is that you're not location-limited. Beyond that, the steps to exploring your options are much the same: Do your homework. Ask for recommendations. Explore the firm's website to find out the products and services offered and how the agency works with clients. Look up advisers you're considering on LinkedIn to find out more about their background and get a sense of their personality, based on their posts.
When you've narrowed it down to a final list of contenders, check their credentials. Each state has a website where you can verify insurance agencies and agents have the appropriate licenses. To find the resource for your state, google "insurance producer lookup in state." For financial advisers, visit the BrokerCheck website provided by FINRA (opens in new tab), a government-authorized, not-for-profit organization that oversees U.S. broker-dealers.
2. Take advantage of the right kind of technology.
Working virtually comes with a range of effective communication options. Match your method to what you're communicating. For example, emails and text messages work great when you have a simple question or need a quick check-in. But, when it's time to get personalized advice, a phone call or video conference is best. Opt for video meetings when you can, especially when you're kicking off a new adviser relationship. Being virtually face-to-face helps you get to know — and trust — each other by adding visual cues to the conversation.
Make sure an adviser can accommodate the communication channels you prefer. And ask about the data security measures in place when sharing personal data via email, mobile devices and online application processes.
3. Be prepared for your meeting.
Prep for a virtual meeting just as you would an in-person business meeting. That way, you'll make the best use of your time — and your adviser's. Think through your objectives for the meeting in advance, and capture the questions you have. You can even email this information to your adviser ahead of the meeting. Take notes during the call, and identify the next steps you want to take afterward.
Hold your adviser to the same standards. Advisers should come to the call with an agenda and share-able information about options and recommendations. They should also take the lead on providing a meeting recap and any follow-ups discussed. Just like an in-person meeting, you should expect to be the focus of the adviser's attention.
4. Set clear goals – and stick to them.
One of the benefits of working virtually is you can make decisions at your own pace. If you want to take a few days before responding to an email or need more time to review something, you're in full control. But it's a slippery slope, and working with someone virtually makes it very easy to push off financial decisions indefinitely. That can have serious ramifications. On the insurance front, given the volatile interest rate environment and health issues that might pop up, delaying just a few weeks could mean the coverage you need becomes much more expensive or not available at all.
Make sure you set clear goals for yourself on what you're trying to accomplish and when you want to make a decision, and do your best to stick to your timeline. For example, we recently worked with a new retiree who was deciding whether to convert some of his savings into lifetime income via an immediate annuity. We ran the numbers and reviewed his situation, and both agreed he was better off letting his assets grow and revisiting this in five to 10 years. The time from his first call to us to his final decision was about a week. And while he didn't end up investing in the annuity, he was very happy to know he was going into retirement having explored all his options.
This article was written by and presents the views of our contributing adviser, not the Kiplinger editorial staff. You can check adviser records with the SEC or with FINRA.
Co-Founder and CEO, Saturday Insurance
Dennis Ho is co-founder and chief executive of Saturday Insurance (opens in new tab), an online independent insurance agency. With over 20 years of industry experience, Dennis has a passion for insurance and the role that it can play in building financial security. Dennis is a Fellow of the Society of Actuaries and a CFA Charterholder. Originally from Winnipeg, Canada, Dennis now resides in New Jersey with his wife and three young children.