7 Reasons You Should Retire in California
From the great outdoors to great wine — reasons to consider retiring in California.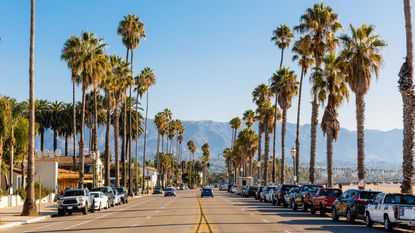 (Image credit: Getty Images)
People love to mock the West Coast, claiming California is over-populated by thrill-seekers, aging hippies, air-heads and self-absorbed fitness buffs. Critics say the state is saturated with strip malls and an excess of big box stores, that the air is polluted, weather unpredictable and traffic unbearable.
In reality, the Golden State offers retirees plenty of space and more access to nature than other parts of the country, with an abundance of protected seashore and national parks — within a day's drive. The focal point for photographers, hikers and tourists is California's crown jewel, Yosemite. Eight hundred and forty miles of scenic coast stretch from Mexico to the Oregon border and there are still towns off-the-beaten-track, quiet and quaint.
Adding to those qualities, California doesn't tax Social Security income, but other forms of retirement income are fair game, and the average effective property tax rate is not high, although median prices are high.
Subscribe to Kiplinger's Personal Finance
Be a smarter, better informed investor.
Save up to 74%
Sign up for Kiplinger's Free E-Newsletters
Profit and prosper with the best of expert advice on investing, taxes, retirement, personal finance and more - straight to your e-mail.
Profit and prosper with the best of expert advice - straight to your e-mail.
There's plenty for retirees to find throughout the state. Read on to see what's out there — and if you feel inspired to head west, I don't blame you.
1. Attractions of the state's smaller cities
Los Angeles, San Diego and San Francisco are well known for their diversity and energy — but California's smaller cities are easier to navigate and less expensive. Housing costs are lower in San Joaquin Valley's Stockton, Bakersfield, Fresno and adjacent Clovis.
Less gridlock in moderately sized, metropolitan areas means that in minutes, instead of hours, one can be at the beach, lost in the woods or mountain climbing. Fresno is prime example, conveniently located at the crossroads of three national parks: Yosemite, Sequoia and Kings Canyon.
Of the Bay Area's nine counties, California Association of Realtors says Solano is least expensive. The most affordable housing market is in Far North counties like Lassen, Siskiyou, Tehama and Plumas, and inland (the Central Valley), according to CAR. Median prices of homes are lower than last year, but limited inventory means the market is both cooling and competitive.
2. Theaters and music festivals
Newly retired East Coasters need not go into withdrawal so far away from the Great White Way, because many Broadway shows are presented on regional stages such as Berkeley Repertory Theater, La Jolla Playhouse, San Diego's Old Globe, LA's Geffen Playhouse, Center Theatre Group and Deaf West Theatre, South Coast Repertory in Costa Mesa and Ojai Playwrights Conference. The Pasadena Playhouse received the 2023 Regional Theatre Tony Award, which will be presented in June.
Young and old rave about high-profile performers at Coachella, one of California's most celebrated music festivals. Annual, outdoor events include Napa's BottleRock, Reggae on the River (every August near Garberville), San Francisco's free Stern Grove Festival (held in a eucalyptus-wooded amphitheater and in its 86th year), Newport Beach and Monterey jazz festivals, and Splash House in Palm Springs.
3. Literary history and higher education
It's exciting how many authors were born in California or chose to live there. Late, legendary poet Lawrence Ferlinghetti cofounded San Francisco's City Lghts in 1953 when it was the country's first all-paperback bookstore, famous for publishing Allen Ginsberg's controversial "Howl."
Writers' backstories are revealed on visits to the National Steinbeck Center in Salinas, M.F.K. Fisher's Last House in Glen Ellen, Jack London's Wolf House (next to wife Charmian London's House of Happy Walls) also in Glen Ellen, Eugene O'Neill's Tao House in Danville, Robinson Jeffers' Tor House in Carmel-by-the-Sea, the John Muir National Historic Site near Martinez and Henry Miller Memorial Library in Big Sur, to name a few.
Another big plus: there's a great history of education in the state, too, and seniors have access to it. State residents 60 and older have tuition waived in the California State University system, and the 116 California Community Colleges have many noncredit courses for no tuition and the option for senior citizens to apply for a fee waiver if they enroll in credit courses.
4. The great outdoors
Between the Pacific Coast Trail's 2,650 miles and a coastline boasting more than 200 public beaches, California is a haven for hikers, swimmers and surfers. It's not uncommon to bask in the sun oceanside, lakeside or on the river's edge, while simultaneously admiring snowcapped mountains
Spring delivered bright superblooms, and this summer promises greener lawns and foothills; Gov. Gavin Newsom eased drought restrictions in March after a wet winter. Mediterranean climate (especially in counties like Sonoma and Napa), low humidity, mild winters and long growing season are idyllic for gardening, foraging, camping, glamping and RV road tripping.
5. Delicious food at your fingertips
California Department of Food and Agriculture reports that over a third of the country's vegetables and three quarters of the country's fruits and nuts are grown in the state; top agricultural crops are grapes, almonds, strawberries, pistachios, lettuce, tomatoes and walnuts.
California excels as the sole commercial producer, according to CDFA, of artichokes, celery, garlic, kiwifruit, honeydew melons, nectarines, olives, clingstone peaches and plums. No surprise that produce in grocery stores and farmers markets, can be gently priced, just-picked and irresistible.
When Chef Alice Waters opened Chez Panisse in 1971, farm-to-table became the buzz-phrase for delicious, environmentally correct cooking. Her Berkeley restaurant introduced the concept that if you featured farmers on the menu and bought the freshest, most local produce, diners would savor those efforts.
She was right. Waters has inspired countless chefs to use seasonal, organic ingredients, and today California is dotted with healthy eateries that echo her mantra.
6 and 7. Of course... golf courses and wineries
Golfers dream about teeing off at century-old Pebble Beach on spectacular, windswept Monterey Peninsula and San Diego's Torrey Pines, named after the wild, coastal tree.
The National Golf Foundation says Florida is the only state with a higher number of golf courses than California's 950. Riverside County has 139 facilities (some with more than one course), while there are 102 golf facilities in Los Angeles County, according to the NGF.
Meanwhile, retired oenophiles and teetotalers get a kick out of living amid more than 4,000 wineries. Besides wine (and olive oil) tasting and buying, wineries are picturesque places to picnic, stroll, relax. New appellations or AVAs (American Viticultural Areas) continue to pop up so there's always another bottle to appreciate.
According to the California Association of Winegrape Growers, grapes are grown in 49 of the state's 58 counties, and roughly 90% of U.S. wine is produced in California.
Julia Child was born in Pasadena, so bon appetit and cheers.