Retirees, Be Aware of the Murky Rules Behind Financial Apps
"Neobanks" and other fintechs operate in a regulatory gray area, with less oversight. That can sometimes leave customers in limbo when there's a problem.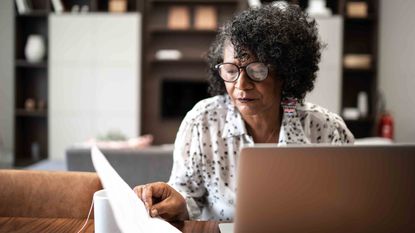 (Image credit: Getty Images)
Long gone are the days when every financial transaction involved a trip to the bank. In fact, if you're like many Americans, the tools you rely on to deposit checks, pay bills and track your budget -- all from the comfort of your couch -- may not even belong to a bank. Instead, you may be using a fintech's app on your smartphone to manage your finances.
The number of older adults turning to fintech services is soaring. Seventy-nine percent of baby boomers used fintech last year, up from 39% in 2020, according to a survey by Plaid, a financial services technology firm. Many older users find the apps convenient, the survey found.
The apps are often those of neobanks, which are fintechs that offer banking services, though most neobanks aren't banks. Customers are drawn to neobanks with the promise of no fees or for features traditional banks may not offer. But neobanks and other fintechs operate in a regulatory gray area, with less oversight, which can sometimes leave customers in limbo whenever there's a problem.
Subscribe to Kiplinger's Personal Finance
Be a smarter, better informed investor.
Save up to 74%
Sign up for Kiplinger's Free E-Newsletters
Profit and prosper with the best of expert advice on investing, taxes, retirement, personal finance and more - straight to your e-mail.
Profit and prosper with the best of expert advice - straight to your e-mail.
Fine Distinctions
Neobanks should not be confused with online-only banks, such as Ally Financial and Marcus by Goldman Sachs. Online banks are federally insured and offer the same deposit and lending services as traditional brick-and- mortar institutions.
Neobanks are not insured by the Federal Deposit Insurance Corp. and cannot legally hold deposits. Instead, they partner with an FDIC-insured bank, which holds the deposits and is usually the issuing institution for a credit or debit card. While the deposits are federally insured (up to $250,000 per account holder), it's still a neobank account, and it's the neobank that customers interact with for service or questions.
Partnering banks are supposed to vet neobanks, which also may have some state and federal oversight depending on the products offered. That oversight, however, isn't nearly as stringent as it is for banks, which undergo routine exams, including those for financial performance. "There is a certain level of protection and security you have with banks because of regulatory requirements," says Vincent Hui, managing director at bank consulting firm Cornerstone Advisors in Scottsdale, Ariz.
That protection includes an established process to resolve a problem when, for example, a bank fails or customers can't access their accounts. With neobanks, the processes are less clear. Customers of Chime, a neobank, discovered this when they couldn't use their debit cards or access their money temporarily last year. Chime said it had closed a slew of accounts, some of them by mistake, after detecting suspicious activity. Eventually, most depositors seemed to resolve their concerns by working with Chime, says Stephen Piepgrass, a partner in the government enforcement, compliance and investigations group practice at law firm Troutman Pepper. Neverthess, the situation highlighted a murky area for neobank customers. "The Chime situation is a good example that there are always growing pains in new industries," Piepgrass says.
Another fintech, Beam Financial, was banned from offering banking services after its mobile banking app, Beam, failed to deliver. The company had promised consumers that they could transfer funds out of their accounts within three to five business days, but the requests sometimes took months to be completed.
Look for the Clues
Consumers often have difficulty telling apart neobanks from banks. The company's website should identify which one it is. Banks will state that they are an FDIC member, while a neobank should note that it works with an FDIC-insured institution. The FDIC also lists insured banks in its directory; go to the FDIC's "BankFind" tool to see if your bank is insured.
Another clue: A company that is not FDIC-insured cannot call itself a bank. In fact, last year California regulators forced Chime to drop "bank" from its name. "You can't use the word 'bank' unless you are licensed and chartered to accept deposits and dispense loans. That's to ensure consumers don't show up at your doorstep and assume you are FDIC-insured," says Steve Reider, president of Bancography in Birmingham, Ala. Reider experienced this firsthand after Alabama regulators objected to his bank consulting firm's name, which was initially spelled with a "k."
If the business is a fintech, check it out the same way as any other company. "It is safe if you do a little bit of planning and engagement," says Tom Kamber, founder and executive director of Older Adults Technology Services, which educates seniors about technology. Hui suggests doing a Google search on the fintech and reading reviews from other customers. Also check that a particular company has the stamp of approval of a trusted organization, such as AARP.
Some Fintech Apps Are Meant for Retirees
Not all fintechs are neobanks. Some fintechs, like EverSafe and SilverBills, which are designed specifically to help seniors manage their finances, don't offer banking services, such as checking accounts, so they don't need a bank partner.
Karen Kali, senior program manager at the National Community Reinvestment Coalition in Washington, D.C., says that both the EverSafe and SilverBills apps are great examples of a product that could be useful for seniors. While EverSafe monitors banking transactions and credit cards for potential financial exploitation, SilverBills helps users manage and pay bills on time, checking for fraud or errors.
Both apps charge a fee. Customers can choose from three tiers of EverSafe services, with the cheapest costing about $61 annually. SilverBills costs between $10 and $99 a month, depending on the plan. The tools also can be a way for family caregivers to help an older relative manage their finances from afar. "Given the prevalence of fintech applications and so many seniors who live away from family, it's unrealistic to stay away completely from fintechs," says Kali.
Senior Retirement Editor, Kiplinger.com
Jackie Stewart is the senior retirement editor for Kiplinger.com and the senior editor for Kiplinger's Retirement Report.