Use Financial Apps to Track Spending in Retirement
Start keeping tabs on where your nest egg is really going with your smartphone.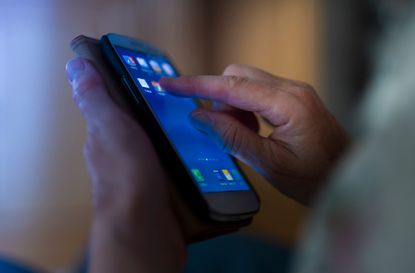 (Image credit: Westend61 / Frank Roder (Westend61 / Frank Roder (Photographer) - [None])
When Lauren Lindsay joined a large group of about 20 friends for brunch recently, things quickly got complicated. "Different people ordered different things, and some had to come and go at different times," says Lindsay, 49, a financial planner in Houston. "And the place wouldn't do separate checks."
But the friend who organized the brunch had a simple solution, Lindsay says. She paid the entire bill and then used the payment sharing app Venmo, letting people know what they owed and how much the tip was, so she could be reimbursed. Lindsay also regularly uses Venmo to split dining and other expenses. "It's very handy so you aren't chasing people down when they owe you money," she says. "Not very many people carry cash in general anymore, so this is the way things are going."
For retirees, organizing expenses and splitting checks equitably are key ways to keep a handle on everyday spending, which can be stressful when adjusting to life without a paycheck from a job coming in. While your grandkids may be familiar with a range of apps that help manage spending, you may be on a financial tech learning curve. Four in 10 seniors now own smartphones, which is double the number in 2013, according to the Pew Research Center. But some remain wary of using financial apps. For others, it may just be a matter of getting comfortable using such an app, says Rick Kahler, a financial planner in Rapid City, S.D.
Subscribe to Kiplinger's Personal Finance
Be a smarter, better informed investor.
Save up to 74%
Sign up for Kiplinger's Free E-Newsletters
Profit and prosper with the best of expert advice on investing, taxes, retirement, personal finance and more - straight to your e-mail.
Profit and prosper with the best of expert advice - straight to your e-mail.
Kahler says he only recommends to clients the apps that he actually uses. He likes TurboScan, which uses your phone's camera to scan a receipt and helps keep the virtual receipts organized. Another favorite: GasBuddy, which Kahler accesses when he rents a car while traveling. Instead of taking the option to return the car with the tank empty and face a more costly rental company charge for filling it, he uses GasBuddy to find the lowest priced station in an unfamiliar area.
Kahler says he and some of his older clients also like Mint, a money-management app. You can create a monthly budget with it, putting your expenses in as many as 20 categories. You can even keep track of charitable gifts, which you can then use as a record at tax time. After you've entered the target amounts for each category, you link your bank account and watch your recent expenses automatically fill progress bars for each category. Or you could use an expense-tracking app, such as Fearless Finance.
Find the App for You
To use an app, download it from Apple's App Store if you have an iPhone or from Google Play if you have an Android mobile device. Many apps are free, but doublecheck for any charges or fees first.
You can log in to Venmo using your Facebook account, which lets you pull in your friends list. To pay or request to be paid back, enter the username or phone number of the recipient within the app. Enter the amount and what the money is for, then select "Pay" or "Request."
To transfer money you receive in Venmo to your bank account, select "Transfer to Bank." Note the instant transfer fee is 1% of the transfer amount, with a minimum fee of 25 cents and a maximum of $10. To send money without burdening the recipient with a transfer fee, consider the gifting app called NextRound. You also can use Tab, another app, to make it easier to request payments through Venmo. Tab gives you a code to share with friends so they can join in on the bill from their smartphones. You also can send money to friends through Zelle and PayPal.
If apps aren't for you, you could instead create an Excel spreadsheet to track spending. Or you might decide that it's more important to enjoy a meal with friends and family than to worry about splitting the bill, and let it go.
Associate Editor, Kiplinger's Retirement Report
Mary Kane is a financial writer and editor who has specialized in covering fringe financial services, such as payday loans and prepaid debit cards. She has written or edited for Reuters, the Washington Post, BillMoyers.com, MSNBC, Scripps Media Center, and more. She also was an Alicia Patterson Fellow, focusing on consumer finance and financial literacy, and a national correspondent for Newhouse Newspapers in Washington, DC. She covered the subprime mortgage crisis for the pathbreaking online site The Washington Independent, and later served as its editor. She is a two-time winner of the Excellence in Financial Journalism Awards sponsored by the New York State Society of Certified Public Accountants. She also is an adjunct professor at Johns Hopkins University, where she teaches a course on journalism and publishing in the digital age. She came to Kiplinger in March 2017.