The 25 Cheapest U.S. Cities to Live In
Take a look at our list of American cities with the lowest costs of living. Is one of the cheapest cities in the U.S. right for you?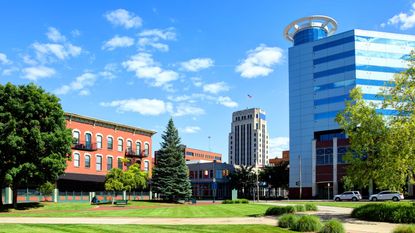 (Image credit: Getty Images)
When it comes to cheap living, the best places to settle down are mostly south of the Mason-Dixon line. Texas, Tennessee and Alabama are just a few states making multiple appearances on our list of the cheapest U.S. cities to live in.
But if you're thinking about relocating to one of these low-cost cities, just remember to weigh the pros and cons. A low cost of living is attractive, but the allure lessens if jobs are hard to come by, paychecks are small or the area offers little to do. Plan an extended visit to ensure the city fits your needs.
We compiled our rankings of America's 25 cheapest cities based on the Council for Community and Economic Research's (C2ER) calculations of living expenses in 267 urban areas. We then limited ourselves to metro areas with at least 50,000 inhabitants. (For smaller urban areas, be sure to read our list of the 12 Cheapest Small Towns in America.)
In both cases, C2ER's Cost of Living Index measures prices for housing, groceries, utilities, transportation, healthcare, and miscellaneous goods and services, such as going to a movie or getting your hair done at a salon.
That data, which sorts through hundreds of cities and thousands of prices, allowed us to pinpoint the places with the absolute lowest costs of living.
Read on for our latest list of the 25 cheapest U.S. cities to live in.
Cost of Living Index data is based on average prices of goods and services collected for the first three quarters of 2021, with index values based on the new weights for 2022. Metro-level data on populations, household incomes, home values, poverty rates and other demographics come from the U.S. Census Bureau. Metropolitan area unemployment rates, courtesy of the U.S. Bureau of Labor Statistics, are as of Aug. 3 for the month of June 2022, which is the latest data available.
Senior Investing Writer, Kiplinger.com
Dan Burrows is a financial writer at Kiplinger, having joined the august publication full time in 2016.
A long-time financial journalist, Dan is a veteran of SmartMoney, MarketWatch, CBS MoneyWatch, InvestorPlace and DailyFinance. He has written for The Wall Street Journal, Bloomberg, Consumer Reports, Senior Executive and Boston magazine, and his stories have appeared in the New York Daily News, the San Jose Mercury News and Investor's Business Daily, among other publications. As a senior writer at AOL's DailyFinance, Dan reported market news from the floor of the New York Stock Exchange and hosted a weekly video segment on equities.
Once upon a time – before his days as a financial reporter and assistant financial editor at legendary fashion trade paper Women's Wear Daily – Dan worked for Spy magazine, scribbled away at Time Inc. and contributed to Maxim magazine back when lad mags were a thing. He's also written for Esquire magazine's Dubious Achievements Awards.
In his current role at Kiplinger, Dan writes about equities, fixed income, currencies, commodities, funds, macroeconomics and more.
Dan holds a bachelor's degree from Oberlin College and a master's degree from Columbia University.
Disclosure: Dan does not trade stocks or other securities. Rather, he dollar-cost averages into cheap funds and index funds and holds them forever in tax-advantaged accounts.