What the New President Means for Your Money
President-Elect Biden wants more consumer protections and perks for the middle class and seniors.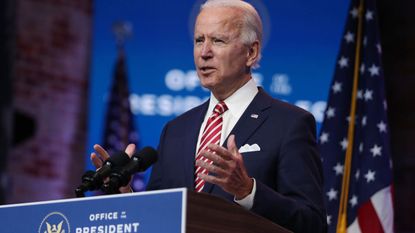 (Image credit: Photo by Joe Raedle/Getty Images)
Some of President-Elect Joe Biden's most ambitious proposals could be sidetracked by a divided government. But Biden can use his executive powers to modify regulations on everything from Wall Street to student loans.
Control of the Senate is up in the air until early January, as two runoffs in Georgia will determine whether Republicans maintain the majority. If the Senate remains in Republican hands, Biden's plans to raise taxes on high earners are unlikely to go anywhere.
Biden may have better luck expanding the child tax credit, currently $2,000 per child for married couples with up to $400,000 in income. Biden has proposed expanding the credit to $3,000 per child for children up to age 17 and $3,600 for children 5 and younger. That proposal has support among some Republican senators, who view it as a way to help families who are struggling to pay for child care during the pandemic, which has closed many schools.
Subscribe to Kiplinger's Personal Finance
Be a smarter, better informed investor.
Save up to 74%
Sign up for Kiplinger's Free E-Newsletters
Profit and prosper with the best of expert advice on investing, taxes, retirement, personal finance and more - straight to your e-mail.
Profit and prosper with the best of expert advice - straight to your e-mail.
Regulatory changes. Biden has signaled a willingness to toughen regulation of the financial services industry by appointing Gary Gensler, a former Obama administration official, to his transition team. As head of the Commodity Futures Trading Commission, Gensler led an overhaul of how the government regulated financial derivatives, which were blamed for fueling the collapse of some Wall Street firms in 2008.
The current chairman of the Securities and Exchange Commission, Jay Clayton, and its two Republican commissioners have pushed for deregulation of the financial services industry, but Biden's choice to head the SEC will likely advocate a more aggressive approach.
A Democratic-led SEC could revive the fiduciary rule, which was championed by the Obama administration but struck down during Trump's tenure. The fiduciary rule requires financial professionals who give retirement advice to put their clients' interests ahead of their own. Certified financial planners are required to comply with the fiduciary rule, but securities brokers use a less stringent suitability standard, which doesn't require them to recommend the least expensive option available if an investment matches a client's age and risk tolerance. In June, the SEC adopted a new regulation requiring brokers to act in their customers' best interest, but consumer advocates say the rule doesn't go far enough.
The Biden administration is also expected to reenergize the Consumer Financial Protection Bureau. The agency was created by the Obama administration in response to the 2008 financial crisis, but its powers were diminished by the Trump administration. Under Biden, the agency could, among other things, target problems with the three major credit-reporting bureaus—Equifax, Experian and TransUnion. Among complaints in the CFPB database over the past few years, those involving credit reporting far outnumber other types of complaints.
Social Security and Medicare. Biden has proposed shoring up Social Security by increasing payroll taxes on high-income taxpayers. He has also proposed raising benefits for low-wage workers, surviving spouses of dual-earner couples, caregivers, government workers and those who have been collecting Social Security the longest. He favors switching the annual cost-of-living adjustment—which will go up just 1.3% in 2021—to the Consumer Price Index for the Elderly, which more heavily weights senior citizens' biggest expenses, such as health care and housing.
Like his tax hikes, these proposals face a tough road in a Republican-controlled Senate. But there may be bipartisan support for smaller changes, such as one to fix Social Security for people born in 1960 or 1961, whose benefits will be cut unintentionally by a formula glitch tripped during the 2020 economic downturn.
On Medicare, the most likely source of agreement involves the cost of prescription drugs. A bipartisan Senate bill would simplify Medicare Part D (which provides the program's prescription drug coverage) and require insurers to kick in more money, saving seniors an estimated $72 billion in out-of-pocket costs and Medicare more than $94 billion over 10 years. The bill would also cap annual increases of prescription drug prices at the rate of inflation. (Biden would like to go further, giving the federal government the power to negotiate what Medicare pays for prescription drugs.)
Health care. Biden wants to build on the Affordable Care Act, which provides health insurance coverage to millions of Americans. (The Supreme Court has heard oral arguments in a case that challenges the ACA's constitutionality but is unlikely to strike down the law in its entirety.) However, a Republican-controlled Senate would be unreceptive to Biden proposals to add a government-run "public option" that would be offered alongside private and employer-based plans; lower the age of Medicare eligibility from 65 to 60; and expand subsidies that reduce premiums on ACA plans.
Both parties may cooperate on legislation that would curb surprise medical billing, in which patients receive high bills for services they were unaware were out of their insurance plan's network. Through executive action, Biden could reverse Trump-administration moves that shortened the ACA open-enrollment period and relaxed limits on short-term health plans, which come with fewer protections than ACA-compliant plans.
College. Biden's goals include providing two years of community college tuition-free, making public colleges and universities tuition-free for families with incomes of less than $125,000, and doubling the maximum value of federal Pell grants, which are available to eligible low-income undergraduate students. He also supports simplifying income-based repayment plans for federal student loans, forgiving $10,000 in federal student loan debt for all borrowers, and forgiving all tuition-related federal loan debt for borrowers who earn less than $125,000 and attended public or historically Black colleges and universities.
Many of these proposals would face opposition from Senate Republicans, but some legal experts argue that Biden could use executive powers to cancel federal loan debt. If Congress doesn't extend the automatic suspension of payments and interest accrual for federal student loans—a relief measure enacted in response to the coronavirus crisis—Biden may do so through executive action. Otherwise, payments resume in January 2021.
Senior Editor, Kiplinger's Personal Finance
Block joined Kiplinger in June 2012 from USA Today, where she was a reporter and personal finance columnist for more than 15 years. Prior to that, she worked for the Akron Beacon-Journal and Dow Jones Newswires. In 1993, she was a Knight-Bagehot fellow in economics and business journalism at the Columbia University Graduate School of Journalism. She has a BA in communications from Bethany College in Bethany, W.Va.