What Happens to Medicare If the Affordable Care Act Is Overturned?
Experts say if the ACA is repealed or rescinded "it would be devastating for Medicare." Here's what might happen -- and how it could be costly for you.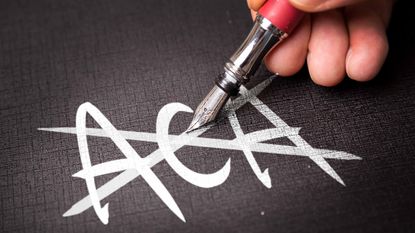 (Image credit: Getty Images )
Supreme Court Justice Ruth Bader Ginsburg's death heightened the stakes in a case scheduled to appear before the court Nov. 10 that could reverse improvements to Medicare and raise out-of-pocket costs for beneficiaries. The case, California v. Texas, which was filed by 20 Republican-leaning states, challenges whether the Affordable Care Act can exist without the individual mandate to buy health insurance. A Republican-controlled Congress removed the financial penalty for those without insurance in 2017.
"If the ACA was repealed or rescinded in full, it would be devastating for Medicare," says David Lipschutz, associate director of the Center for Medicare Advocacy, which along with AARP and Justice in Aging filed an amicus brief supporting California and 16 other Democratic-leaning states defending the health care law. Many of the law's provisions that strengthen the program's fiscal solvency also strengthen consumer protections for beneficiaries, he says.
"The ACA's changes are so ingrained in the program that people don't remember what Medicare was like before the law," adds Casey Schwarz, senior counsel for education and federal policy at the Medicare Rights Center. Without the ACA, she says, the doughnut hole for prescription drug coverage, which closed in 2020, reopens, and "the expansion of preventive care services goes away." The effects encompass both traditional Medicare and Medicare Advantage plans, eliminating ACA improvements that helped drive costs down for the program and beneficiaries. Here's what happens to Medicare if the court invalidates the law.
1/5
The Medicare Doughnut Hole Returns
Since 2011 the ACA has been steadily closing the prescription drug coverage gap, known as the doughnut hole, in Medicare Part D by requiring drug manufacturers and insurers to pick up more of the cost. The hole was finally closed this year with seniors paying 25% of the cost for both generic and brand-name medications and manufacturers picking up 70% of the tab; insurers kick in the remaining 5%. Before the ACA, seniors paid 100% of prescription drug expenses while in the doughnut hole.
2/5
Medicare Preventive Care Is No Longer Free
Thanks to the ACA, there's no copayment or deductible for potentially life-saving screenings for cancer, diabetes, heart disease and other illnesses. Flu shots and annual wellness visits are also free. Before the ACA, says the National Committee to Preserve Social Security and Medicare, beneficiaries had to pay 20% of the cost for most preventive care services.
3/5
Medicare Advantage Plans Won't Be As Advantageous
The ACA requires Medicare Advantage plans to spend 85% of premium dollars on health care, not profits or overhead. The plans also can't charge more than traditional Medicare for chemotherapy, renal dialysis, skilled nursing care and other specialized services. (Beginning in 2021, Advantage plans must accept enrollees with end stage renal disease.)
Those restrictions dramatically lowered costs for plan participants since the ACA became law in 2010 and enticed more Medicare enrollees to choose Advantage plans. Over the past decade, the average Medicare Advantage premium plummeted 43% while enrollment soared 117%, according to the NCPSSM.
4/5
5/5
Medicare Premiums and Medicare Deductibles Will Rise Faster
Curbing provider payments also lowered costs for seniors, helping to keep Medicare Part A deductibles and copayments in check. Similarly, Part B premiums and deductibles are much lower than projected before the ACA became law. From 2011 to 2020, Part B premiums increased 23%, the Senior Citizens League found. From 2000 to 2009—the nine years before the law's passage—Part B premiums rose almost five times faster, soaring 112% over that period.
Managing Editor, Kiplinger's Retirement Report
Siskos is an old hat with the Kiplinger brand. More than a decade ago, she spent eight years writing about personal finance for Kiplinger's Personal Finance magazine, including a monthly column—Starting Out—that served young adults. That was in her salad days. Now she's turned her attention to an audience she hopes to join in a decade or so: retirees. Siskos is the managing editor for Kiplinger's Retirement Report. In between, she broadened her personal-finance repertoire with real estate and investing stories at Old-House Journal, Investing Daily and U.S. News. She comes to Kiplinger by way of the Newseum, where she worked as an exhibit editor.