Does President Biden Want to Raise YOUR Taxes?
President Biden's "social infrastructure" plan is expected to include tax increases for some Americans. Will you be one of them?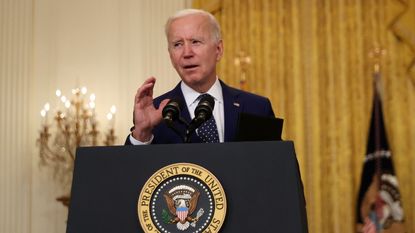 (Image credit: Getty Images)
With good reason, some Americans are worried that their tax bill is going to shoot up in the near future. During last year's campaign, President Biden wasn't shy about telling the American public that he will raise taxes on the wealthy. And it looks like he's about to release a new "social infrastructure" plan that's expected to do just that. But what, exactly, does he mean by "wealthy"? The president has repeatedly said he won't raise taxes on anyone making less than $400,000 per year. That appears to be a nice, clean, easy to understand dividing line between those who'll pay more taxes and those who won't. Unfortunately, though, it's not that simple.
First, it's not clear if the $400,000 threshold will be applied per individual or per family. If it applies to a family's overall income, a lot more Americans are going to see their tax bill go up. Also, regardless of whether the threshold applies to an individual or a family, some Biden campaign proposals could increase taxes on Americans who don't come close to earning $400,000 in a year. While the threshold would generally apply to income taxes and certain payroll taxes, the president has called for changes that would raise other taxes, too. People making less than $400,000 per year could get caught up in those other tax increases.
We also don't know when any proposed tax increases would go into effect. The economy hasn't fully recovered yet, and raising taxes on Americans before that happens (or close to it) could be risky. It will also be harder politically to boost taxes on individuals than it might be to increase taxes on corporations. As a result, we don't think higher taxes will apply for the 2021 tax year. Instead, look for them to apply in 2022 or perhaps even later.
Having said all that, let's take a look at some of the people who should be the most concerned about tax increases sometime during the Biden administration. Just remember that this isn't necessarily an all-inclusive list – other people could also face higher taxes over the next few years. We'll have a better idea of exactly who might see higher taxes soon once the president releases his "American Families Plan," but his campaign proposals provide a good starting point for making predictions now.
Rocky Mengle was a Senior Tax Editor for Kiplinger from October 2018 to January 2023 with more than 20 years of experience covering federal and state tax developments. Before coming to Kiplinger, Rocky worked for Wolters Kluwer Tax & Accounting, and Kleinrock Publishing, where he provided breaking news and guidance for CPAs, tax attorneys, and other tax professionals. He has also been quoted as an expert by USA Today, Forbes, U.S. News & World Report, Reuters, Accounting Today, and other media outlets. Rocky holds a law degree from the University of Connecticut and a B.A. in History from Salisbury University.