Time to Face Reality: Your Kids Don't Want Your Stuff!
One estate planning mistake I see all the time is that parents want their children to inherit their homes and treasured possessions, and they assume their children would be happy to get them. But have you asked your kids? You might be surprised.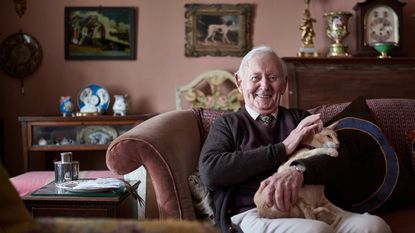 (Image credit: Getty Images)
I know I'm going to get a few calls about this one, but hear me out. We talk a lot about managing your estate and strategies for making the most of an inheritance, but what we don't often talk about is what to do with your "stuff" and the realities that surround that.
When helping people with their estate planning, we obviously cover the big issues, such as IRA or retirement plan beneficiary info, wills, trusts, power of attorney and advance directives (or POLST). We review titling of the assets in your estate with your CPA or attorney. But what we often don't talk about is what to do with all of your stuff.
The reality is that what you want to happen with your stuff is often not what your heirs want to do with it.
1/5
What about your family home?
Let's start with the big one, your house. This is the one people balk at the most, but here goes. Your kids don't want your house. I know you think they do, but they really don't. In most cases, even when they do, it would be impractical for them to buy it anyway.
How are three kids going to "share" my house? There's no way that's going to work, even though the idea of them sharing a shore house sounds nice. The reality is that they likely can't share it, and forcing them to do so will almost certainly lead to hard feelings. Somebody is going to get more use of it than the others, and that's where the problems start.
If one of them wants to buy out the others, that's fine — but what are the terms in which they can buy it? Do they get a "discount" because they are family? Doesn't that hurt the others' value for the same reason?
2/5
What about your beach/vacation house?
Sometimes I hear that "I want them to have a place to go to in the summer." I had a situation not long ago where a client really wanted a grandchild to have the beach house. Carrying the house was actually causing financial issues for her, but she didn't want to give it up so she could pass it on. The heir lived out of state, but she really wanted them to have it. I asked if she ever discussed those wishes with her heir, and she had not, but then again, who doesn't want a house at the shore? Turns out quite a few people don't.
Finally, I suggested we call the heir and have that conversation. The heir, as I suspected, loved the idea of a house at the Jersey Shore but didn't really want it because they simply wouldn't have time to ever visit it and the long-distance upkeep, maintenance, etc. would be added stress for them.
With this new information, my client decided to let the house go, live a far more comfortable retirement and leave to her heir what they really wanted, cash.
I see this scenario time and again. Yes, your home holds a lot of sentimental value to you and your heirs, but the reality of them keeping it rarely ever works out.
3/5
What about your treasured collections?
Now for the smaller stuff. While your collection of Hummels, model trains, baseball cards, (insert collectible here) is your hobby and passion, rarely does that continue to your heirs. If they don't share your passion for those collectibles, they may be likely to sell them for less than their full value when they inherit them because they don't fully understand their true value as a collectible.
4/5
What about your china service for 24?
Lastly, your beautiful china. Understand that there are only so many sets of china that your kids or grandchildren can use. The effect of passing them on for generations has created a glut of china for younger people. Add to this the fact that younger generations simply don't use china at all compared to older generations, let alone using four to five sets of it.
If the goal is to make your estate transfer as easy as possible and with as few problems or family scuffles as possible, then addressing some of these issues now may well help to solve these problems.
5/5
The bottom line, and some practical tips
If you aren't sure how your heirs feel about inheriting your "stuff," then the easiest course of action is simply to ask them. I think you'll be surprised with the answer. Then get busy:
Start selling. Sell items that you don't need anymore that might have some value. EBay and Etsy are great places to start, or heck, have a garage sale.
Donate things others could use. Goodwill and Salvation Army could do some good with your generosity, and the work you do to gather your donations and get them where they need to go is just like volunteering, which always feels good.
Make it fun. Going through your things bit by bit can be a shared activity with your spouse or loved ones. Think about all the conversations and memories you'll share along the way as you declutter.
Enjoy the results. Your house will feel bigger and the weight on your shoulders will feel lighter. Your kids will thank you, too.
If you have unique family circumstances that make these topics a little more challenging, just give me a call to discuss and maybe we can help come to a solution for you.

President and Founder, Reich Asset Management, LLC
T. Eric Reich, President of Reich Asset Management, LLC, is a Certified Financial Planner™ professional, holds his Certified Investment Management Analyst certification, and holds Chartered Life Underwriter® and Chartered Financial Consultant® designations.