How to Save on Pet Insurance
Three types of pet insurance can help offset emergency veterinary bills and sometimes even cover routine care.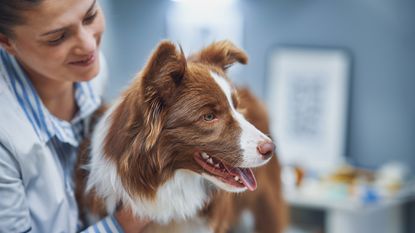 (Image credit: Getty Images)
Veterinary care — especially emergency care — can be expensive. Overnight hospitalization for a pet costs between $600 and $1,700 on average, according to Emergency Vets USA (opens in new tab), a national database of emergency veterinarians. That doesn't include emergency surgery, which can set you back as much as $5,000, the site says, though even higher emergency bills aren't unheard of. (A friend of this writer recently spent $16,000 on emergency veterinary surgery after her dog swallowed a large stick.)
"If the cost of an emergency veterinary visit or serious illness would be a financial strain, consider investing in pet health insurance while your pet is healthy," says Lori Bierbrier, senior medical director at the ASPCA (opens in new tab).
Pet insurance can help offset emergency veterinary bills, with some insurance plans also covering routine care. There are three main types of pet insurance policies: accident-only, accident and illness, and wellness. The average monthly premium for an accident-and-illness plan is $49 for dogs and $29 for cats, according to 2021 data collected by the North American Pet Health Insurance Association (opens in new tab). Wellness plans cost even more because they tend to cover preventive care that keeps your pet healthy, such as vaccinations. You can buy one as a stand-alone policy or as an add-on to an accident-and-illness policy.
Subscribe to Kiplinger's Personal Finance
Be a smarter, better informed investor.
Save up to 74%
Sign up for Kiplinger's Free E-Newsletters
Profit and prosper with the best of expert advice on investing, taxes, retirement, personal finance and more - straight to your e-mail.
Profit and prosper with the best of expert advice - straight to your e-mail.
Use these tips to help nab a lower pet insurance premium.
Tips to save on pet insurance premiums
Get an accident-only plan. The average premium for an accident-only plan is $20 a month for dogs and $11 a month for cats — less than half the cost of an accident-and-illness plan. Accident-only policies typically cover "poisonings, snake bites, lacerations, dog bites and when dogs and cats eat something they shouldn't," says Wendy Hauser, a veterinarian and president of Denver-based Peak Veterinary Consulting (opens in new tab).
Choose a higher deductible. Before your pet insurance coverage kicks in, you'll have to meet your plan's deductible, "just like with other insurance policies," says Colin Lalley, an insurance expert at Policygenius (opens in new tab), an insurance marketplace. Generally, a higher deductible equals a lower premium. But be aware: Lalley points out that some pet insurance policies have annual deductibles, while others have per-incident deductibles.
Start early with pet insurance. Pet insurance premiums are less expensive when you enroll your pet at a young age, says Jenna Stregowski, pet health and behavior editor at Daily Paws (opens in new tab), an advice website for pet owners. Another reason to enroll early on: Older pets with preexisting conditions may not be able to get coverage, Stregowski says.
Shop around. Get quotes from multiple providers to find the best rate. You can use a comparison tool such as PawlicyAdvisor (opens in new tab), Policygenius or Pet Insurance Quotes (opens in new tab) to get offers from a number of providers. Check out ratings and reviews from customers, and pay particularly close attention to how well a provider processes claims.
Look for discounts. Some pet insurance providers offer lower rates for military, seniors and people who adopted a pet. And you may qualify for a lower rate by insuring more than one pet with the same company or by bundling pet insurance with your home or car insurance. Nationwide (opens in new tab) and Progressive (opens in new tab), for example, offer existing customers a 5% discount on pet insurance.
Related content