How to Save Money on Pet Costs
We love our furry friends — but pet costs are rising along with the cost of living. Here are some ways to save money on pet care.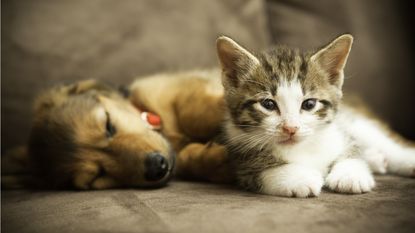 (Image credit: Getty Images)
Seven out of 10 American households own a pet, according to the American Pet Products Association (APPA) (opens in new tab). And pet costs consume a significant portion of many people's budgets. Dog and cat owners, for example, spend an average of $111 each month on their animals, according to a recent AskVet (opens in new tab) survey. Some surveys suggest pet costs may be even higher. According to a 2022 Lemonade poll (opens in new tab), pet owners spend an average of $276 on their animals each month.
Multiply the monthly cost by the typical lifespan of your pet, and you're talking serious money. However, many people "underestimate the lifetime cost of owning a pet," says Brandi Hunter Munden, a spokeswoman for the American Kennel Club (opens in new tab). "From emergency vet visits to food to doggy bags, these costs add up." And 26% of pet owners said they were struggling to afford their pet due to inflation, an August LendingTree survey (opens in new tab) found. The good news is there are smart ways to trim your pet's expenses. These tips will help you keep your pet healthy and happy for less.