Getting an RV Loan: What You Should Expect
An RV's steep price tag means lenders may have stricter requirements, such as a higher credit score and additional documentation, for borrowers.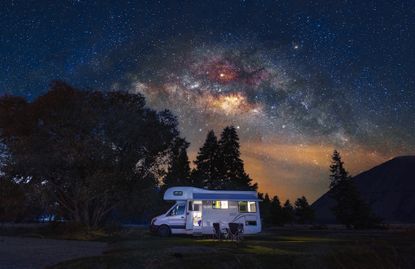 (Image credit: Getty Images)
An RV's steep price tag means owners rely heavily on financing. Lenders include online and traditional banks, credit unions and RV dealerships. Here's what you should keep in mind about RV loans.
Loan terms are longer. Some RV loans rival home mortgages, with repayment periods ranging from 10 to 20 years for amounts that can sometimes top $500,000. Aim for a loan with the shortest possible term that you can manage.
Lenders are more stringent. The more you need to borrow, the more a lender will require of you, says Gary Ocallaghan, finance director at Gerzeny's RV World, a dealership with four locations in Florida. "Once you go over the $150,000 mark, you will need to provide additional documentation," he says, including credit information, tax returns and personal financial statements. The buyer's debt-to-income ratio, including the projected RV loan payment, must be under 50%, he adds.
Subscribe to Kiplinger's Personal Finance
Be a smarter, better informed investor.
Save up to 74%
Sign up for Kiplinger's Free E-Newsletters
Profit and prosper with the best of expert advice on investing, taxes, retirement, personal finance and more - straight to your e-mail.
Profit and prosper with the best of expert advice - straight to your e-mail.
Down payments are bigger. Most lenders require a minimum down payment of 10% of the sales price, says Ocallaghan.
Credit scores are higher. A good credit score for a car loan is typically 660 or better, but the bar is higher for RVs. You'll need a credit score of at least 700, Ocallaghan says. "If your score is under 700, it is difficult to obtain approval." Although his company works with many lenders, Ocallaghan knows of only two that would approve RV financing for borrowers with credit scores below 700.
The RV often serves as collateral. Most RV lenders will only consider a secured loan that uses the RV as collateral. Secured loans are easier to obtain, charge lower interest rates and have higher borrowing amounts than unsecured loans, which lenders consider riskier. Interest rates for secured loans recently ranged from 4.2% to nearly 8% at various banks and credit unions, depending on borrowing amounts and the loan term.
Older RVs are harder to finance. Generally, lenders won't finance RVs that are more than 15 years old. If you are buying an older RV, you may want to consider a personal unsecured loan. Lenders may also require an RV inspection, which ranges from $150 to $1,200 depending on the vehicle.