RV Insurance: Everything You Must Know
Selecting the right RV insurance is a big decision to protect your investment. Here's what you should know about the costs and different coverage types.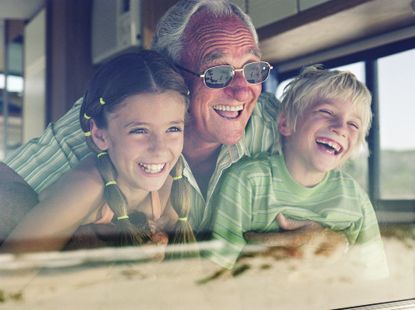 (Image credit: Getty Images)
As Americans weigh how to vacation safely in the middle of a pandemic, sales for RVs are skyrocketing. Total shipments from RV manufacturers were up nearly 47% year-over-year last December, according to data from the RV Industry Association. "People are taking more road trips," says Laila Ali of Ace RV Sales and Rentals, a family-run business in Herndon, Va.
Doubling as both transportation and accommodation, RVs offer vacationers a socially distant way to travel. But RVs can be expensive, costing anywhere from less than $10,000 for a travel trailer towed behind a vehicle to $500,000 or more for a luxury motorhome.
Protecting that investment with the right insurance is critical. "The RV is potentially your largest physical asset, in many cases worth as much, if not more, than a primary residence," says David Russell, powersports product manager at property insurer Nationwide.
Subscribe to Kiplinger's Personal Finance
Be a smarter, better informed investor.
Save up to 74%
Sign up for Kiplinger's Free E-Newsletters
Profit and prosper with the best of expert advice on investing, taxes, retirement, personal finance and more - straight to your e-mail.
Profit and prosper with the best of expert advice - straight to your e-mail.
Special Risks to Consider for RV Insurance
Insurance requirements vary by state with three standard areas of coverage similar to an auto policy: liability, collision and comprehensive—this is protection in case of lawsuits, accidents and Mother Nature.
Because RVs are big vehicles that can do a lot of damage in an accident, you will want to pay special attention to liability coverage. Generally, only an RV insurance policy will cover liability for a motorhome. For a travel trailer, liability coverage is typically provided by the towing vehicle's policy. If you have a large retirement savings nest egg to protect, you may want to consider additional coverage through an umbrella policy.
Comprehensive and collision coverage will also vary. Depending on the policy, the insurer may cover a severely damaged RV in one of several ways. Actual cash value is the standard and pays the owner what the RV was worth at the time of the accident, Russell says. Total loss replacement provides the amount needed to replace the damaged RV. Under agreed value coverage, which is typically for classic vehicles, the insurer pays an amount that was previously settled on, Russell says.
There are other risks a standard RV policy doesn't address that you may want coverage for. Because your RV is also your home on the road, insuring an RV is a lot different from insuring a car, says John Dixon, product management director at USAA. You may, for example, want additional coverage that pays for a hotel if the RV needs repairs and you can't stay in it.
Roadside assistance is another option to consider, says Bert Alanko, profit center leader at MBA Insurance. Having an RV towed can be pricey—up to $130 just for the tow truck to hook up to the vehicle, and then an additional charge for mileage.
For common claims like theft and vandalism, the contents inside an RV are generally protected under a homeowners or renters insurance policy, though typically with lower limits for covering property away from home. If your home on the road includes a variety of expensive electronics and other personal effects, get extra coverage through your RV policy. Permanent contents, such as kitchen appliances and bathroom fixtures, fall under the comprehensive and collision portions of most RV policies.
Perhaps one of the worst situations RV owners can find themselves in is a serious accident where the other driver is at fault and has little to no insurance, says Joseph Fried, a trial attorney at Fried Goldberg in Atlanta, who has handled insurance cases involving RVs. You could be on the hook for crippling medical bills if you're severely injured as well as other damages.
The minimum insurance required for personal and commercial vehicles is much lower than people think, Fried adds. "If you are badly hurt and need medical care or money because you can't work anymore, if you are relying on someone and all they have is $15,000 or even $1 million worth of insurance, those numbers aren't very big in today's society."
Adding uninsured or underinsured coverage is relatively cheap, but because of the smaller commission, insurance agents tend to promote it less, Fried says.
How Much RV Insurance Costs
The cost of RV insurance varies widely depending on the vehicle, the insurer and where you live. At Nationwide, a standard policy runs about $100 per year for a pop-up camper or more than $1,500 for a luxury motorhome. At USAA, which offers RV insurance primarily through a partnering company, Progressive, annual premiums range from about $100 to more than $3,000 for a travel trailer and from less than $200 to more than $7,000 for a motorhome. The more expensive the RV, the higher the premium, Dixon says.
Consumers can save money on yearly premiums by buying plans with higher deductibles, but this decision needs to be thought through carefully. Repair costs for an RV can be "manageable but are not cheap," Ali says.
For instance, a common insurance claim is for the damage from an awning that wasn't retracted properly, Dixon says. The repair bill runs anywhere from $1,000 to more than $10,000 depending on the size of the awning and the extent of the damage, he adds.
Consumers can get additional discounts if they pay the entire annual premium at once and have a clean driving record with no accidents or tickets as well as experience driving RVs, Dixon says.
And shop ahead for a policy. "Before you buy an RV, call your insurance agent and discuss what you are planning to buy," Alanko says. "What's your range of costs and options? Does your agent have any suggestions? You don't want any surprises."
Senior Retirement Editor, Kiplinger.com
Jackie Stewart is the senior retirement editor for Kiplinger.com and the senior editor for Kiplinger's Retirement Report.