How to Use a Credit Card: Expert Tips to Save You Time and Money
Knowing how to use a credit card efficiently can help you get the most out of your card.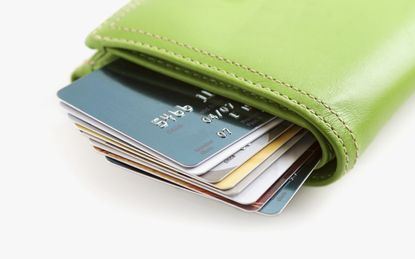 (Image credit: iStockphoto)
Have you ever wondered how to use a credit card efficiently? A credit card provides a revolving line of credit from which you can make purchases that you can pay off later. Some of the best credit cards can even let you rack up cash back, points or miles on purchases. Using a credit card is simple but with this advice you can get the most out of your card.
How to use a credit card
1. Pick a card that works for you
As long as you take some time to learn how to choose a credit card wisely, credit cards can be a great way to shop. With so many types of credit cards on the market, it's important that you find a card to meet your specific needs. From cash back cards, to balance transfer cards to charge cards, opting for the right card can save you time and money.
Once you've picked a card, you'll need to make sure to read your card agreements and understand your card's terms and conditions. You'll need to be aware of any potential due dates, interest rates and fees. The annual percentage rate or APR varies from card to card, so it's important to keep yours in mind before swiping at the register.
Subscribe to Kiplinger's Personal Finance
Be a smarter, better informed investor.
Save up to 74%
Sign up for Kiplinger's Free E-Newsletters
Profit and prosper with the best of expert advice on investing, taxes, retirement, personal finance and more - straight to your e-mail.
Profit and prosper with the best of expert advice - straight to your e-mail.
2. Always make on-time payments
One of the most important things to know about using a credit card is that payments should always be made on time. Your credit score is largely determined by payment history, so missing even one payment can be detrimental to your overall credit score. In fact, payment history typically makes up 35% of your overall credit score. Therefore, it's essential that you show a consistent history of on-time payments when using your credit card. You will also be subject to late fees and even accrued interest if you fail to make an on-time minimum payment.
3. Don't just pay the minimum
While making the minimum payment on your credit card each month will allow you to avoid any late fees or negative marks on your payment history, your balance will eventually add up. Over time, this will accrue interest payments that can be expensive — sometimes landing cardholders into a cycle of ever-growing debt. Paying more than the minimum can help you avoid racking up any interest charges.
4. Stay below your credit limit
Another good rule of thumb when using a credit card is to keep your balance well below your credit limit. Not only will it help you more easily pay off balances, but it will help avoid negatively hurting your credit utilization — and in turn your credit score.
5. Only spend what you can afford
While it may seem obvious, the best practice when using credit cards is to only spend what you can actually afford. Using the spending analysis tool offered on your online account can help you visualize which categories you're spending the most in, and need to cut back on to stay in budget.
6. Pick your own payment due date
A great tip when using a credit card is to pick your own payment due date. It can be a simple way to ensure that you'll always make your payments on time — for example, you can make the due date for all your credit cards right after payday.
Remember, using a card wisely can help you build a good credit score and benefit from credit card perks. But using your card recklessly can land you in a difficult financial position, where your primary worry will be how to pay off credit card debt.
Related articles
Erin pairs personal experience with research and is passionate about sharing personal finance advice with others. Previously, she was a freelancer focusing on the credit card side of finance, but has branched out since then to cover other aspects of personal finance. Erin is well-versed in traditional media with reporting, interviewing and research, as well as using graphic design and video and audio storytelling to share with her readers.