Find the Right Robo Adviser for You
Investors can choose from an array of price points and investment offerings, and most services even offer a human touch.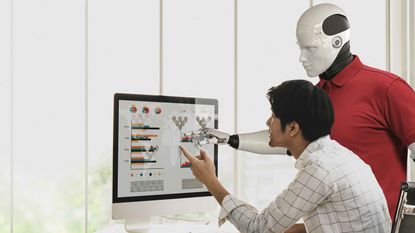 (Image credit: Photo-Illustration by Justin Metz)
With their winning combination of low account minimums and affordable access to professional investment and financial-planning advice, robo advisers continue to grow briskly. Industry leader Vanguard Personal Advisor Services, for instance, has seen its robo assets under man­agement nearly triple in four years. Independent platforms are going public to help fund growth (and enable founders and early investors to monetize some equity positions).
In the basic, digital-only robo model, algorithms are employed to build, monitor and rebalance portfolios (and often provide tax efficiency) using low-cost exchange-traded funds. In recent years, more robo clients have sought access to live financial advisers, especially as the pandemic created uncertainty and anxiety. Nearly all robo providers have responded by adding a hybrid tier that offers both a digital platform and the ability to interact with human investment and planning professionals.
The robo industry is maturing but still rapidly evolving. For instance, rosters of investment options are expanding to include socially responsible funds, alternatives to traditional market-value-weighted indexing, cryptocurrencies and even actively managed funds. Financial institutions are encouraging robo clients to broaden their financial relationship with the sponsoring bank or brokerage to include services such as credit cards or borrowing. Robo platforms have made it easier to link outside accounts so that clients can view their entire financial picture on a single dashboard.
Subscribe to Kiplinger's Personal Finance
Be a smarter, better informed investor.
Save up to 74%
Sign up for Kiplinger's Free E-Newsletters
Profit and prosper with the best of Kiplinger's expert advice on investing, taxes, retirement, personal finance and more - straight to your e-mail.
Profit and prosper with the best of Kiplinger's expert advice - straight to your e-mail.
The following list of 12 robo advisers is designed to help you identify a service that is suited to your needs (see below for some search advice). Our list is not a ranking of the top advisers. Instead, we used several criteria to draw up our list, including assets under management, quality of the digital platform and, in certain cases, investment performance. For portfolio performance, we leaned on data from Backend Benchmarking, a leading independent source of robo adviser industry research.
Acorns
Tiered service levels*: Yes
Minimum to invest: $5
Annual advisory fee†: $36 to $60 a year
Average portfolio expense ratio: 0.05%
Acorns (opens in new tab) tapped into a rich vein with its goal of enabling every American to save and invest. More than 60% of its customers are first-time investors. The paid subscriber base of more than 4 million is growing by leaps and bounds.
Acorns' robo offerings encourage "microinvesting." Spare change from everyday shopping is automatically invested with the swipe of an Acorns debit card. Rewards from shopping at hundreds of brands are swept into investment accounts, and clients can easily allocate a portion of each paycheck to an account. Acorns partners with CNBC for educational content. "We lead with education, and education is embedded in everything we do," says chief executive Noah Kerner.
Acorns operates on a subscription model, charging $3 per month for a personal account and $5 for family accounts. Kerner says that the firm intends to go public on the stock market.
Betterment
Tiered service levels*: Yes
Minimum to invest: $0
Annual advisory fee†: 0.25% to 0.40% a year
Average portfolio expense ratio: 0.11%
A robo-investing pioneer, Betterment (opens in new tab) continues to flourish as an independent shop. With 700,000 clients, assets under management of $33 billion and a reasonable 0.25% annual fee with no account minimum, the digital investment manager appeals to a wide audience, ranging from new investors (Backend named Betterment the top robo adviser for first-time investors in 2021) to older folks with million-dollar accounts.
Betterment offers several investment options, including a core port­folio built with index funds; three socially responsible investing portfolios; four income-oriented portfolios from investment manager Blackrock; and "smart beta" portfolios from Goldman Sachs that seek to outperform the market by tilting toward factors such as momentum or value. The robust digital tools allow customers to, for instance, plan in detail for multiple goals, such as purchasing a car, paying for education or funding retirement. Digital customers can pay one-time fees to seek guidance from a certified financial planner ($299 for a 45-minute call, say, to help set up and optimize an account; $399 for a 60-minute conversation on topics such as retirement or college planning). Premium service, with a $100,000 account minimum and 0.4% annual fee, brings unlimited adviser access.
Blooom
Tiered service levels*: Yes
Minimum to invest: $0
Annual advisory fee†: Starts at $120 a year
Average portfolio expense ratio: 0.17‡%
For many middle-class Americans, an employer retirement plan, such as a 401(k) or 403(b), is their largest investment account. The problem is that too many account holders are unequipped to invest and manage the portfolios. Chris Costello, chief executive and cofounder of Blooom (opens in new tab), sought to solve this problem when he launched his retirement plan–focused robo adviser in 2014. He recalls being frequently asked by friends and neighbors to review their retirement port­folios. "Nine times out of 10, the accounts were a complete mess, just a hodgepodge of investments or mostly in cash," he says. Thus was born what is today a $6 billion business in terms of assets under management. (About 7% of total managed assets are in clients' IRAs—a relatively new business for Blooom outside of employer-sponsored plans). Average account size: $191,000.
Because each 401(k) plan is different, Blooom tends to use the lowest-cost funds (generally index funds) available on the menu to construct portfolios resembling target-date funds that gradually become more conservative in allocation as the account holder nears retirement. Costello calculates that after Blooom reallocates clients' funds, the average portfolio expense ratio drops more than 20 basis points, which is enough to save an average of more than $400 per year. Fee plans range from $120 a year for basic digital service to $395 a year for a plan that includes an annual one-on-one session with an adviser.
E*Trade
Tiered service levels*: No
Minimum to invest: $500
Annual advisory fee†: 0.30%
Average portfolio expense ratio: 0.06%
E*Trade (opens in new tab) was an early entrant into the robo space, and the company made it painless for brokerage clients to migrate to Core Portfolios, its digital advice platform. Deniz Ozgenc, executive director of financial product management at E*Trade, says the service is aimed at novice investors, with its low account minimum ($500), modest fee (0.30%), streamlined design and lack of frills. But E*Trade does the basics well, providing managed, diversified portfolios (with strong performance) even for small accounts; automated portfolio rebalancing; en­vironmental, social and corporate governance–focused investments; and smart-beta options that seek to outperform market benchmarks. The digital offering does not yet offer tax-loss harvesting. The main caveat is the uncertainty about whether, and how, Core Portfolios will change if the service is integrated with Morgan Stanley, which acquired E*Trade in 2020.
Fidelity
Tiered service levels*: Yes
Minimum to invest: $10
Annual advisory fee†: None to 0.35%
Average portfolio expense ratio: 0.00%
Fidelity's unusual fee structure reflects its targeted marketing. Digital-only Fidelity Go (opens in new tab) is designed with young investors in mind. There is no minimum account balance requirement and no fee for accounts of less than $10,000. From $10,000 to $49,999, Fidelity Go customers pay a monthly $3 subscription. John Danahy, product area leader of digital planning and advice, says that this subscription model appeals to younger investors who have come of age paying monthly fees for Netflix and other services. The digital tools are user-friendly, and the Fidelity Flex funds used in Go portfolios charge no fees—unusual for the robo industry. "We want simplicity to remove inertia and confusion for early investors new to professional money management," says Danahy.
For accounts of $50,000 and higher, Go charges a 0.35% fee. Investors who want advice and coaching from a financial adviser can upgrade to Fidelity's hybrid tier, Personalized Planning & Advice, which charges a 0.5% ad­visory fee and has a $25,000 account minimum. PPA portfolios are also constructed with Fidelity's Flex funds, which certainly has not hurt performance: According to Backend's research, Fidelity ranked second in portfolio performance and first in stock portfolios for the five-year period that ended on September 30, 2021.
Merrill Guided Investing
Tiered service levels*: Yes
Minimum to invest: $1,000
Annual advisory fee†: 0.30% to 0.45%
Average portfolio expense ratio: 0.05% to 0.11%
Merrill Lynch, known for its high-net-worth private wealth management, moved smoothly into digitally delivered advice through its highly successful online brokerage platform, Merrill Edge. Edge and Guided Investing (opens in new tab) make the most of ownership by Bank of America, which provides banking services to one out of two U.S. households. GI's base annual fees are on the high side—0.45% for a GI account with a $1,000 account minimum and 0.85% for a GI account with an adviser—but discounts of up to 0.15% off the annual fee are available depending on the scale of the customer's relationship with BofA.
Unusual for a robo adviser, GI's portfolio construction and management are driven by humans instead of algorithms. Merrill Lynch's chief investment officer and investment committee make tactical allocation changes throughout the year. For instance, in the fall of 2021, the CIO tilted portfolios slightly away from foreign stocks and toward U.S. stocks (large- and small-company shares) and favored economically sensitive sectors, such as energy and materials.
Personal Capital
Tiered service levels*: Yes
Minimum to invest: $100,000
Annual advisory fee†: 0.89% for first $1 million
Average portfolio expense ratio: NA
Personal Capital has successfully positioned itself as something between a traditional robo adviser and a private wealth adviser. The outfit has 30,000 paying clients and manages nearly $22 billion of assets, implying an average account size of more than $700,000. The annual fee of 0.89% is lower than the 1% or more that a full-service adviser typically charges but significantly higher than the fees of most robos. Personal Capital (opens in new tab) offers some of the industry's best digital financial-planning tools, along with live advisers (Backend bestowed a perfect score on Personal Capital in 2021 for its financial-planning service). The minimum account size is $100,000, and clients with $200,000 are assigned two financial advisers.
James Burton, chief marketing officer, says that, in part due to the COVID-19 effect, retirement-planning advice is particularly in demand. Personal Capital partners with LifeYield to optimize clients' Social Security planning. The site's dashboard provides clients with detailed annual cash-flow projections prior to and in retirement, along with personalized nudges to curb overspending or to invest idle cash. You can use some of the company's digital tools for free (as 3 million people do) at www.personalcapital.com (opens in new tab).
Charles Schwab
Tiered service levels*: Yes
Minimum to invest: $5,000
Annual advisory fee†: None
Average portfolio expense ratio: 0.11%
Like Vanguard and Fidelity, Schwab has enjoyed great success in converting existing clients into customers for its digital advice products, Schwab Intelligent Portfolios (opens in new tab) and Intelligent Portfolios Premium (opens in new tab) (assets managed in Schwab's digital advisory business total $72 billion). Schwab charges no advisory fee for Intelligent Portfolios, which has a $5,000 account minimum (the firm does earn revenues from the underlying ETFs and cash held in investment portfolios). Premium, with a $25,000 minimum, provides unlimited access to CFPs and charges a flat $30 monthly advisory fee after an up-front, one-time fee of $300 for a comprehensive plan.
Schwab offers a wide selection of asset classes for portfolios, which has helped recent performance. In the year ending September 30, 2021, according to Backend, Schwab was the top performer among robos. In stocks, a tilt toward value, particularly bargains in small-company stocks, was rewarded; fixed income benefited from allocations to municipal bonds, Treasury inflation-protected securities and cash during a period when interest rates were rising.
Schwab's robo offering, including its digital planning tools, is robust, but its high allocation to cash (10%, on average, in client portfolios) has been a drag on performance over the long term—and has raised eyebrows. In July 2021, Schwab disclosed that it had recognized a $200 million liability and a related charge stemming from a Securities and Exchange Commission investigation into past disclosures. The company didn't specify the subject of the investigation, but analysts such as David Goldstone, manager of research and analytics at Backend, believe it may be related to lack of disclosure in the past about how Schwab earns revenue from cash allocations.
SigFig
Tiered service levels*: No
Minimum to invest: $2,000
Annual advisory fee†: 0.25%
Average portfolio expense ratio: 0.07% to 0.15%‡
The bulk of SigFig's (opens in new tab) business is with other businesses: It supplies the engine behind robo services offered by big banks, including Wells Fargo and UBS, and many third-party financial advisers. Fortunately, the firm also offers its robo platform directly to customers who maintain accounts at brokerages such as Fidelity, TD Ameritrade and Charles Schwab. SigFig's three- to five-year investment performance consistently ranks at or near the top of Backend's performance surveys, updated quarterly (for example, it was number one for the five years ending September 30, 2021). Backend also ranked SigFig the second-best robo adviser among 21 advisers surveyed in 2021.
The digitally savvy firm excels in investment but also provides strong planning tools—such as for retirement, a job change, relocation or an inheritance—on its platform. Fees are reasonable. The first $10,000 (minimum account size is $2,000) carries no fee; accounts larger than $10,000 pay a 0.25% annual fee (the first $10,000 is still fee-free). Accounts of both asset levels provide access to an investment adviser.
SoFi Invest Automated Investing
Tiered service levels*: No
Minimum to invest: $0
Annual advisory fee†: None
Average portfolio expense ratio: 0.03% to 0.08%‡
A dynamic and aggressive fintech company, SoFi (opens in new tab) went public in 2021. SoFi began in student-loan refinancing, then expanded into lending (including personal loans and mortgages), brokerage, insurance and other personal-finance business lines. In 2017, it launched its automated-investing platform, which still requires no account minimum and charges no fees (SoFi does earn interest from uninvested cash held in accounts), so it is particularly attractive to first-time investors. Robo investors even enjoy access to financial planners. In fact, SoFi's robo proposition is so compelling that it was awarded Backend's best overall robo adviser rating in 2021. Sound too good to be true? One reservation: Now that SoFi is a public, profit-seeking company, it wouldn't surprise us if its fees were to increase in 2022 from zero to some positive number.
Vanguard
Tiered service levels*: Yes
Minimum to invest: $50,000
Annual advisory fee†: 0.30% for first $5 million
Average portfolio expense ratio: 0.07%
Since Vanguard Personal Advisor Services (opens in new tab)' inception in 2015, its assets under management have zoomed to $259 billion as of the end of September 2021 (up $70 billion compared with September 2020), which reflects a strong value proposition and a ready source of new customers from within the Vanguard empire. "High tech, high touch, low cost has been a winning formula for us," says Brian Concannon, head of Vanguard Digital Advisor. The minimum account size for PAS is $50,000, and the 0.30% annual fee also brings access to live financial advisers; Voyager Select accounts of $500,000 and over are assigned a dedicated CFP. The average age of PAS customers is 57, and Concannon calls retirement planning the hybrid service's "bread and butter." A Medicare match tool (developed with Mercer), which drills down to a client's zip code, helps to select an appropriate Medicare plan and estimate health costs (including for long-term care) in retirement. Vanguard also recently launched a suite of five actively managed funds (three of them new) exclusively for PAS clients. In 2020, Vanguard launched Digital Advisor, a digital-only service aimed at millennials that has a $3,000 account minimum and a fee of 0.15%.
Wealthfront
Tiered service levels*: Yes
Minimum to invest: $500
Annual advisory fee†: 0.25%
Average portfolio expense ratio: 0.05% to 0.29%
A robo pioneer, Wealthfront has mushroomed into an adviser with $28 billion in assets under management and more than 465,000 clients. It is one of the very last digital-only holdouts (that is, it has no hybrid offering with a live adviser), which speaks to the quality and accessibility of its products and tools. (In 2021, for the second consecutive year, Backend named Wealthfront the best robo for digital financial planning.) "We consider it a failure of the product if you have to call us," says Elly Stolnitz, a senior communications manager at Wealthfront.
During the past year, Wealthfront has dramatically expanded its investment menu to include cryptocurrency trusts, master limited partnerships and hundreds of ETF sector funds vetted by its research team. Wealthfront constructs portfolios, but clients are now able to customize them with the expanded offerings. Customers whose self-tailored portfolios stray too far from their stated investment goals and risk tolerance receive nudges from Wealthfront, which also offers sophisticated tax-loss harvesting and tax-sensitive rebalancing strategies. The account minimum is just $500, and the annual fee is 0.25%.
*Higher tier may require higher minimum and/or higher fee.
†Fee is based on percentage of assets unless otherwise noted.
‡Fee depends on fund lineup in client's retirement or brokerage account.
Ask the Right Questions
Speak with a robo's representatives to gain a better understanding of its offerings.
Depending on your personal situation—for example, whether you're a beginning in­vestor, you have multiple planning goals or you feel more secure speaking to a live investment adviser—the most suitable robo adviser (or tier of service) will differ. It pays to spend time researching and comparing the many options before you fund an account. Here are some considerations to keep in mind and questions you could ask.
If you want or need a human adviser, ask how long it takes to arrange appointments, whether you'll be assigned an individual adviser and whether he or she is a certified financial planner. If you have a high net worth and unusually complex financial-planning requirements, then a traditional registered investment adviser (typically charging an annual fee of 1% or more) might be a better fit than a robo service.
Study the robo's digital investment and financial-planning tools. If some of your money is earmarked for a taxable account, ensure that the platform offers strategies such as tax-loss harvesting and tax-sensitive investments such as muni bonds. If it's a 401(k) account you need help with, verify that the adviser is able to serve that need.
Ask about the firm's portfolio-rebalancing discipline, because there are several different methods, and ask how the portfolios use cash (a high cash level can create a drag on investment returns). Review the menu of investment options and the extent to which customers can fiddle with the robo's default portfolios. (If you're an emotional or anxious type, then perhaps you don't want too much control over your portfolio.) See if the investment manager is tactically oriented or one who seldom tinkers with allocations focused on the long term.
If you have multiple planning goals with different time horizons (such as starting a family, buying a house and saving for education), be sure the digital platform can handle the complexity. Particularly if you are nearing retirement, make sure the digital tools for this critical planning requirement are robust. If you have trouble disciplining yourself to save (and invest), look for useful nudging and coaching tools. If you enjoy reading and learning about investing and financial planning, see what materials the robo offers (including its gated content for paying clients). It doesn't hurt to ask for a free trial—Vanguard Digital Advisor, for one, offers a fee waiver for 90 days.