Biden Puts New Cops on the Money Beat
President Biden has nominated well-known watchdogs to head agencies that regulate the financial sector.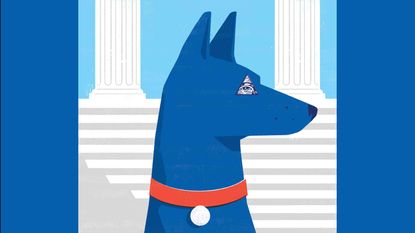 (Image credit: Illustration by Chris Gash)
During the Trump administration's four years, the financial services industry enjoyed a "hands-off" approach to regulation, with reg­ulators focused more on investor education than enforcement. That's about to change.
Gary Gensler, President Biden's nominee to chair the Securities and Exchange Commission, established himself as an enforcer when he headed the Commodity Futures Trading Commission during the Obama administration. During his tenure at the CFTC, Gensler cracked down on financial derivatives, which were criticized for the role they played in the 2008–09 financial crisis.
Gensler's record suggests he may support tougher requirements for brokers and other financial advisers. As head of a Maryland state financial protection commission in 2019, Gensler recommended that the state mandate that all financial planners who give investment advice adhere to the fiduciary standard, which requires them to put their clients' interests above their own. (Following industry pushback, a bill implementing the recommendation was abandoned.) That's a stricter requirement than an SEC rule that took effect last year, which requires broker-dealers to act in the "best interest" of their customers. Consumer advocates say the rule doesn't clearly define best interest and doesn't do enough to prevent broker-dealers from promoting products with high commissions.
Subscribe to Kiplinger's Personal Finance
Be a smarter, better informed investor.
Save up to 74%
Sign up for Kiplinger's Free E-Newsletters
Profit and prosper with the best of expert advice on investing, taxes, retirement, personal finance and more - straight to your e-mail.
Profit and prosper with the best of expert advice - straight to your e-mail.
If confirmed, Gensler is also expected to support more-detailed disclosures from public companies, particularly with respect to the impact climate change could have on company profits. The SEC issued guidance over a decade ago directing companies to disclose the risks of climate change, but information provided by companies has been "spotty and inconsistent," according to Ceres, a nonprofit that promotes sustainable investing. (See our story on environmentally focused investments (opens in new tab).) The number of actions against companies for inadequate disclosure about climate change over the past five years "can be counted on the fingers of one hand," says Veena Ramani, senior program director for Ceres.
The SEC may also take a more active role in regulating bitcoin and other cryptocurrencies. Since 2018, Gensler has been a professor and researcher at the Massachusetts Institute of Technology, where he specialized in cryptocurrencies and supported greater oversight over the $1 trillion cryptocurrency market. In February, the value of bitcoin topped $48,000 on news that Tesla purchased $1.5 billion of the currency and planned to accept it as payment for its electric cars.
Consumer protection. Consumers and the financial sector can also expect a more muscular Consumer Financial Protection Bureau if Rohit Chopra, Biden's nominee to head the agency, is confirmed. Chopra, currently a member of the Federal Trade Commission, served as the CFPB's student loan ombudsman from 2010 through 2015 and is a longtime ally of Sen. Elizabeth Warren (D-Mass.), who helped es­tablish the CFPB in the wake of the 2008–09 financial crisis.
The number of CFPB enforcement actions against financial firms declined substantially under the Trump administration, particularly with respect to illegal debt-collection practices, mortgage lending and student loan services, according to a 2019 report by the Consumer Federation of America.
In addition to reversing that trend, consumer advocates hope that Chopra will expand and improve the agency's consumer-complaint database, which allows consumers to report problems with financial institutions. The financial services industry has argued that the database doesn't give them a way to counter unfair grievances, and the Republican-led CFPB considered making it private. That effort didn't succeed, but the current database is difficult to search, says Mike Litt, consumer program advocate with the U.S. Public Interest Research Group. "We know that the database has been useful for consumers precisely because the complaints are public," he says. "Financial companies are incentivized to respond and deal with the problems consumers are having."
Assessing the GameStop fallout
One of the first items the Biden administration's regulators will need to confront is whether current laws and regulations are sufficient to deal with the fallout from the GameStop trading frenzy, which enriched a few investors at the apparent expense of many others (opens in new tab).
The Securities and Exchange Commission, under acting director Allison Herren Lee, said in a statement that it was monitoring the extreme volatility in GameStop and a few other companies that were caught up in a smackdown between traders and short sellers. Lawmakers have called for hearings on the subject. But the questions facing regulators and Congress are complex, vast and sometimes contradictory. Hedge funds that engage in short selling—a bet that stock prices will fall (see Street Smart (opens in new tab))—may come under the microscope, but so, too, will investors who use social media to boost share prices.
Treasury Secretary Janet Yellen has said she believes the markets proved resilient during the trading fracas, but critics say more needs to be done to reassure Americans who have invested their 401(k) plans in stocks and stock funds that the wild trading in GameStop and other stocks doesn't pose a risk to the integrity of the market. Dennis Kelleher, CEO of Better Markets, an advocacy group that promotes stronger protections for individual investors, says regulators and policymakers need to determine who, if anyone, broke the law "and what policies, rules, regulations and laws, if any, need to change to protect investors and markets."
Senior Editor, Kiplinger's Personal Finance
Block joined Kiplinger in June 2012 from USA Today, where she was a reporter and personal finance columnist for more than 15 years. Prior to that, she worked for the Akron Beacon-Journal and Dow Jones Newswires. In 1993, she was a Knight-Bagehot fellow in economics and business journalism at the Columbia University Graduate School of Journalism. She has a BA in communications from Bethany College in Bethany, W.Va.