The Next GameStop? 25 Stocks With High Short Interest
Wherever you find heavily shorted stocks, you'll probably find a trading frenzy. But beware: The music could stop at any moment.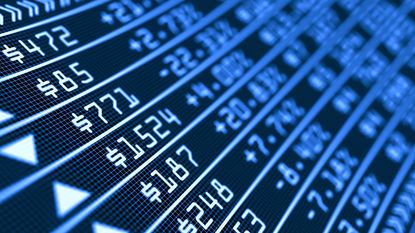 (Image credit: Getty Images)
Last year's meme stock trading frenzy might have come to an abrupt end in 2022, but the market remains rife with high-short-interest stocks that could be ripe for a short squeeze.
To recap: GameStop (GME (opens in new tab), $108.91), which essentially kicked off last year's meme stock frenzy, ended 2021 up 688%. Indeed, it was tops among the best-performing stocks in the Russell 1000 index.
GME, along with Bed Bath & Beyond (BBBY (opens in new tab), $14.06), AMC Entertainment (AMC (opens in new tab), $18.84) and seemingly countless others, became meme stock darlings on social media platforms, most notably Reddit's r/wallstreetbets (WSB) subreddit. The retail raiding hordes would pile into stocks with high short interest – in other words, companies where many outstanding shares are being used to bet against the stock – with the intention of setting off a short squeeze.
Subscribe to Kiplinger's Personal Finance
Be a smarter, better informed investor.
Save up to 74%
Sign up for Kiplinger's Free E-Newsletters
Profit and prosper with the best of Kiplinger's expert advice on investing, taxes, retirement, personal finance and more - straight to your e-mail.
Profit and prosper with the best of Kiplinger's expert advice - straight to your e-mail.
The new year has thus far brought an end to all that.
Rising interest rates amid expectations for tighter monetary policy have hit growth stocks as a whole in 2022. But it has really clamped down on pricey high-short-interest meme stocks from last year.
GME, for example, has lost more than a quarter of its value so far in 2022. AMC is down by nearly a third. Shares in Robinhood Markets (HOOD (opens in new tab), $14.40), whose free app became ground zero for meme-stock trading volume, have slumped almost 20%. The Roundhill Meme ETF (MEME (opens in new tab), $11.93) is off 15% for the year-to-date.
The result is something of a shakeup in the list of stocks with highest short interest, as measured by the percentage of shares outstanding sold short. Although a number of meme stocks remain, many have been replaced by more traditional short bets.
A quick primer: Hedge funds and other market participants can bet against a stock by "shorting" it. But those bears sometimes get it wrong, and when they do, it can trigger an effect called a "short squeeze."
You can learn more about how short squeezes work in our explainer, but in brief, it's a phenomenon that occurs when buying pressure in a stock forces shorts to unwind their negative bets – which they can do only by purchasing the stock – fueling a virtuous cycle that sends shares aggressively higher.
To get a sense of where the next squeeze candidate might come from, we've put together a list of the 25 stocks with the highest short interest in the Russell 3000 Index, according to the latest data available from S&P Global Market Intelligence.
Note that Heron Therapeutics (HRTX (opens in new tab), $8.14) currently tops the list. That's hardly unusual, however, and even something of a throwback to the pre-meme stock days. After all, biotechnology stocks with small market capitalizations have always been targets for short sellers. Heck, short interest in HRTX has been above 10% since mid-2018.
Biotechs figure prominently on the list, and certainly some of last year's meme stock favorites continue to hang on. Just be forewarned that this list is for informational purposes only.
Going long on a stock with high short interest thinking you're going to get rich off panic-buying by short sellers is an exceedingly dangerous idea. It's at least as risky as shorting stocks with high short interest in the first place.
When it comes to playing around with high short interest stocks, unless you are uncommonly lucky, let's just say the risks greatly outweigh the rewards.