If You'd Put $1,000 Into Amazon Stock 20 Years Ago, Here's What You'd Have Today
Amazon stock has lost almost $900 billion in value since its all-time high, but bulls say it's only a matter of time before it reclaims its heights.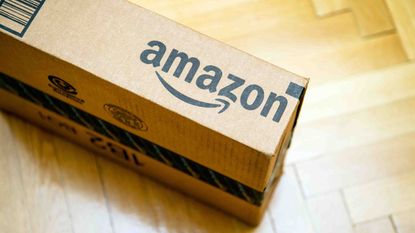 (Image credit: Getty Images)
Shares in Amazon.com (AMZN) remain stuck nearly 50% below their all-time high set way back in 2021, but AMZN stock has nevertheless done extremely well by long-term shareholders.
It's also the case that despite a prolonged period of struggle, Wall Street believes Amazon stock is a great bet for 2023 and beyond.
Amazon, which began life as a modest website for book buyers, went public in 1997, and has since generated truly outsized wealth for shareholders. Indeed, Amazon stock ranks as one of the 30 best stocks of the past 30 years, according to an analysis by Hendrik Bessembinder, a finance professor at the W.P. Carey School of Business at Arizona State University.
Subscribe to Kiplinger's Personal Finance
Be a smarter, better informed investor.
Save up to 74%
Sign up for Kiplinger's Free E-Newsletters
Profit and prosper with the best of expert advice on investing, taxes, retirement, personal finance and more - straight to your e-mail.
Profit and prosper with the best of expert advice - straight to your e-mail.
Between its initial public offering in 1997 and December 2020, Amazon stock created nearly $1.6 trillion in wealth for shareholders, according to Bessembinder's model, which includes cash flows in and out of the business and other adjustments.
Amazon's emergence as the nation's largest e-commerce company is only part of the story behind its extraordinary wealth creation. The firm is a giant in the fast-growing industry of cloud-based services, a leader in streaming media and has enjoyed explosive growth in revenue from digital advertising.
Amazon has been quite busy in the analog world too. For example, it owns the Whole Foods grocery store chain and built its own freight and logistics operations. The latter operations comprise a vast assemblage of distribution centers, as well as fleets of commercial aircraft and trucks.
AMZN stock has taken a turn for the worse over the past couple of years, however, erasing a large chunk of that hard-won wealth creation. From its peak to today, the company has shed roughly $900 billion in market capitalization.
Bulls contend that investors and traders are overreacting to the post-pandemic slowdown in Amazon's traditional retail business. More importantly, the market is failing to value Amazon stock properly when accounting for its Amazon Web Services cloud business, bulls say.
For these reasons and more, much of Wall Street says Amazon stock is a top pick for 2023 and beyond. Indeed, of the 52 analysts covering AMZN stock tracked by S&P Global Market Intelligence, 31 rate it at Strong Buy, 17 say Buy, three call it a Hold and one has it at Sell. That works out to a consensus recommendation of Strong Buy.
Meanwhile, the Street's average price target of $137.92 gives AMZN stock implied upside of nearly 40% in the next 12 months or so.
The bottom line on Amazon stock?
Which brings us to what $1,000 invested in AMZN stock 20 years ago would be worth today.
But first things first. As you can see in the above chart, if you had invested $1,000 in Amazon stock in late March 2003 and sold at its height in July 2021, you would have grossed more than $133,000.
Today, that same $1,000 investment is worth a bit more than $71,000. By comparison, the same amount invested in the S&P 500 over the same time frame would theoretically be worth almost $6,600 today.
That's a bitter pill to swallow for long-time shareholders, but something tells us they will eventually recoup those paper losses.
After all, for its entire history as a publicly traded company, Amazon stock has generated an annualized total return of 31%. The S&P 500 generated an annualized total return of 9.8% over the same span.
If nothing else, Amazon stock has absolutely crushed the performance of the broader market over the long term, and bulls have every expectation that it will keep that streak alive.
Analysts forecast the company – which already has a market value of more than $1 trillion – to generate average annual earnings per share growth of almost 33% for the next three to five years. That's an almost unthinkable growth rate for a company this size, and yet Amazon has done it before. At its peak back in July 2021, the company had a market value within striking distance of $2 trillion.
True, it may take awhile for AMZN stock to regain its all-time high of almost two years ago. History suggests that it would be foolish to bet against it.
More Stocks of the Past 20 Years
Senior Investing Writer, Kiplinger.com
Dan Burrows is Kiplinger's senior investing writer, having joined the august publication full time in 2016.
A long-time financial journalist, Dan is a veteran of SmartMoney, MarketWatch, CBS MoneyWatch, InvestorPlace and DailyFinance. He has written for The Wall Street Journal, Bloomberg, Consumer Reports, Senior Executive and Boston magazine, and his stories have appeared in the New York Daily News, the San Jose Mercury News and Investor's Business Daily, among other publications. As a senior writer at AOL's DailyFinance, Dan reported market news from the floor of the New York Stock Exchange and hosted a weekly video segment on equities.
In his current role at Kiplinger, Dan writes about equities, fixed income, currencies, commodities, funds, macroeconomics, demographics, real estate, cost of living indexes and more.