The 12 Best Tech Stocks to Buy for 2022
The best tech-sector picks for the year to come include plays on some of the most exciting emergent technologies, as well as several old-guard mega-caps.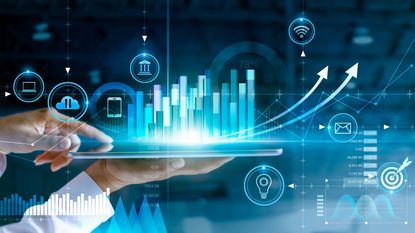 (Image credit: Getty Images)
A multiyear bull market in the technology sector could be on shaky ground in 2022. So while in most years, investors might succeed with a broad-indexed approach to the sector, it might pay to be a stock picker in the space this year.
A smart place to start: our 12 best tech stocks for 2022.
Technology faces an uphill climb this year for several reasons. Most notably, at 27.9 times the coming year's earnings estimates, tech is the second-priciest sector in the market, behind only consumer discretionary (31.1). And that's just the sector average – it's not uncommon to see tech stocks trading at triple-digit forward price-to-earnings (P/E) ratios.
Also noteworthy are the actions of the Federal Reserve. With inflation hitting levels not seen since the early 1980s, the U.S. central bank has taken a hawkish tone. Easy monetary policy is likely to tighten up over the coming year; the Fed itself anticipates three rate hikes to its benchmark rate in 2022, which would certainly cut into the sector's fat margins.
But if you can stand a little heat, technology still looks like one of the best places to generate excess returns.
"Valuations still look expensive relative to the S&P 500," say RBC Capital Markets strategists in their 2022 outlook. However, "Tech ranks the best among all sectors on our quality metrics, ranking at or near the top for all factors that we evaluated."
Read on as we unveil our 12 best tech stocks to buy for 2022. Every stock here is a member of the Russell 3000, which covers most of the investable U.S. market. Moreover, each stock here receives a consensus Buy rating, according to analysts surveyed by S&P Global Market Intelligence. This list covers a wide range of approaches, from trillion-dollar tech behemoths to recent initial public offerings (IPOs) looking to disrupt established technologies.
Data is as of Jan. 2. Analyst opinions and consensus ratings from S&P Global Market Intelligence. Stocks are scored on a five-point scale, where 1.0 equals a Strong Buy and 5.0 is a Strong Sell. Scores between 3.5 and 2.5 translate into Hold recommendations. Scores higher than 3.5 equate to Sell ratings, while scores equal to or below 2.5 mean that analysts, on average, rate a stock as being a Buy. The lower the score, the stronger the recommendation. Stocks listed in reverse order of analysts' consensus recommendation.
Contributing Writer, Kiplinger.com
Tom Taulli is the author of High-Profit IPO Strategies, All About Commodities and All About Short Selling. He is also the founder of several high-tech companies, such as Web IPO (one of the pioneers of digital public offerings). He can be reached on Twitter at @ttaulli.