Stock Market Today: Stocks Brush Off Deutsche Bank Troubles
Troubling financial sector headlines kept stocks lower for most of the day, but the major indexes pushed higher by the close.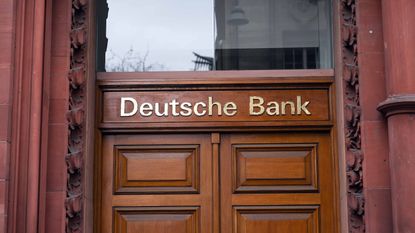 (Image credit: Jeremy Moeller/Getty Images)
Stocks opened lower Friday as uncertainty in the financial sector kept investors on edge, with Deutsche Bank (DB) the latest lender to be thrust into the "potentially troubled" limelight. This sent its shares tumbling – and kept the broader market lower for most of the day, though the major indexes managed to swing higher by the close.
The Dow Jones Industrial Average finished 0.4% higher at 32,237, the S&P 500 gained 0.6% to 3,970, and the Nasdaq Composite rose 0.3% to 11,823. All three benchmarks closed higher on a weekly basis too.
The last few weeks have seen an onslaught of troubling bank headlines. These started with the failures of Silicon Valley Bank and Signature Bank, and earlier this week, centered on the UBS Group's takeover of Credit Suisse. Overnight, German lender Deutsche Bank entered the spotlight as the cost to insure itself against default hit its highest level since 2018, according to Reuters.
Subscribe to Kiplinger's Personal Finance
Be a smarter, better informed investor.
Save up to 74%
Sign up for Kiplinger's Free E-Newsletters
Profit and prosper with the best of expert advice on investing, taxes, retirement, personal finance and more - straight to your e-mail.
Profit and prosper with the best of expert advice - straight to your e-mail.
Sign up for Kiplinger's FREE Investing Weekly e-letter for stock, ETF and mutual fund recommendations, and other investing advice.
"Just as hopes had risen that contagion would be contained, banking stocks in Europe have been battered again by fears that fresh problems could be lurking," says Susannah Streeter, head of money and markets at Hargreaves Lansdown. The worries around Deutsche Bank are "rearing up even though more deposits appear to have been flowing into the German lender since the banking scare erupted, and it is thought to have capital reserves well in excess of regulatory requirements."
Still, DB stock was down more than 11% at its intraday low before closing with a more modest 3.1% loss. This created headwinds for other financial stocks, including Citigroup (C, -0.8%) and JPMorgan Chase (JPM, 1.5%).
Also creating a sense of unease, Treasury Secretary Janet Yellen today called an unscheduled meeting for the Financial Stability Oversight Council (FSOC) – a group of top financial regulators that works to combat systemic risks in the U.S. economy.
On the economic front, durable goods orders fell 1% in February. Additionally, preliminary readings of the S&P Global purchasing managers index showed factory activity contracted for a fifth straight month in March, while growth in the services sector continued for a second consecutive month. "The demand for services will continue to create a headache for policy makers as they work to slow down inflation," says Jeffrey Roach, chief economist at LPL Financial. "As the economy releases pent-up demand for experiences and bids up prices, persistent services inflation will continue to nag central bankers."
The best defensive stocks
Shaky footing in the stock market had investors seeking out safe-have plays today, as evidenced in the outperformance of utility stocks and consumer staples stocks. And market participants should brace for even more volatility.
"The stock market is acting like a teenager right now, susceptible to short-term swings driven by whatever is immediately in front of it at the moment, whether it's banking sector uncertainty, Federal Reserve jitters and inflation worries," says Ryan Belanger, founder and managing principal at Boston-based wealth management firm Claro Advisors. "Investors should trust, but verify what they own in their portfolios and make sure it is aligned with their short- and long-term objectives."
Investors who want to protect their portfolios against ongoing market uncertainty will want to focus on the best defensive stocks, including top income plays like those found among the best dividend stocks or the best healthcare stocks.
Contributing Editor, Kiplinger.com
With over a decade of experience writing about the stock market, Karee Venema is an investing editor and options expert at Kiplinger.com. She joined the publication in April 2021 after 10 years of working as an investing writer and columnist at Schaeffer's Investment Research. In her previous role, Karee focused primarily on options trading, as well as technical, fundamental and sentiment analysis.