Stock Market Today: May's Surprising Jobs Data Slams Brakes on Stocks
Investors didn't celebrate last month's strong gain in nonfarm payrolls; instead, they took it as a sign to fear the Fed.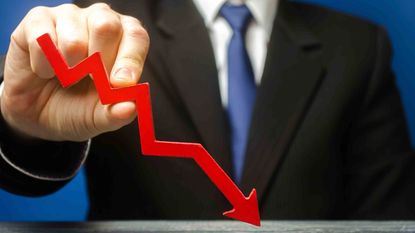 (Image credit: Getty Images)
It was a "good news is bad news" trading session Friday. Rather than cheer a better-than-expected May jobs report, investors pondered how the encouraging numbers would affect the Federal Reserve's path forward.
The Labor Department reported that May nonfarm payrolls grew by 390,000, which was much better than the 318,000 expected. It wasn't a perfect report – unemployment of 3.6% was above estimates of 3.5%, while average hourly earnings growth of 0.3% was below expectations for 0.4% – but it still fanned fears that America's central bank would need to keep up its hawkish bent for longer, meaning that stiff 50-basis-point interest-rate hikes could continue past the Fed's summer meetings.
"The May employment report perfectly describes the current state of the economy. It is likely still expanding and jobs are still plentiful, but companies are facing elevated compensation costs as consumers grapple with inflation amid a tight labor market," says Shawn Snyder, Head of Investment Strategy at Citi U.S. Wealth Management. "However, the strength of the report is a double-edged sword for investors because a resilient economy will likely make the Fed confident that it can tighten monetary policy further."
Subscribe to Kiplinger's Personal Finance
Be a smarter, better informed investor.
Save up to 74%
Sign up for Kiplinger's Free E-Newsletters
Profit and prosper with the best of expert advice on investing, taxes, retirement, personal finance and more - straight to your e-mail.
Profit and prosper with the best of expert advice - straight to your e-mail.
Meanwhile, Rick Rieder, BlackRock's chief investment officer of global fixed income, sees a potential shift in May's report.
"The persistent headlines of major companies freezing hiring, or reducing staff are clearly indicative of a major change in forward business growth expectations," he says. "This is a watershed moment for the trajectory of payrolls and now directly places the spotlight on how deep this turn will be."
Sign up for Kiplinger's FREE Investing Weekly e-letter for stock, ETF and mutual fund recommendations, and other investing advice.
Speaking of reducing staff, Tesla (TSLA, -9.2%) shares bombed after CEO Elon Musk said in an email Friday that he planned to cut 10% of the electric vehicle (EV) maker's roughly 100,000 jobs, citing a "super bad feeling" about the American economy. President Joe Biden, asked about Musk's take, countered by listing other automakers who were ramping up investments. "Well, let me tell you, while Elon Musk is talking about that, Ford (F, -2.8%) is increasing their investment overwhelmingly," he said, adding that Stellantis (STLA, -3.6%, formerly Chrysler) was also pouring more money into EVs.
Also dragging the market lower was Amazon.com (AMZN, -2.5%), which snapped a six-day, 20%-plus win streak – its best such run since early 2015.
The broader indexes spent Friday retching up much of yesterday's gains. The Nasdaq Composite retreated 2.5% to 12,012, the S&P 500 finished down 1.6% to 4,108 and the Dow Jones Industrial Average dropped by 1.1% to 32,899.
Other news in the stock market today:
The small-cap Russell 2000 was off by 0.8% to 1,883.
U.S. crude futures jumped 1.7% to settle at $118.87 per barrel.
Gold futures fell 1.1% to finish at $1,850.20 an ounce.
Bitcoin joined in Friday's downturn, declining 2.4% to $29,539.64. (Bitcoin trades 24 hours a day; prices reported here are as of 4 p.m.)
American Airlines (AAL) slumped 7.1% after the company updated guidance for several second-quarter metrics. While AAL said it expects revenue to be 11% to 13% higher than where it was in Q2 2019 – up from previous guidance of a 6% to 8% increase – it believes available seat miles in the second quarter, a measure of passenger carrying capacity, will be down 7% to 8% on a two-year basis, wider than its prior outlook for a decline of 6% to 8%. The air carrier also raised its average fuel cost estimate to a per-gallon range of $3.92 to $3.97 from $3.59 to $3.64. AAL dragged several other airline stocks lower today too, with Delta Air Lines (DAL, -3.6%), Spirit Airlines (SAVE, -1.8%) and United Airlines (UAL, -2.9%) among those losing ground.
CrowdStrike Holdings (CRWD) reported first-quarter adjusted earnings of 31 cents per share on revenue of $487.8 million, beating analysts' estimates for earnings of 23 cents per share and sales of $465.1 million. The cybersecurity firm also posted annual recurring revenue of $1.9 billion and free cash flow of $158 million – up 61% and 34% year-over-year, respectively. "Like its larger cybersecurity peers, CRWD argues that industry fundamentals are as strong as they've ever been," says UBS Global Research analyst Roger Boyd (Buy). "In addition, we see a market leading position, high degree of revenue visibility, strong balance sheet and cash flow generation as attributes that can help CRWD succeed in the current macro environment." Nonetheless, shares slid 6.9% today.
Weather Worries by Setting It and Forgetting It
The worry about 2022's slump is that you can't chalk it up to any one or two things – these losses truly are a team effort.
"Rising inflation, supply chain woes, labor market troubles, dwindling consumer spending, and the general downcast sentiment in the economy are having a combined negative impact," says Kunal Sawhney, CEO of Australian research firm Kalkine Group. Though he adds that unease over runaway inflation is "almost contagious" and that investors "are also increasingly concerned that Fed's monetary tightening could trigger a recession."
As we've mentioned over the past couple of months, one of your best lines of defense is to position your portfolio to combat inflation. Stocks with exceptional pricing power, as well as investments that are either insulated or benefit from inflation, might be able to help investors ward off at least some continued stock-market losses.
But another tack to take is to evaluate the market's best long-term, dividend-paying investments, buy them on the dip, slap on an eye mask and noise-canceling headphones, and let compounding do its thing until you retire – or, if you're already in retirement, let the dividend checks help finance your post-career life.
OK, we jest: You shouldn't check out completely, but the point still stands that steady high-yield stocks like these 20 names can provide significant peace of mind when the market hits scary patches of turbulence.
Disclaimer
Kyle Woodley was long AMZN as of this writing.
Kyle Woodley is the Editor-in-Chief of WealthUp, a site dedicated to improving the personal finances and financial literacy of people of all ages. He also writes the weekly The Weekend Tea newsletter, which covers both news and analysis about spending, saving, investing, the economy and more.
Kyle was previously the Senior Investing Editor for Kiplinger.com, and the Managing Editor for InvestorPlace.com before that. His work has appeared in several outlets, including Yahoo! Finance, MSN Money, Barchart, The Globe & Mail and the Nasdaq. He also has appeared as a guest on Fox Business Network and Money Radio, among other shows and podcasts, and he has been quoted in several outlets, including MarketWatch, Vice and Univision. He is a proud graduate of The Ohio State University, where he earned a BA in journalism.
You can check out his thoughts on the markets (and more) at @KyleWoodley.