6 Sturdy Defensive Stocks to Buy for 2022
A volatile market has investors seeking safety. These top-rated defensive stocks could act as shelter from the storm.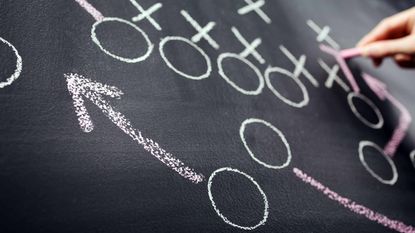 (Image credit: Getty Images)
Now could be the time for defensive stocks to shine.
While growth stocks often generate headlines and excitement, they pose considerable risks, as we are currently witnessing so far in 2022. Many popular plays that skyrocketed from mid-2020 well into 2021 have come crashing down, pulling the growth-heavy Nasdaq Composite into correction territory.
But investors hardly need to lose hope: Defensive stocks offer much more stability during volatile market environments.
Defensive plays boast certain characteristics. For one, they typically need to have tangible earnings and cash flow, which are used to pay dividends, buy back shares or grow businesses through the purchase of competitors. For long-term, risk-averse investors, the steady nature and compounding dividends of defensive stocks are ideal for reaching their financial goals.
Defensive stocks also typically have dominant positions in huge markets with durable competitive advantages. They also tend to be the kinds of companies whose products and services are essential to people's everyday lives; thus, their stocks tend to hold up better when the economy slows. Think consumer staples companies, who peddle canned foods, cleaning supplies and toilet paper. Or think defense contractors, whose projects last for years, sometimes decades, and face little competition given required national security clearance and sophisticated expertise.
That's why when, say, the Federal Reserve becomes more aggressive about tightening policy, like they have of late, defensive plays tend not to suffer as much. Whether rates rise or fall, people will still need paper towels, electricity and national defense.
With that said, here are six of the best defensive stocks for investors seeking protection right now. To help in our search for solid companies, we turned to the Stock News POWR Ratings system (opens in new tab) to find Buy and Strong-Buy rated names that might be better suited to help investors ride out uncertain market conditions. Check them out.
Data is as of Jan. 26. Dividend yields are calculated by annualizing the most recent payout and dividing by the share price.
Contributing Writer, Kiplinger.com
Jaimini Desai has been a financial writer and reporter for nearly a decade. He has helped countless investors take profitable rides on some of the hottest growth trends. His previous experience includes writing for Investopedia, Seeking Alpha and MT Newswires.
He is the Chief Growth Strategist for StockNews.com and the editor of the POWR Growth and POWR Stocks Under $10 newsletters.