Why Aren't Stocks Sweating Trump's COVID Stimulus Snub?
President Trump decries $600 stimulus payments in COVID rescue bill, putting its passage in doubt. Here's why the market isn't shaking yet.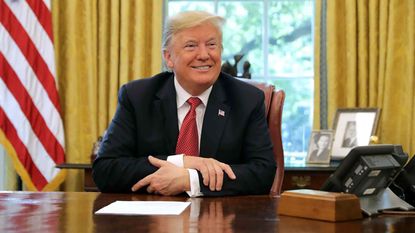 (Image credit: Getty Images)
President Donald Trump surprised most of America on Tuesday night when he spoke out against the $900 billion COVID stimulus bill recently approved by Congress, putting its full passage into question.
And yet, the stock market barely budged Wednesday morning. Dow Jones Industrial Average, S&P 500 and Nasdaq Composite futures were all in the black heading into the day's trading session.
Specifically, Trump didn't outright threaten to veto the plan, which includes $600 stimulus checks. But he did call it a "disgrace" and urged Congress to up the amount to $2,000 per American. He also rallied against "unnecessary items from this legislation," seeming to confuse the coronavirus rescue package and the omnibus spending bill that was passed alongside it.
Subscribe to Kiplinger's Personal Finance
Be a smarter, better informed investor.
Save up to 74%
Sign up for Kiplinger's Free E-Newsletters
Profit and prosper with the best of Kiplinger's expert advice on investing, taxes, retirement, personal finance and more - straight to your e-mail.
Profit and prosper with the best of Kiplinger's expert advice - straight to your e-mail.
Nonetheless, this threatens to at least delay much-needed relief to American individuals and small businesses, the latter of which was expected to benefit from access to another $285 million in the restarted Paycheck Protection Program (PPP).
So why does the stock market appear so sanguine?
"The possibility of a failed stimulus deal means almost nothing for the stock market because stocks still rose over the past few months when there was no stimulus and no likelihood of one coming," says David Bahnsen, chief investment officer of California-based The Bahnsen Group. "The market didn't move up much in recent days when a deal was finalized, before this latest speed bump in passing a stimulus deal."
He believes that the stock market still expects some sort of stimulus to happen, regardless of the form it takes.
"While I believe there are sufficient votes to override a veto from President Trump," he says, "I also believe President Trump could actually get what he wants in a revision of the stimulus deal."
Raymond James analysts agree that the president's demands for revisions to the COVID relief bill "raise the individual payment amount to $2,000 significantly raises uncertainty for the days ahead, but our base case remains that the bill passed by Congress will become law."
They don't, however, believe that a version with $2,000 checks is imminent.
"The package passed both the House and the Senate with veto-proof margins and the $2,000 payment level (the Democrats' original proposal in the HEROES Act) has no support among Republican lawmakers," they say.
It's also possible that so-called Biden stocks could ultimately benefit from this outburst, as it seems to tip the scales of the Georgia Senate runoffs – would determine whether President-elect Joe Biden has an acquiescent Congress to work with over at least the next two years.
"Further, the President's demand is arguably a net positive for Democrats' chances in the Georgia Senate races," Raymond James analysts say, "as Republicans will be forced on the defensive on support for the $2,000 checks and any delay on COVID relief."
(Stay on top of all the new stimulus bill developments – sign up for the FREE Kiplinger Today E-Newsletter!)
Senior Investing Editor, Kiplinger.com
Kyle is senior investing editor for Kiplinger.com. As a writer and columnist, he also specializes in exchange-traded funds. He joined Kiplinger in September 2017 after spending six years at InvestorPlace.com, where he managed the editorial staff. His work has appeared in several outlets, including U.S. News & World Report and MSN Money, he has appeared as a guest on Fox Business Network and Money Radio, and he has been quoted in MarketWatch, Vice and Univision, among other outlets. He is a proud graduate of The Ohio State University, where he earned a BA in journalism.