Stock Market Today: Energy Stocks Take a Turn in the Spotlight
Exxon Mobil (XOM) and Chevron (XOM) led a big Tuesday for energy stocks and other cyclical sectors, and lifted the Dow to modest gains.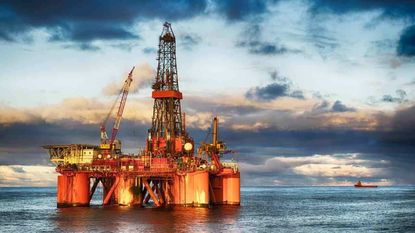 (Image credit: Getty Images)
Positive news in the form of European stimulus measures and upbeat earnings reports from U.S. blue chips sent stocks in cyclical sectors higher today.
On Tuesday, the EU's European Commission agreed to a 750-billion-euro rescue package that raised hopes for a similar bill being discussed in Washington.
Also on Tuesday, Coca-Cola (KO, +2.3%) advanced after reporting better-than-expected earnings and expressing optimism that the worst of the pandemic's economic hit was behind it. It still was a difficult quarter, with net sales plunging 28% year-over-year, but unit case volumes have been improving in recent months.
Subscribe to Kiplinger's Personal Finance
Be a smarter, better informed investor.
Save up to 74%
Sign up for Kiplinger's Free E-Newsletters
Profit and prosper with the best of expert advice on investing, taxes, retirement, personal finance and more - straight to your e-mail.
Profit and prosper with the best of expert advice - straight to your e-mail.
That followed International Business Machines' (IBM, -0.3%) Monday evening report, which included Street-beating revenues and profits.
"From a 'big picture' perspective, COVID-19 related challenges are presenting IBM both headwinds and tailwinds, accelerating the cannibalization of the company's legacy-based software and services businesses (roughly 70% of run rate), while also boosting demand for its Cloud-based offerings," write Wedbush analysts, who rate the stock at Neutral (equivalent of Hold).
Energy stocks (including several of these outperformers of the past few months) were among the day's biggest winners on a 2.8% gain in U.S. crude to $41.96 per barrel; Exxon Mobil (XOM, +5.1%) and Chevron (CVX, +7.2%) led the Dow Jones Industrial Average 0.6% higher to 26,840.
The S&P 500 climbed 0.2% to 3,257, while the Nasdaq Composite reversed its Monday gains with a 0.8% decline to 10,680. Small caps were the biggest winner today, however, with the Russell 2000 gaining 1.3% to 1,487.
Know When to Fold 'Em
While some stocks continue to play catch-up, the path for the broader markets gets significantly more difficult from here.
UBS, for instance, recently reiterated that its S&P 500 price target for June 2021 is a mere 1.3% from here.
"Our S&P 500 EPS estimates of USD 122 (-26%) and USD 156 (+28%) for 2020 and 2021, respectively, remain unchanged," UBS analysts write. "Overall, results should help sustain the rally we have seen over the last four months. Our June 2021 S&P 500 price target remains 3,300."
Without a rising tide, stock selection becomes all the more important … not just in picking winners, but also identifying (and staying away from) losers.
Much of the carnage is already in the rear-view mirror: Dozens of stocks have cut or suspended their dividends, and more than a handful of companies have declared bankruptcy as their finances unraveled. However, numerous stocks still are flashing bright, red warning signs, and in many cases they were doing so long before COVID-19 was in the picture.
Read on as we highlight 14 stocks current investors should consider taking some profits on – and would-be buyers might be better off avoiding. In some cases, coronavirus could weigh on them long after the rest of the market moves ahead; in others, COVID-19 merely exacerbated already-bad situations. And still other stocks on this list have actually heated up too much and could have a difficult time racking up additional gains.
Kyle Woodley is the Editor-in-Chief of Young and The Invested, a site dedicated to improving the personal finances and financial literacy of parents and children. He also writes the weekly The Weekend Tea newsletter, which covers both news and analysis about spending, saving, investing, the economy and more.
Kyle was previously the Senior Investing Editor for Kiplinger.com, and the Managing Editor for InvestorPlace.com before that. His work has appeared in several outlets, including Yahoo! Finance, MSN Money, Barchart, The Globe & Mail and the Nasdaq. He also has appeared as a guest on Fox Business Network and Money Radio, among other shows and podcasts, and he has been quoted in several outlets, including MarketWatch, Vice and Univision. He is a proud graduate of The Ohio State University, where he earned a BA in journalism.
You can check out his thoughts on the markets (and more) at @KyleWoodley.