The Kiplinger Letter's Must-Read Political and Economic Forecasts for 2021
Our annual outlook explores what to expect from the U.S. economy, the new Congress and next administration, trade tensions, cryptocurrency, self-driving trucks and more.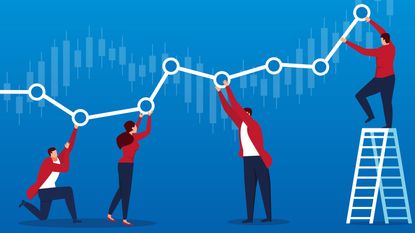 (Image credit: Getty Images)
Forecasting the future is no easy task, but that's what Kiplinger reporters and editors do, digging deep into data and reaching out to experts in academia and the private sector. We tap our sources in government to understand how regulations will affect emerging technology. Moreover, we look at past and present trends and apply careful, considered judgment to forecast and analyze coming developments.
In what promises to be an eventful 2021, here are 10 big trends and stories to watch.
1/10
Strong Growth for the Economy; Long Rates Rising
GDP growth should top 5% in 2021, as Democratic control of the Senate will likely lead to another fiscal stimulus package this year, including help for states. The deficit will continue to rise, which is likely to boost long-term interest rates more. Look for 10-year Treasury yields to end the year close to 2%. Mortgage rates will pick up to 3.5%, from 2.7% currently. An upward drift in mortgage rates could incite some panic buying, pushing up home prices more.
This story was adapted from the January 8 issue of The Kiplinger Letter. Get a free sample issue now to see how you can prosper from The Letter's latest forecasts all year long.
Consumer loan rates and home equity line-of-credit rates will stay low, since they are influenced by the short-term federal funds rate, which the Federal Reserve will continue to set at close to zero. Rates on longer-term auto loans will likely tick up.
2/10
Employment Picture Will Improve (But Slowly)
The jobless rate may get stuck at times, but the overall trend is down. There are still 5.5 million former workers who are counted as having dropped out of the labor force since Feb. As the pandemic subsides, many of those folks will likely be looking for work. If they do, it could cause the unemployment rate to drop more slowly, since they'll then be counted as officially unemployed. But more people looking for work shows optimism for finding a gig, and that's a good thing. By the end of 2021, figure on the unemployment rate falling to 5.3%.
3/10
Trump's Influence Will Endure
Donald Trump's grip on the GOP will persist for years to come despite efforts to strip the president of his duties over his role in the violent invasion of Capitol Hill. While many Republican lawmakers are eager to be rid of Trump, the president's sway with the party's rank and file remains significant. Expect Trump to use that influence for all it's worth, even if he won't or can't run for office again in 2024.
4/10
Democrats' Short List: Voting Rights, Clean Energy
Democrats are poised to push key priorities after victories in both Georgia runoff Senate elections, giving them 50 seats in the 100-seat chamber. (Vice President-elect Kamala Harris can break any ties.) President-elect Joe Biden can pick the administration that he wants, with a clear path to secure nominations for cabinet positions, judges and other executive posts.
This story was adapted from the January 8 issue of The Kiplinger Letter. Get a free sample issue now to see how you can prosper from The Letter's latest forecasts all year long.
Some smaller Democrat-led efforts will succeed, though any major legislation still requires 60 votes because of the filibuster. Another pandemic relief bill is likely, including more stimulus checks.
Voting rights measures that make it easier for citizens to vote will get an early look. Clean energy and climate change initiatives are also likely (though no Green New Deal). However, don't expect a tax hike on the rich in 2021: Biden's campaign plan to hike taxes on individuals making over $400,000 will take a backseat to other issues.
Two centrist Democrats will hold significant power. One will be Sen. Joe Manchin (D-WV), the most conservative Democrat in the Senate. Given his party's slim margin of control in the chamber, Manchin will play a key role in shaping the Democrats' agenda. Expect him to block many proposals favored by more progressive Democrats, such as legislation that expands the Supreme Court or grants statehood to Washington, D.C. Another: Sen. Chris Coons (D-DE), a key ally of President-elect Joe Biden and one of the few bipartisan dealmakers left in Washington. Expect Biden to rely on Coons to broker tough legislative compromises with Republicans, when necessary.
5/10
Republican Fiscal Hawks Are Back
After staying quiet or being sidelined as spending soared, fiscal conservatives will make a loud return. The national debt has ballooned by one-third during the past four years, soaring to $27 trillion. Calls to lower Uncle Sam's debt will play a central role in GOP messaging. The current pushback from GOP leaders to $2,000 stimulus checks for COVID relief is an early example. Leading the charge: Senate Majority Leader Mitch McConnell (R-KY) and House Minority Leader Kevin McCarthy (R-CA). Calls for drastic spending reductions are on tap from Republicans, though such cuts will have little chance of becoming law.
6/10
China Trade Battles Continue Without Trump
Trade tensions with China will remain on roughly the same path. Scrutiny of China by Washington has become a bipartisan affair, and Biden is likely to continue with a "tough on China" policy. Top concerns include intellectual property theft, illegal government subsidies to corporations and forced technology transfers.
The Biden administration will call on close allies to help pressure Beijing. U.S. tariffs on Chinese imports will stick around to keep the heat on, but note that the White House will be analyzing how duties hinder economic growth.
7/10
Cryptocurrency Frenzy Will Keep Going Strong
The price of a bitcoin saw a spectacular 300% rise in 2020, and recently hit an all-time high of $41,000. Expect the crypto momentum to continue, partially driven by institutional investors, with many seeking to capitalize on gains as ultralow interest rates continue. Keep an eye on PayPal's plan to let users tap cryptocurrency for payments, starting early this year. PayPal users can buy, sell and hold certain cryptocurrencies, and use their balances to pay the 26 million merchants using the payment processor. As more businesses and people use cryptocurrency, its utility and value will increase.
8/10
Self-Driving Trucks To Take to the Streets
Expect 2021 to be a big year for autonomous trucks. On the short list of potential breakthroughs: Start-up TuSimple, in partnership with Navistar, plans to begin operating trucks with no human in the cab next year, with the goal of creating a nationwide autonomous freight network by 2023. Retail giant Walmart, meanwhile, is partnering with several self-driving companies and will make deliveries in Arkansas with fully autonomous box trucks starting in 2021.
This story was adapted from the January 8 issue of The Kiplinger Letter. Get a free sample issue now to see how you can prosper from The Letter's latest forecasts all year long.
Eventually, full autonomy could save the industry over $100 billion in the U.S. in overall operating costs. But note that job losses (roughly 3.5 million folks work as truck drivers in the U.S.), accidents and technical glitches could invite popular backlash and stall progress.
9/10
Big Tech to Feel Heat from All Sides
Social media platforms will face even stronger scrutiny from Congress. Many lawmakers are increasingly angry at how misinformation spreads on platforms. Expect investigations into how popular sites played a role in the Capitol Hill riot. While Democrats and Republicans fundamentally disagree on social media regulation, the swell of opposition to Big Tech's power is making bipartisan agreement more likely. Meanwhile, Facebook's antitrust battles will invigorate its competition. The legal pressure on Facebook, with lawsuits that could play out for years, will give breathing room to other social media firms to experiment and gain ground.
10/10
Ongoing Shake-up for the Smartphone Market
Geopolitical battles with China are revving up, causing Huawei to hunker down as U.S. export controls threaten its phone business. Other vendors figure to gain global market share, including some thought to be past their heydays, such as Motorola, LG and Sony. Note, too, that geopolitical battles are sure to come to a head over the development of important 5G technical standards. China's input has heavily shaped these up to until now, but with Chinese telecom firms banned in many nations, expect more tension. Sub-$200 5G models will hit the market, helping spread 5G cellular tech to far more users. Faster speeds will boost cellular providers and mobile app creators.