Stephanie Creary: Making the Case for Diversity on Corporate Boards
Adding underrepresented voices can improve a company's bottom line.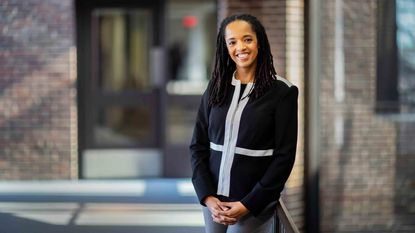 (Image credit: Photograph by Eric Sucar, University of Pennsylvania)
Stephanie Creary is assistant professor of management at the Wharton School at the University of Pennsylvania, where she is an identity and diversity scholar. She has researched workplace diversity practices at a variety of organizations, including corporations, hospitals and the U.S. Army.
Why should investors care whether a company has a diverse board of directors? McKinsey & Co., a management consulting firm, has found that companies with diverse boards outperform their peers. There's also a lot of academic research that has analyzed the relationship between the composition of top management teams and financial performance. For example, a recent study from the University of Texas at Dallas found that firms that were diverse in upper and lower management performed better than other firms. Their workers were more pro­ductive, too. That's good for the bottom line.
Won't some companies be tempted to add a token woman or minority to their board? How can that be avoided? First, if you're a company, you don't just pick any person of color or woman. You pick people you believe in who will help contribute to the gaps in expertise that you have. And you don't pigeonhole them into being a single-issue director.
Subscribe to Kiplinger's Personal Finance
Be a smarter, better informed investor.
Save up to 74%
Sign up for Kiplinger's Free E-Newsletters
Profit and prosper with the best of expert advice on investing, taxes, retirement, personal finance and more - straight to your e-mail.
Profit and prosper with the best of expert advice - straight to your e-mail.
Next, you need to have other players hold corporations accountable. For example, State Street, a major investment management firm, has said that it will vote against board members of companies that fail to disclose the racial and ethnic makeup of their boards. And Nasdaq recently proposed requiring that every company listed on its stock exchange have at least one woman on its board and one board member who is an underrepresented minority or LBGTQ. The firms that don't meet the standard will be required to explain why they can't. That's holding companies accountable.
In 2019, the Business Round­table, which is made up of the chief executives of the largest U.S. companies, issued a statement encouraging members to take into account the interests of employees, customers and their communities when making business decisions. Have major corporations embraced this philosophy, particularly when it comes to minorities? Yes they have, but one size doesn't fit all. Target is a good example. After the protests in Minneapolis over the death of George Floyd, the company decided to reopen a store that was damaged by the riots. Target's approach was to have conversations with people in the community, not just community leaders, about how the store could address their needs. JPMorgan Chase and Citigroup announced last fall that they are changing their lending practices to make sure that people of color have access to mortgages. JPMorgan Chase also said it's going to tackle the lack of diversity in its own workforce.
When can investors expect to see the results of these initiatives? Investors tend to measure company progress quarterly, but that's very short-term. A better benchmark is one year from an announcement that a company has changed the composition of its board or has made a com­mitment to any other social justice movement.
0
Staff Writer, Kiplinger's Personal Finance
Rivan joined Kiplinger on Leap Day 2016 as a reporter for Kiplinger's Personal Finance magazine. She's now a staff writer for the magazine and helps produce content for Kiplinger.com. A Michigan native, she graduated from the University of Michigan in 2014 and from there freelanced as a local copy editor and proofreader, and served as a research assistant to a local Detroit journalist. Her work has been featured in the Ann Arbor Observer and Sage Business Researcher.