How We Lose When We Overlook Black Talent
Comments from Wells Fargo CEO Charles Scharf (pictured) reflect a culture that tramples on clients' trust and limits opportunities for people of color.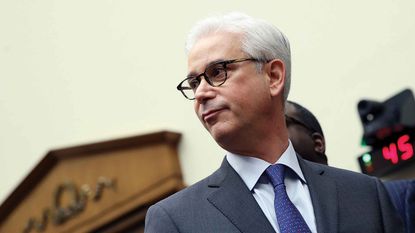 (Image credit: Getty Images)
One of my early memories is when my dad taught me how to interpret the share price tables in the business section of the newspaper. My main task was to look up prices of Oppenheimer Funds and write them down in a ledger. I learned to appreciate the simplicity of how the numbers told a story about value. Yet of deeper importance was learning how to consider patience and timing to match the funds' performance with a life plan.
So when I was drafted by the Chicago Cubs in 1991, I had a plan for my signing bonus. First and foremost was my parents' recommendation that I retain a broker. Soon after, I would work with an adviser at Butcher & Singer, which through many mergers became Wells Fargo Advisors. My broker was, and still is, outstanding.
But there has been some troubling news about Wells Fargo, the main home for my financial life. This news revealed a track record of deceptive dealings with its customers, including settlements for both racially driven, exploitative lending and discriminatory hiring practices. Then came insensitive comments from Wells Fargo CEO Charles Scharf that he made on a call with employees this summer (opens in new tab), which he reiterated in a memo: "While it might sound like an excuse, the unfortunate reality is that there is a very limited pool of black talent to recruit from."
Subscribe to Kiplinger's Personal Finance
Be a smarter, better informed investor.
Save up to 74%
Sign up for Kiplinger's Free E-Newsletters
Profit and prosper with the best of expert advice on investing, taxes, retirement, personal finance and more - straight to your e-mail.
Profit and prosper with the best of expert advice - straight to your e-mail.
Reaching for a future. This comment hit me hard, because wealth depends on trust in those who take care of my money. Money is not simply of quantifiable value; it has immeasurable qualitative value. It holds a future.
As a Black man, I seek more depth to leadership's understanding of what reaching for a future truly means to a man of color. The "unfortunate reality" Scharf should have been speaking of is our nation's legacy of systemic racism and how it has shaped opportunity.
It should matter if the returns we enjoy are reaped by discriminating against a people or if the culture that provided those returns views Black talent as charity, regardless of their qualifications.
Wells Fargo and other giants of the financial world are supposed to shun such destructive biases to allow the color of green to prevail over the color of skin. Yet they often do not. This explains the report by Citigroup that estimated that our economy lost $16 trillion over the past two decades due to discriminatory practices and sanctioned racial inequity.
We often forget that those who have power create what defines the word qualified—a word that is highly subjective, laced with nepotistic practices, and rife with compounding advantage for those of privilege. Like the success of Hamilton: An American Musical, there are countless examples of how candidates of color can be successful inside the talent blind spot of corporate hiring templates.
The real danger is having algorithms of predictive success and not understanding how much they drip with bias. This often occurs because leadership is not representative of all, and many of those in the room who represent the diversity have no real power.
We also must not assume that representation means welcoming inclusion. It is nice to get the job, but the culture around the job is more consequential to making sure that people advance fairly and are not harassed, ignored or treated as if they do not deserve that opportunity in the first place.
Scharf has apologized, saying he made an "insensitive comment reflecting my own unconscious bias." He expressed a commitment to work for more diverse leadership. Yet I still feel compelled to consider other options for my family's money, even with our nearly 30-year relationship. I hope Wells Fargo decides to define talent differently, not just in one image but in all of our images.
My father passed away on the day I got the 1,000th hit of my Major League career—a career that was critical to building wealth. I came to understand that inside those share prices in my portfolio are people, many of whom are people of color reflecting the dream that brought my father to the U.S. from Trinidad and my mother out of the Jim Crow South. Their legacies are important to preserve, too. And to do so, we must face some unfortunate truths about the role of racism, truths that have nothing to do with talent and everything to do with opportunity.
Doug Glanville is a baseball commentator and former player who teaches a course on sports and society at the University of Connecticut.
Guest Columnist, Kiplinger's Personal Finance
Doug Glanville is a baseball commentator and former player who teaches a course on sports and society at the University of Connecticut.