Don't Let Peer Pressure Spoil Your Retirement
If you try to make your retirement look like the typical picture that comes to mind, you may find yourself dissatisfied, bored or restless. Instead, look beyond these retirement myths to find what will make you truly happy.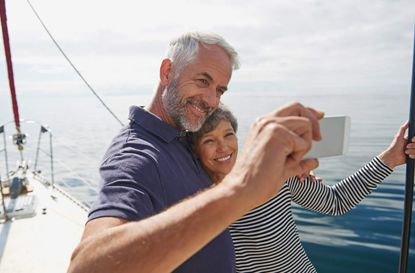 (Image credit: pixdeluxe)
In retirement, it can be tempting to look over the fence at how neighbors are spending their golden years and wonder if they're living better or if you're spending your time and money in the right ways. What's more, social media heightens the pressure by serving as a highlight reel of everyone's best experiences.
But just like social media can put a filter on reality, many myths about the "ideal retirement" continue to cloud people's expectations and may cause them to make bad decisions. To steer clear of peer pressure, retirees need to take a step back to define what happiness truly means to them, and not fall victim to these four common misconceptions about retirement.
Myth #1: Retirement is freedom from work
A life of leisure may look tempting, but in reality the transition from corporate life to retirement can feel abrupt. Once you make a dent in your reading list, you may find yourself looking for familiar ways to keep busy.
Subscribe to Kiplinger's Personal Finance
Be a smarter, better informed investor.
Save up to 74%
Sign up for Kiplinger's Free E-Newsletters
Profit and prosper with the best of expert advice on investing, taxes, retirement, personal finance and more - straight to your e-mail.
Profit and prosper with the best of expert advice - straight to your e-mail.
One way retirees are adding structure to their schedules is by returning to the corporate world part-time. Returning retiree programs allow companies and younger generations of workers to benefit from a retiree's legacy business knowledge, while giving retirees a clearly defined purpose during work hours.
Many retirees are also becoming entrepreneurs in their own right, turning to resources like those available from AARP and the Small Business Administration to run and market their own business. In fact, a 2013 AARP survey found that 13% of experienced workers planned to start a business or work for themselves in retirement.
One of our clients, a former business owner who retired in his 50s upon the sale of his company, is finding fulfillment in a brand new career — flipping houses. While he owned a few rental properties throughout his life and was known to be quite handy, retiring gave him the flexibility to fully commit to building a business around renovating homes. He's his own boss, with an activity that fills his days and enables him to maintain his lifestyle.
Myth #2: You're not fully living if you're not traveling
While island sunsets and moonlit hikes make for enviable photos, not every retiree is anxious to set sail for an adventure abroad. Your next great adventure may be right in your hometown, spending more time pursuing your interests or adopting new hobbies. Some people scratch their travel bug by relocating to a favorite vacation spot.
Last year, one of our clients retired from his medical practice. An avid golfer, he began transitioning to retirement by not being on-call on weekends while he hit the links. Since retiring, he's been golfing every day, and now he's considering moving to Florida, where he can enjoy the sport year round.
Of course, many retirees will get the travel itch at some point. If you do, consider planning a trip that allows you to immerse yourself in hobby or develop new skills. A few years ago, a longtime client retired from a successful business career and began taking bird-watching trips around the world. She now plans a half-dozen trips each year, fully committing to a hobby she loves.
Myth #3: You must "redefine yourself" in retirement
It can be easy to fall into the "New Year, New You" mentality once you retire. While we encourage clients to create a vision and set goals for retirement, this milestone doesn't necessitate starting a life all that different from your own.
In fact, many retirees parlay the skills that brought them success in the workforce into nonprofit work. Sharp sales people take the lead on securing sponsorships for community events, and organized project managers become committee chairs. Volunteering is an ideal avenue for those managing the lifestyle transition from work to retirement, particularly if they're passionate about a particular cause.
Myth #4: The transition to retirement is easy — you've waited your whole life for this!
Entering retirement is a significant change, especially for those who maintained an active career. Ensuring a smooth transition begins well in advance – typically five to eight years prior to retirement. At that point, your financial adviser will run financial scenarios, project your cash flow, and begin conversations about how you'll be spending your time and money in retirement.
By focusing on your own goals and looking beyond these myths, you can plan the retirement you actually want.
Founder and CEO, Wescott Financial Advisory Group LLC
Grant Rawdin is Founder and CEO of Wescott Financial Advisory Group LLC (opens in new tab). He founded the firm in 1987, which grew from the tax, business and estate services he provided to clients at Duane Morris LLP, a venerable AMLaw 100 law firm. Grant is an attorney, an accountant and a Certified Financial Planner™ and has served as adviser to many businesses, providing strategic, ongoing, and M&A advice. Grant and Wescott are recognized as leading the investment and financial planning industry in innovation, growth and size.