Why Financial Education Works
Money skills learned young will pay off in the long run.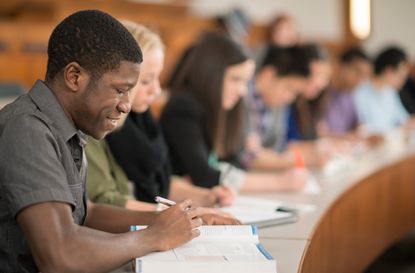 (Image credit: FatCamera)
Bear with me while I climb on my soapbox for Financial Literacy Month. I've been wanting to do it ever since I read a recent "squaring off" feature in The Wall Street Journal that presented two opposing views on the question, "Should College Students Be Required to Take a Personal Finance Course?"
Taking the "no" side was Lauren Willis, a professor at Loyola Law School in Los Angeles. Willis writes that "compared with the salesperson across the table, consumers will never be as knowledgeable about financial products and services." As a result, "making personal finance courses a college requirement sends a message that financial success is largely the result of personal decisions"; in reality, she says, "government policies have a vastly greater effect than personal financial acumen on Americans' financial health."
On the "yes" side was Annamaria Lusardi, director of the Global Financial Literacy Excellence Center at the George Washington University. "Teaching personal finance is not about describing financial products; it's about teaching the principles of financial decision-making so that people understand how financial instruments work," Lusardi writes. Although "skepticism is always warranted" about the financial industry and its products, "the purpose of a personal finance course goes beyond those topics."
Subscribe to Kiplinger's Personal Finance
Be a smarter, better informed investor.
Save up to 74%
Sign up for Kiplinger's Free E-Newsletters
Profit and prosper with the best of expert advice on investing, taxes, retirement, personal finance and more - straight to your e-mail.
Profit and prosper with the best of expert advice - straight to your e-mail.
My two cents. This is where I jump in. From my perch as editor of Kiplinger's Personal Finance magazine, which has been in the financial education business for 70 years, I can say unequivocally that it works. How do I know? Because our readers tell us so. A longtime subscriber in Hudson, Mass., recently wrote to thank us: "I first subscribed nearly 30 years ago, when I was in grad school. Since then I have read every issue cover to cover. My wife and I may occasionally have worries in life, but they are not financial. I don't think we could have done it without you."
At the other end of the age spectrum, we heard from 16-year-old subscriber Aaron Kohlhafer, who suggested that we also publish a financial magazine for readers his age. "A magazine to fit younger adults would be an amazing thing."
It's true that individuals are inevitably affected by government policies and outside events over which they may have little control. But never underestimate the power of personal responsibility, which at the very least will help you prepare for a financial crisis, such as a job loss or unexpected expense. You might never be as knowledgeable as the salesperson across the table, but you'll be far better off if you're at least aware that he or she is trying to sell you something and that you need to ask questions and get trustworthy advice before you buy.
What kids know. The Wall Street Journal question focused narrowly on college personal finance education, but lessons can take place at any age, in school or at home. During my career writing the "Money Smart Kids" column, I've seen elementary-age students running their own in-school businesses; middle schoolers participating in a real-world exercise in which they had to choose a career, budget their income, and shop for a mortgage and a car loan; and teenagers competing in a raucous game of financial football to answer questions about credit and other financial topics.
I've interviewed a successful African-American financial adviser who told me that his life was changed, and his future set, when he was inspired by playing a stock simulation game in high school. All of these classroom experiences shared two key ingredients for success: enthusiastic teachers and engaged students.
Firsthand experience. When it comes to money, parents are still their children's most influential teachers. And having kids manage their own money, whether an allowance or earnings from a job, is one of the best teaching tools there is.
In addition to hands-on experience, this approach has other benefits. In T. Rowe Price's 2017 Parents, Kids & Money survey, parents who let their kids decide how to save and spend their money on their own were less likely to have children who spend their money as soon as they get it or who expect their parents to buy them what they want. Money Matters on Campus, a survey by EverFi and Higher One, educational technology companies, found that college students who had their own checking accounts and took a financial education course in high school were better money managers in college.
All of which goes to show that small lessons can have a big, and lasting, impact. On a recent visit to Auburn University, I spoke with a student who had drawn up a personal budget as part of a personal finance course. The exercise had prompted her to call her parents and apologize. "For what?" asked her puzzled mother. "I never knew I was so expensive," she said.

Janet Bodnar is editor-at-large of Kiplinger's Personal Finance, a position she assumed after retiring as editor of the magazine after eight years at the helm. She is a nationally recognized expert on the subjects of women and money, children's and family finances, and financial literacy. She is the author of two books, Money Smart Women and Raising Money Smart Kids. As editor-at-large, she writes two popular columns for Kiplinger, "Money Smart Women" and "Living in Retirement." Bodnar is a graduate of St. Bonaventure University and is a member of its Board of Trustees. She received her master's degree from Columbia University, where she was also a Knight-Bagehot Fellow in Business and Economics Journalism.