How to Motivate Kids to Save
It's not easy teaching your child to save. Here are some ways readers have incentivized their kids to keep track of their finances.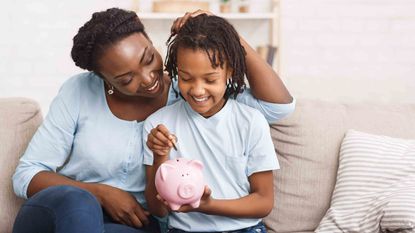 (Image credit: Getty Images)
When I last wrote about kids and money, I posed a question from reader Victoria L., who was seeking advice on how to pique her granddaughter's interest in saving and managing money. Readers responded en masse, and I can categorize their suggestions in one word: incentives.
"I came up with a way to incentivize my daughters and my son to save money when they were teenagers and starting to think about driving," writes Rick Griffith. "I explained that I would match their savings dollar for dollar toward a car for them to drive." Not only did this strategy help them afford a car that "was safe and wouldn't need as much maintenance," but it had additional benefits, says Griffith. "They also earned a sense of accomplishment, the value of hard work, and pride that this was their car and not one Daddy bought them."
For some of you, the incentive was a head start on retirement savings. "My wife and I have made a deal with each of our kids that as soon as they are working and receiving a W-2, we will open a Roth IRA and match anything they contribute up to the annual limit," writes Mike Roth. "I've run the spreadsheet showing them the benefits of starting early and getting compounded growth of tax-free money, and we now have three kids who have all started their retirement accounts."
Subscribe to Kiplinger's Personal Finance
Be a smarter, better informed investor.
Save up to 74%
Sign up for Kiplinger's Free E-Newsletters
Profit and prosper with the best of expert advice on investing, taxes, retirement, personal finance and more - straight to your e-mail.
Profit and prosper with the best of expert advice - straight to your e-mail.
A number of you have used stocks to develop the investing habit. "My 14-year-old granddaughter earns money for things she wants by mowing her parents' lawn and mine," writes Ann Coppin. "I told her I would combine my birthday and Christmas gifts so that she could buy either a stock or a mutual fund." She chose Disney stock—and now her 9-year-old brother wants in on the same offer from his grandmother.
For the Dietrich family, the motivation was a debt-free college education. "When our twins were in high school, their 'job' was to get good grades," writes Joanne Dietrich. "Both kids got scholarships and had zero-to-minimal debt when they graduated."
More good tips. Reader Russ Schuster offers advice for elementary-age children. "When our kids were in this age group, my wife and I gave them an unconditional weekly allowance that was theirs to spend, save or donate," writes Schuster. "The understanding was that we were not to be hounded when they accompanied us to a store, and they learned quickly that if they wanted something special or higher-priced they were going to have to save their money." If the kids wanted more cash, they could do extra chores.
Finally, Steve Krohn warns about the unexpected perils of making your child an authorized user on your credit card. Krohn and his wife, Carol, did this when their older son, Joe (now 27), was in high school, but it backfired when Joe graduated from college and applied for a card on his own and was declined twice. The Krohns' card had a high limit, "set appropriately for a near-retiree who travels a lot, has a high income and charges everything to max out points." That limit showed up on his son's credit history, and issuers felt Joe's income couldn't support more credit.
Reluctant to close the account and erase its long credit history, the Krohns reduced its credit limit and stopped using the card. As an authorized user with a smaller limit, Joe has been approved for his own card.
When the Krohns' younger son, Peter, went to college, "we didn't make the same mistake," says Krohn. "He got his own low-limit card based on his own summer and part-time income."

Janet Bodnar is editor-at-large of Kiplinger's Personal Finance, a position she assumed after retiring as editor of the magazine after eight years at the helm. She is a nationally recognized expert on the subjects of women and money, children's and family finances, and financial literacy. She is the author of two books, Money Smart Women and Raising Money Smart Kids. As editor-at-large, she writes two popular columns for Kiplinger, "Money Smart Women" and "Living in Retirement." Bodnar is a graduate of St. Bonaventure University and is a member of its Board of Trustees. She received her master's degree from Columbia University, where she was also a Knight-Bagehot Fellow in Business and Economics Journalism.