Should Young Adults Accept Financial Help From Their Parents?
Sometimes it makes financial sense to remain tethered to your parents, but work on a plan to start breaking the financial bond.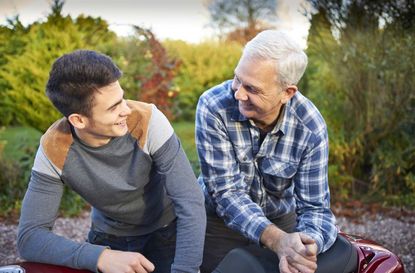 (Image credit: Getty Images/iStockphoto)
Living in Washington, D.C., one of the most expensive cities in the country, means making some sacrifices when you're starting out. I share my apartment with a roommate, take mass transit instead of splurging on cabs, and organize potlucks instead of dinner parties. But I'm happy to scrimp and save if it means I can support myself—including paying my own rent, cell phone bill, health insurance and more.
I can thank my parents for helping me get to this stage. They covered my university tuition (admittedly cheaper in Canada, where I grew up), allowing me to graduate with no debt. And they let me live at home rent-free in Toronto for nearly two years after graduation. Even now, my mom still pays for my flights home, enabling me to visit a few times a year without resorting to a 15-hour bus ride. I barely thought twice about their help until earlier this year, when I got the news that I would need some very expensive dental work, and my mom generously offered to cover part of the cost. As much as I wanted to accept, I hesitated. As a twentysomething adult with a full-time job—at Kiplinger, no less, where we millennials take our financial savvy seriously—shouldn't I be able to foot the bill myself?
I'm not alone in struggling with how to let go of parental support in my twenties. Many of my friends are on the family cell phone plan or enjoy all-expenses-paid vacations courtesy of their parents. A survey from TD Bank found that 42% of 21- to 24-year-olds rely on their parents in some way, especially for rent, utilities and day-to-day living expenses. And a separate survey from USA Today and Bank of America reveals that 40% of millennials still receive money from their parents, including those who are married or live with a significant other.
Subscribe to Kiplinger's Personal Finance
Be a smarter, better informed investor.
Save up to 74%
Sign up for Kiplinger's Free E-Newsletters
Profit and prosper with the best of expert advice on investing, taxes, retirement, personal finance and more - straight to your e-mail.
Profit and prosper with the best of expert advice - straight to your e-mail.
Millennials arguably have it tougher than previous generations. "The days of having a steady, salaried job as of your first day out of college are less and less common," says Danna Jacobs, a certified financial planner and founding partner of Legacy Care Wealth. "And millennials are burdened by student loans in a way that previous generations have not been."
But even if it's scary to relinquish your parents' help, "it's really empowering to be financially independent," says Pam Capalad, a certified financial planner and founder of Brunch & Budget, a financial-planning firm serving young adults. "Once you find yourself earning every dollar yourself, it's very satisfying." And taking control of your finances now will make you better prepared for greater financial responsibilities in your thirties, forties and beyond—especially when your parents can't, or shouldn't, lend a hand financially. Think of these years as your own "glide path" toward responsibility, says Jeff Rossi, a certified financial planner and founder of Peak Wealth Advisors.
So how do you let go? Whether your parents send you a check every month for you to use at your discretion or dole out cash to help with specific expenses here and there, it's important to wean yourself off their help with small steps. Start by breaking down your expenses into categories, and analyze where the money is going, suggests Capalad. Take a close look at categories that seem high. Are those $4 cocktails at happy hour adding up? Did you fall into the trap of hailing Ubers every time it rains? (See 30 Ways You Waste Your Money.)
Then focus on one category a month to reduce—not eliminate—your spending, such as dining or shopping. Redirect those savings to another, more essential category. At the same time, find ways to reduce the cost of essential living expenses, such as rent, food and utilities. For example, you could downsize your apartment and find roommates, or move back home until you're on surer financial footing. Refine your eating habits to save money, such as sticking to a menu for the week. Buy furniture or clothing secondhand, or downgrade your cell phone plan to put an extra $30 in your pocket every month—and to lessen the need for parental assistance.
Need a little extra inspiration? Capalad has found that once you take a leap in letting go of your parents' assistance, "you focus more on making money yourself—and it happens," she says, whether that means asking for a raise or starting a side hustle. (See 29 Ways to Earn Some Extra Cash.)
The Upside of Continued Financial Support
As you progress, don't beat yourself up if you need to rely on your parents' help (and you're fortunate enough to have parents in a position to help you). "The goal is always to be financially independent," says Jacobs. "Sometimes you need a little help along the way." The bottom line: Use your parents' help as an opportunity to bolster your retirement savings or emergency fund, to learn money management skills, or to figure out your dream career without stressing about how you're going to put food on the table—not as an opportunity to be lazy.
It's okay to accept freebies now and then. By all means, piggyback on your parents' HBO Go subscription by setting up your own account, or bond over family dinners and trips on your parents' dime. Yajaira Lockhart, designer at Kiplinger's Personal Finance, continues to join her family for vacations at the time-share her mom pays for. "We only have to pay for flights and travel fees, but we get a place to stay for free for a week," she says.
When my mom visits me in D.C., she is happy to treat me to restaurants I normally wouldn't pay for myself, and she will e-mail me every now and then to see if I want a pretty scarf or fun kitchen gadget she found on sale. As for helping with my dental work? In the end, I accepted. I could have paid for the procedure on my own if I'd really had to. But her assistance gave me peace of mind, knowing I still have a cushion of savings for other, slightly more predictable expenses down the line.
In fact, sometimes it makes financial sense to remain tethered to your parents, as long as you do so responsibly. For example, staying on the family cell phone plan or auto insurance policy could be a win-win that results in lower rates for everybody. (You generally must still live with your parents to be covered by their auto policy, and even then you may be able to find better rates on your own.) And if you're still under 26, you may find your parents' health insurance policy to be more comprehensive and economical than one offered by your own workplace. In these cases, ask your parents what your share is—and that medical bills be redirected to your address—so you can pay your part and become familiar with how billing works.
Becoming an authorized user on your parents' credit card is a great way to build your credit history before you can qualify for your own card. Just remember that if you don't pay off your balance each month, their credit rating is on the line, too.
How to Ask for Financial Help When You Need It
If you need to ask for help, first consider whether doing so means you're not ready to take a certain step. For example, asking your parents to subsidize your down payment on a house is one thing, if you're sure you can afford the mortgage payments and want to avoid triggering private mortgage insurance by putting down less than 20%. But needing your parents to co-sign on your mortgage might mean you're not ready to buy a home yet.
Also, clarify whether the cash is a loan or a gift. If it's a gift, each parent can give you as much as $14,000 in 2016 without triggering the gift tax. If you decide to structure the cash as a loan, Jacobs recommends that parents charge a minimal interest rate for any sizable loans. "Once the loan is agreed upon, it is important to document the terms and have any interested parties sign the note," she says. (See Smart Ways to Loan Money to Family)

Associate Editor, Kiplinger's Personal Finance
Miriam lived in Toronto, Canada, before joining Kiplinger's Personal Finance in November 2012. Prior to that, she freelanced as a fact-checker for several Canadian publications, including Reader's Digest Canada, Style at Home and Air Canada's enRoute. She received a BA from the University of Toronto with a major in English literature and completed a certificate in Magazine and Web Publishing at Ryerson University.