5 Smart Ways to Boost Profits at Your Lemonade Stand – or Any Small Business
Make your lemonade stand stand out from the pack with these simple tips.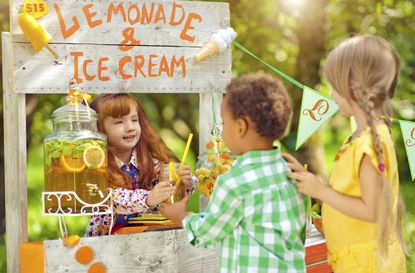 (Image credit: ArtMarie)
When the summer heat spikes, there's nothing as refreshing as an ice-cold drink. That's why for generations of ambitious youngsters, running a lemonade stand has served as an introduction to entrepreneurship. As a 5-year-old, I set up shop one summer with my friend John, who lived near a busy park. We served hundreds of cups of lemonade that summer. (We should have kept it going in the years that followed. I could have paid for college!) Even back then, we understood that our enterprise was flourishing because of a few simple rules that we figured out on our own.
Parents, keep in mind that "children can be satisfied with small successes that don't necessarily require much in the way of parental input," says Kiplinger's Personal Finance editor Janet Bodnar, who writes Kiplinger's Money-Smart Kids column. The key, says Bodnar, is to keep goals manageable and fun. The practice kids will get in organization, independence and responsibility will prove invaluable as they grow up and pursue bigger ventures.
Here are five lessons entrepreneurs of all ages can learn from the all-American lemonade stand:
Subscribe to Kiplinger's Personal Finance
Be a smarter, better informed investor.
Save up to 74%
Sign up for Kiplinger's Free E-Newsletters
Profit and prosper with the best of expert advice on investing, taxes, retirement, personal finance and more - straight to your e-mail.
Profit and prosper with the best of expert advice - straight to your e-mail.
1. Pick the right place.
John and I would have served few customers if we had set up shop on my quiet street, so we decided to capitalize on John's bustling neighborhood. We located our stand outside his house, directly on our hometown's most popular jogging loop, and poured cup after cup for thirsty exercisers, dog walkers and families in the steamy weeks of August. If you live in an isolated area or if your next-door neighbor is already running a thriving business selling snow cones, look elsewhere for a highly visible space with minimal competition.
2. Take advantage of peak demand.
Kids inherently understand that demand for lemonade surges during the summer. But John and I sought to pinpoint the time of peak demand. We recognized that we would attract the biggest volume of customers if we operated our stand in the early evening, when other kids got home from summer camp and grown-ups exercised or walked dogs along the trail after work. To boost sales at your modern-day lemonade stand, set up shop when nearby events -- such as 5K runs, youth soccer or football games, and community yard sales – might steer dozens of thirsty neighbors your way at once.
3. Stand out from the pack.
John and I didn't want to simply run a lemonade stand; we wanted it to be the best that our customers had ever stumbled upon. Beyond offering both classic and pink lemonade, we also sold water bottles, salty snacks and dog treats. Today's kid entrepreneurs would be smart to offer a Wi-Fi hot spot and mobile charging station. Brainstorm constantly, study industry trends, and don't be afraid to try new ideas.
4. Get creative with your marketing.
At the time, what our younger siblings lacked in math skills was more than matched by their limitless enthusiasm and sheer adorability. So rather than put them to work at the cash register, we taped signs on them that read "Lemonade!" and had them scooter alongside the running loop, hawking our products for all to hear. These days, you can ignite buzz on social media by spreading the word to family and friends in clear, crisp language.
5. Maintain good relationships up and down the supply chain.
Whether you're running a juice stand or a hedge fund, don't forget that good service never goes out of style. Deliver a quality product with courtesy. Hire staffers who believe in the company mission.
Extend similar courtesy to suppliers and employees, too. It may pay off in more favorable business terms or free word-of-mouth marketing. In the case of our lemonade stand, John and I reimbursed our parents for supplies and rewarded our siblings for their marketing duties.

Puhak is an editorial intern supporting Kiplinger's Personal Finance and Kiplinger.com as a member of the 50th annual American Society of Magazine Editors internship class. She is a senior at Rutgers University, majoring in American Studies and Political Science, where she reports for the official campus newspaper The Daily Targum. Previously, Puhak has interned at Hearst and Bonnier publications.