5 Hidden Costs That Surprise First-Time Home Buyers
Make sure your budget is big enough to handle these unexpected expenses.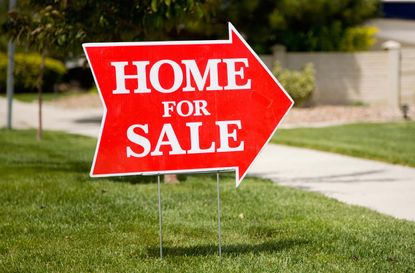 (Image credit: All Rights Reserved - Rich Legg - rich@leggnet.com)
If you're considering becoming a homeowner, even years from now, recognize that there's a lot more to purchasing a house than saving enough money for a down payment. Additional expenses come up throughout the home-buying process. Some of these are upfront, out-of-pocket costs that are nonrefundable even if you end up not closing the deal. Others will hit your wallet after the home is in your possession. Experienced buyers probably are familiar with these charges, but first-time buyers can be caught off-guard.
Take Our Quiz: How Smart of a Home Buyer Are You?
Knowing how much you need on top of your down payment will help you plan how long you must save. Remember, it could take years. Talk with a potential lender about six to 12 months before your desired purchase date. "The lender should be able to help you outline what you need to be doing within that time frame to get your finances in check," says Mike Aubrey, a Gaithersburg, Md.-based Realtor, who's also the host of HGTV's "Power Broker."
We've identified five costs that can catch first-time home buyers by surprise and gathered expert advice on how to prepare your finances.
Subscribe to Kiplinger's Personal Finance
Be a smarter, better informed investor.
Save up to 74%
Sign up for Kiplinger's Free E-Newsletters
Profit and prosper with the best of expert advice on investing, taxes, retirement, personal finance and more - straight to your e-mail.
Profit and prosper with the best of expert advice - straight to your e-mail.
1. Home Inspection
After you've submitted an offer on a home and the seller has accepted, make sure the place you're planning to buy isn't a lemon. Hire a certified home inspector to examine the property from top to bottom before you go to closing. If you uncover hidden structural, mechanical or other issues, you can negotiate the repair terms with the seller before you finalize the deal. Otherwise, you will be solely responsible for any problems and the cost of fixing them.
Depending on your location, you can typically expect to pay between $200 and $600 for a home inspection -- an upfront, out-of-pocket cost that's nonrefundable if a deal falls through. While an inspection isn't mandatory, it's a precautionary measure that all home buyers should take. "When you weigh the potential tens of thousands of dollars an unknown problem could cost later down the line, it's money well spent," says Anthony Saunders, a Lorton, Va.-based Realtor with Exit Realty Associates.
2. Appraisal Fee
Your mortgage lender wants to be sure the home it's about to loan you many thousands of dollars to buy is worth every penny. That is why you need a home appraisal before finalizing a mortgage loan agreement. The lender will hire an independent certified appraiser to assess the property value of the home for sale. This includes documenting the various features that make a home valuable, such as a deck, as well as researching the prices of comparable homes sold recently in neighboring areas.
Appraisal fees can vary by state and the size of the home, but on average they run $250 to $600, Saunders says. This is an upfront fee charged directly to the borrower by the lender.
3. Escrow Account
Some lenders require that an escrow account be set up in conjunction with a mortgage loan agreement. The money that goes into the account is used by the lender to pay certain ongoing property-related expenses on the homeowner's behalf, such as homeowner's insurance premiums, private mortgage insurance (PMI) premiums and property taxes. You might be required to make an initial deposit into the escrow account at the closing table. From then on, in addition to a mortgage payment, the homeowner will pay a little extra to the lender each month -- typically one-twelfth of the estimated annual bill for taxes and insurance, according to Nolo.com. Essentially, escrow accounts help protect the lender by ensuring that these critical homeownership expenses are paid in full and on time, Aubrey says.
See Also: Find the Best Mortgage Rates in Your Area
First-time buyers might be taken aback when a lender mentions putting money into an escrow account. "Many younger buyers don't fully understand what it is," Aubrey says. Escrow accounts are mandatory for buyers who have a down payment of less than 20% and other types of loans, including an FHA loan. If you don't have an escrow account with your mortgage, you are responsible for paying your insurance premiums and property taxes on your own. Typically, homeowner's insurance premiums can be paid monthly or in a lump sum annually; property taxes usually come due once or twice a year, depending on where you live.
4. Closing Costs
While having enough money saved up for a down payment is great, it's not the only cash you'll need to seal the deal on a home purchase. You also need an additional 2% to 5% of the home purchase price to cover so-called closing costs, which can include everything from a loan origination fee and attorney fees to prepaid homeowners association fees and taxes.
For example, the average sale price for a new home in May was $337,000, according to the U.S. Census Bureau. A 20% down payment on that sale price amounts to $67,400. On top of that $67,400 down payment, though, you would need between $6,740 and $16,850 to cover closing costs.
5. Home Maintenance and Repair
Certain costs can creep up on you once you have the keys to your new home in hand. Unlike renting, in which a landlord foots the bill for maintenance, as a homeowner you're on the hook for any upkeep and repair costs.
For example, you may want to change the locks if you buy an existing home. In Washington, D.C., it costs $181 per lock to have a general contractor install a mid-grade entry door lockset, according to Homewyse.com, a Web site that estimates home-improvement costs by location. Or you might want a fresh coat of paint on your new home. Getting a professional to paint an average-size single-family home (2,598 square feet, according to the U.S. Census Bureau) will cost nearly $6,300, including labor and materials, in the nation's capital. If you buy a home with a yard, you also need to factor in the cost of maintaining it yourself (including the purchase of a lawn mower and other lawn-care equipment) or paying a landscaper. In Dallas, for example, the cost of hiring a pro to maintain a 1,000-square-foot lawn, including labor and materials, starts at $66 for two hours of service, according to Homewyse.com. Plus, further down the road of homeownership, you will need to replace kitchen appliances, water heaters, furnaces and more. Take our How Long Should It Last? quiz to get a sense of when replacements might be required.
Ready to Buy?
Now that you're aware of some of the bigger costs associated with home buying, you may find that choosing a house priced comfortably lower than your maximum loan approval amount is the best route, Saunders notes. This strategy can help ensure that you have enough cash to cover any extras, if needed. Remember to ask your lender and real estate agent lots of questions throughout the entire buying process -- especially regarding costs. You don't want to get blindsided right before closing with unexpected expenses.

Browne Taylor joined Kiplinger in 2011 and was a channel editor for Kiplinger.com covering living and family finance topics. She previously worked at the Washington Post as a Web producer in the Style section and prior to that covered the Jobs, Cars and Real Estate sections. She earned a BA in journalism from Howard University in Washington, D.C. She is Director of Member Services, at the National Association of Home Builders.