Five Big Steps to Buying Your First Home
We told you how to prepare years ahead of your first home purchase. Now here is a look at the steps to buying your first home.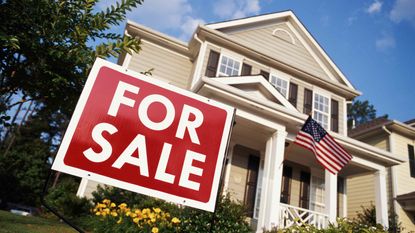 (Image credit: Getty Images)
Purchasing a home is a lengthy process—and for good reason. Not only is it one of the biggest financial decisions you'll make, it is also one that you cannot easily undo. So it's important to make sure that your finances are in order and you're ready to commit to living in a particular location for several years before taking on such a responsibility.
In 4 Smart Steps to Take Before Buying Your First Home, we identified what would-be buyers should do years ahead of time to prepare financially for the big purchase. Now, here are the steps to complete the home-buying process.
Step 1: Find the right real-estate agent for you
Once you've saved enough to make a down payment—stashing away at least 20% will help you lock in better mortgage terms—finding a real-estate agent you trust is your next step. According to the National Association of Realtors (NAR), 11% of buyers purchased their homes in 2023 without an agent. And, indeed, there's nothing stopping you from visiting open houses on your own. Keep in mind, however, that the agent at the home for sale represents the sellers and is working to get them top dollar. A buyer's agent will work on your behalf to negotiate the best sale terms and price.
Subscribe to Kiplinger's Personal Finance
Be a smarter, better informed investor.
Save up to 74%
Sign up for Kiplinger's Free E-Newsletters
Profit and prosper with the best of expert advice on investing, taxes, retirement, personal finance and more - straight to your e-mail.
Profit and prosper with the best of expert advice - straight to your e-mail.
Start by asking family members or friends for recommendations, says Steve Brown, NAR's immediate past president. When my fiancé and I purchased a new townhome last year, we sought an agent who was familiar with the neighborhoods in which we were looking, would respond quickly to our calls and texts and would make us feel comfortable asking rookie questions. My sister referred me to the real-estate agent who had helped her buy her condo a couple of years earlier, and we ended up working with him as well.
If you don't know anyone who's recently bought a home, find an accredited buyer's representative in your area via NAR's search tool. Or try contacting realty agencies in your city, says Michael Espersen, a Metairie, La.-based real estate agent with Coldwell Banker. Talk with the managing broker and ask to be connected with an agent who does a lot of business in your desired neighborhoods, he adds.
Step 2: Find a lender with the best rates
Your real estate agent will likely recommend a lender that he's worked with before. While going with his recommendation may be convenient, it might not get you the best deal. "The only party in the transaction that cares if the mortgage is a good deal is the borrower," says Keith Gumbinger, vice-president of HSH.com, a publisher of mortgage information and rates. "Everyone else just wants to make sure the transaction closes."
That's why it's important to shop around and compare loan terms. When evaluating potential lenders, consider the following:
Interest rates including whether the rate is fixed or adjustable
Points are fees paid directly to the lender in exchange for a lower interest rate. Be sure to get those quoted as a dollar amount so you know exactly how much you'll have to pay
Closing costs are fees and other payments due at your closing, such as loan-origination fees, underwriting and broker fees, appraisal fees, title searches, title insurance, surveys, taxes, deed recording fees, and credit report charges.
My fiancé and I got rate quotes from four different lending institutions, including a firm suggested by our agent, my personal bank, a commercial bank used by a trusted friend who'd recently purchased a condo and our builder's lending company. We eventually decided not to go with our agent's recommendation. We were able to get a better deal with our builder's lender, which included a lower interest rate, as well as the builder covering the cost of certain upgrades to our home.
Get preapproved for a mortgage
You will find it almost impossible to make an offer without proof that you are eligible for a home loan. During my search, every seller required a copy of the preapproval letter attached to the written offer. "Preapproval is important because it signals to a seller that you're more likely to be able to get the deal done, as opposed to someone who doesn't already have a financing source in their back pocket," Gumbinger notes.
In order to get preapproved, your lender will run a credit check and review your financial documents, including a few years' worth of tax returns, recent pay stubs and bank statements. If everything checks out, your lender will provide you with an official document that states how much you've been preapproved for. A word of caution, however, for first-time home buyers: Don't mistake the preapproval amount for your own budget. (Your monthly mortgage costs shouldn't exceed 28% of your gross monthly income, according to industry lending guidelines.)
Look at houses online and in person
Finally, it's time for the fun part— actually looking at houses. You can search for properties online via Web sites such as Trulia.com or through a Multiple Listing Service (MLS) search set up by your real estate agent, as well as by scouring your local newspaper for home-sale listings. Before setting foot in a potential home, however, be sure to research the surrounding community, school system and important amenities, such as proximity to shopping and public transportation, Espersen says. A simple online search might uncover deal-breakers such as a high crime rate or poor public school ratings.
Step 3: Search for homes in your desired area
During your in-person visit, keep an open mind. Cosmetic issues, such as garish paint colors or dated door handles and light fixtures, are easily fixed and shouldn't deter you from making an offer on a place that otherwise fits your needs.
In 2023, buyers searched a median of 10 weeks for a new home, according to the NAR's report. My home search took somewhat longer—nearly four months. No matter how long it takes, you want to be sure the house you decide to buy is one you'll live in for at least five years. That's the time frame it usually takes to see any significant appreciation in value and recoup your out-of-pocket purchase costs including home appraisal, home inspection and broker's fees. Those costs combined can range from 2% to 5% of your home's final purchase price, according to Nolo.com. If you discover your home doesn't fit the bill and decide to sell sooner or in a down market, you will likely take a financial hit, Gumbinger says.
Step 4: Make an offer on a home
Once you've found a home that meets your requirements, get ready to make an offer. With your agent's assistance, draft an offer letter stating your desired purchase price and any contingencies you'd like to include, such as a home inspection. You should also include your earnest deposit, which is typically 1% to 2% of the total purchase price. Sellers consider it a good-faith measure that further demonstrates you're a serious buyer. If your offer is accepted, the earnest deposit will be applied to your down payment.
This step may involve some negotiating between you and the seller. For example, as part of your offer, you might ask the seller to help cover the closing costs or provide a one-year home warranty. The seller can either agree with your terms outright or come back with a counteroffer, which happens if they feel your initial offer was too low. If there's a counteroffer and you accept, sign and return it to the seller and their agent as soon as possible. A counteroffer typically has an expiration date, according to Realtor.com; if you fail to respond by that date the seller can accept an offer from someone else.
Once an offer has been accepted by both sides, the seller's agent will draft a purchase contract. After your real estate agent receives the contract for review, make sure that it lists the agreed-upon selling price; identifies any items, such as major appliances, to be included in the sale; and clearly states when closing will occur, Brown advises.
Step 5: Closing on a home
In advance of going to settlement, make sure you have copies of important documents such as the purchase contract, proof of homeowners' insurance and inspection reports in case you need to reference them during the proceeding. When the big day finally arrives, you'll need to have a certified or cashier's check in-hand that covers your closing costs. Your mortgage lender will provide an exact amount ahead of time.
Remember, there are lots of documents that have to be signed including the mortgage agreement and the deed to the home. If anything is unclear, do not hesitate to ask questions of your agent, the seller's agent or the lending representative on hand. Once you've signed your life away (just kidding!) and you have the keys in-hand, the home is officially all yours.
Next up is packing and moving — but you're on your own for all of that, dear reader. Good luck!

Browne Taylor joined Kiplinger in 2011 and was a channel editor for Kiplinger.com covering living and family finance topics. She previously worked at the Washington Post as a Web producer in the Style section and prior to that covered the Jobs, Cars and Real Estate sections. She earned a BA in journalism from Howard University in Washington, D.C. She is Director of Member Services, at the National Association of Home Builders.