Home Down Payments Shrink Amid Affordability Squeeze
Home buyers are putting down smaller down payments as housing costs rise.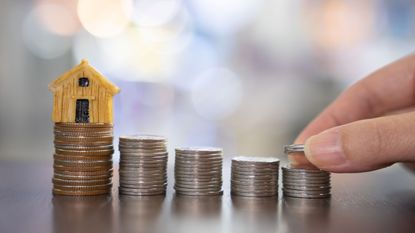 (Image credit: Getty Images)
Home buyers are putting down less money to buy their dream home as affordability issues crimp savings and cash flow.
The average down payment shrank to 13% of a home's sale price in the first three months of 2023, down from a peak of 14.1% in the second quarter of 2022, according to Realtor.com.
Dwindling down payments are sizable in dollar terms. Homebuyers put down a median $24,100 in the first quarter of 2023, which is 21% less than the second quarter 2022 high of $30,373.
Subscribe to Kiplinger's Personal Finance
Be a smarter, better informed investor.
Save up to 74%
Sign up for Kiplinger's Free E-Newsletters
Profit and prosper with the best of expert advice on investing, taxes, retirement, personal finance and more - straight to your e-mail.
Profit and prosper with the best of expert advice - straight to your e-mail.
"Home buyers face a complicated budget dance," writes Hannah Jones, economic research analyst at Realtor.com.
The trend of buyers resorting to smaller down payments is due to several factors:
Higher home prices
The price of buying a home has risen sharply since the pandemic. In the first quarter of 2023, the median price of a home was $436,800, up nearly 33% from $329,000 in the first quarter of 2020, according to federal reserve economic data from the Federal Reserve Bank of St. Louis.
Higher borrowing costs
The average interest rate on a 30-year fixed-rate mortgage doubled from 3.5% pre-pandemic to a peak of 7.08% in October 2022, according St. Louis Fed data. Rates dipped back down to 6.35% in May 2023.
Inflation
Don't forget about rising prices for consumer goods, which have eaten into homebuyers' budgets. Despite the consumer price index falling to 4.9% in April 2023, down from a high of 9.1% in June 2022, families are still feeling the effects of inflation in their overall spending.
People don't have as much expendable income as they used to. The personal savings rate soared to 9.3% in the early days of the pandemic in February 2020, dipping to 4.6% three years later, according to Realtor.com.
What's the downside to smaller down payments? Bigger mortgages and bigger monthly payments. As a result, homebuyers are feeling the financial pinch when buying a home.
Let's say you purchase a median priced home of $436,800. If you put 13% down, which is $56,784, not only will you have to pay private mortgage insurance to offset the lender's higher risk, you'll also be saddled with a heftier principal and interest mortgage payment.
Using a mortgage calculator, a 13% down payment means your mortgage loan amount is $380,016, which is $30,576 more than had you put down the traditional 20%. With a 6.5% interest rate, you'll have roughly a $2,402 monthly payment. That's about $200 more than if you put down 20%, and it's $830 more than when mortgage interest rates were at the pre-pandemic level of 3.5%.
With quickly rising costs, the hottest real estate markets during the pandemic, such as Idaho, Arizona, and Nevada, saw the largest decrease in down payment size in the first three months of 2023, per Realtor.com.
As buyers scrimp and save to purchase a home, smaller down payments will likely continue to trend. However, if there is a silver lining to be found, according to St. Louis Fed data, the price of a median home fell about 9% in the first quarter of 2023 compared to the quarter ending in December 2022.
Related Content