What Student Loan Borrowers Must Know About the Navient Lawsuit
If you think you've been affected, you may have some recourse.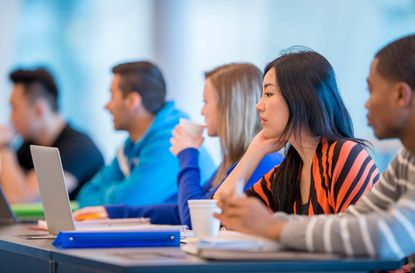 (Image credit: Chris Futcher chris@kaspi.cawww.kaspi.ca)
A recent lawsuit filed by the U.S. Consumer Financial Protection Bureau accused Navient Corp., the nation's largest servicer of both federal and private student loans, of systematically misleading borrowers by providing them with bad information, processing payments incorrectly and using deception to direct borrowers away from plans offering lower monthly payments.
Navient has denied the allegations, saying that the lawsuit is politically motivated and that new servicing standards were retroactively and selectively applied. The company broke off from Sallie Mae, a giant of the private student loan industry, in 2014 and now services more than $300 billion in federal and private student loans for more than 12 million borrowers. More than half of those loans come from its contract with the Department of Education.
Regardless of the lawsuit's merits, student borrowers should do their own research when it comes to repayment choices, says Craig Lemoine, a financial planning professor at the American College of Financial Services. "Federal student loan repayment plans are plentiful and complicated," he says. "Borrowers have to know what options are available to them rather than rely on someone on the other end of the phone."
Subscribe to Kiplinger's Personal Finance
Be a smarter, better informed investor.
Save up to 74%
Sign up for Kiplinger's Free E-Newsletters
Profit and prosper with the best of expert advice on investing, taxes, retirement, personal finance and more - straight to your e-mail.
Profit and prosper with the best of expert advice - straight to your e-mail.
Here's what student loan borrowers need to know.
What are student loan servicers?
Student loan servicers don't make loans. Rather, they act as intermediaries between borrowers and the institutions from which they borrow, including banks, the federal government and other lenders. Servicers such as Navient hold contracts with those institutions to collect payments each month on their behalf. The servicing companies process monthly payments, manage borrowers' accounts and communicate with borrowers about their rights and repayment options.
What are those repayment options?
Borrowers who took out federal student loans may choose among eight repayment plans (see the Federal Student Aid Repayment Plans page (opens in new tab)). Note that you can change your repayment plan at any time without charge by contacting your loan servicer.
Among the choices are income-driven repayment plans, which cap your monthly payments at a percentage of your income, sometimes reducing them to zero. Eligibility for the plans depends on your income and family size, among other criteria. You must submit paperwork to show that you qualify, notify the servicer if your circumstances change, and recertify your income and family size annually.
But jumping through those hoops can be worth it. The plans make payments more affordable for borrowers, include interest subsidies in some circumstances, and, depending on the plan, offer loan forgiveness after 20 to 25 years of on-time payments. They also offer public-service loan forgiveness, which excuses the remaining balance on federal loans after 10 years if you work full-time for the government, a nonprofit or another qualifying employer and make on-time payments.
Forbearance is another option for cash-strapped borrowers. It allows them to forgo loan payments, including interest, for a time; interest continues to accrue. At the end of the forbearance period, the interest is capitalized and added to the loan principal, increasing the overall cost of the loan. Although forbearance requires less paperwork and can be helpful as a short-term option, income-based repayment is generally the better option for borrowers with long-term financial hardship.
What does the CFPB accuse Navient of doing?
In its lawsuit, the CFPB alleges that Navient failed to act on complaints from borrowers, processed payments incorrectly and damaged the credit of disabled borrowers whose loans had been discharged under a government program by incorrectly reporting that their loans were in default. The CFBP also alleges that Navient encouraged borrowers to take forbearance when those borrowers might have qualified for income-driven repayment plans.
How does Navient respond to these charges?
In a conversation with the Washington Post, which Navient shared on its website, Navient president and chief executive Jack Remondi said the servicer had been working with the CFPB for years to find ways to improve the student loan program, which he calls outrageously complex.
"A year ago, for example, we told the Department of Education we were going to run a pilot on verbal [income-driven repayment] enrollment, in which we would take the application information over the phone, something we're not allowed to do today," Remondi told the Post. When Navient asked the CFPB for help in promoting its over-the-phone enrollment system to the Education Department, Remondi said the bureau refused. He also said that Navient leads the student loan industry in the number and percentage of borrowers enrolled in income-driven repayment plans.
What do I do if Navient is my student loan servicer?
Continue making payments each month, in accordance with your repayment plan. You can always change plans if you believe another one would better fit your circumstances.
How do I know if my student loan servicer is reporting incorrect information to credit reporting agencies?
One of the CFPB's allegations is that Navient incorrectly reported to credit reporting agencies that disabled borrowers had defaulted on their loans, when their loans had actually been discharged under a government program. This could potentially cause damage to some borrowers' credit reports.
You can check your account history with your loan servicer or with the National Student Loan Data System to see if your loans have been incorrectly reported as in default. If you believe your servicer reported incorrect information about your payments, you can also examine your credit report. Go to www.annualcreditreport.com (opens in new tab) to check your report. You can get one free report a year from each of the three major credit bureaus.
If you find an error, contact your loan servicer by calling or by submitting a complaint through the messaging system on its website.
What if I'm not happy with my student loan servicer?
Contact the company and express your concerns. If those concerns go unanswered, file a formal complaint with your loan servicer via the servicer's website; with the Education Department by visiting feedback.studentaid.ed.gov (opens in new tab); or with the CFPB at www.consumerfinance.gov (opens in new tab).
Can I switch my student loan servicer?
The Education Department assigns federal loans to one of the servicers it has under contract, including Navient. Private student loan lenders similarly assign student debt to servicers. Once loans of either stripe are assigned to a servicer, "consumers cannot easily take their business elsewhere," says Richard Cordray, director of the CFPB.
But there is a way around this, says Persis Yu, director of the National Consumer Law Center's Student Loan Borrower Assistance Project (opens in new tab). Borrowers with multiple federal student loans can apply for loan consolidation, which fuses the debt into a single loan with one monthly payment. That new loan is then reassigned, possibly to a new student loan servicer.
However, "there are pros and cons to consolidation that borrowers should weigh if considering this option," says Yu. For instance, by consolidating, you risk losing any benefits offered with your original loans, such as interest rate discounts and principal rebates.
Consolidation may also override the forgiveness provisions that come with federal Perkins loans—low-interest loans for students with financial need. Make sure you won't lose any benefits associated with your loan type.