Small Business Success Story: Beach Pockets
Bored at the shore, a former dental hygienist launches a booming beach business.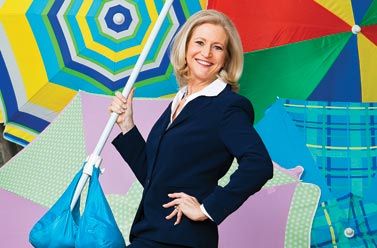 (Image credit: ©Gina LeVay 2013)
Kiplinger's spoke with Barbara Bigford, 58, of Paoli, Pa., about what inspired her to invent Beach Pockets, which are anchors for beach umbrellas. The dental hygienist-turned-entrepreneur has made more than one million dollars in sales since creating the product in 2001. Here are excerpts from our interview:
Where did you get your idea? For years, I took my three kids and our beach umbrellas to the shore. I'd look forward to reading my novel but end up holding down umbrellas in the wind. One day in 2001, I was bored and staring at the sand. I thought, Why not use it to hold down the umbrellas?
What came next? I found a lightweight and fast-drying material and sewed a pocket that could be tied to the umbrella pole and filled with sand. Unfortunately, at the beach the anchor slipped off the pole. Several trips to Home Depot later, I found a collar with a screw that you could tighten to fit different-size poles, and I attached pockets to the collar. It worked.
Subscribe to Kiplinger's Personal Finance
Be a smarter, better informed investor.
Save up to 74%
Sign up for Kiplinger's Free E-Newsletters
Profit and prosper with the best of expert advice on investing, taxes, retirement, personal finance and more - straight to your e-mail.
Profit and prosper with the best of expert advice - straight to your e-mail.
Did you apply for a patent? Yes, after one old gentleman on the beach pumped me for information and asked if I had taken my idea to a lawyer. Within 24 hours, I talked with a patent attorney in Philadelphia to start the process. I got a patent in September 2002.
How did you start your business? I paid about $450 apiece to have a couple of prototypes made, and I took them to a trade show. The response was overwhelmingly positive. I hired a manufacturer in Orlando to make 6,000 units. Over the next several years, I sold to Acme supermarkets, Ace Hardware, SuperValu, Walgreens and other retailers. In 2004, I appeared on QVC [the broadcast retailer], where I sold more than 2,000 units in six minutes.
How did you finance the business? I used about $34,000 in savings and $85,000 from a home-equity line of credit, plus hundreds of thousands of dollars in bank loans, primarily to pay for manufacturing. I used any money I made to pay off loans or plowed it into the business.
What was your sales strategy? I was honest, I was genuine, and if I didn't know something, I asked questions. In my first meeting, with Acme Markets, the corporate buyers asked me what my margin was. I was a dental hygienist. I didn't know margin! I told them so, and they were really helpful. Also, I was tenacious. Even after Wal-Mart made Beach Pockets available online to its store managers, I visited 125 stores over six months.
Why did you decide to license Beach Pockets? Through 2008, I racked up nearly $1.6 million in sales. I realized that I needed help to run a growing business. I didn't want to sell the company, so licensing my product to another company to manufacture and distribute seemed best. After the first licensing agreement didn't work out, in 2013 I signed with Aqua Leisure, in Boston, a leader in seasonal and recreational goods. The company paid me an initial royalty to begin our partnership, and I'll get between 4% and 6% of everything that Aqua Leisure sells, starting with a relaunch this summer. That's a typical licensing arrangement. I'm also getting a monthly consulting fee. I'm bringing in a little over $50,000 annually from my projects, but when the royalties from Aqua Leisure kick in, my income will increase significantly. Aqua Leisure anticipates sales of $1 million annually within two years.
Have a success story you want to share? Write us at successstory@kiplinger.com.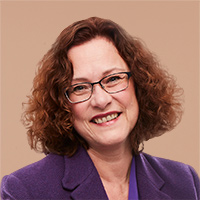 Contributing Writer, Kiplinger's Personal Finance
Esswein joined Kiplinger in May 1984 as director of special publications and managing editor of Kiplinger Books. In 2004, she began covering real estate for Kiplinger's Personal Finance, writing about the housing market, buying and selling a home, getting a mortgage, and home improvement. Prior to joining Kiplinger, Esswein wrote and edited for Empire Sports, a monthly magazine covering sports and recreation in upstate New York. She holds a BA degree from Gustavus Adolphus College, in St. Peter, Minn., and an MA in magazine journalism from the S.I. Newhouse School at Syracuse University.