Rising Cost of Your Summer Cookout
Ah, the temperature is high and the living is easy.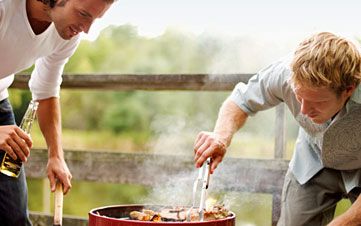 (Image credit: Thinkstock)
Ah, the temperature is high and the living is easy. Nothing like having a few friends over, grilling some meat and mingling over a few cold beers or glasses of wine. What's not to like?
How about rising prices: Be prepared to shell out more than you did last year for those burgers, ribs, chicken and seafood. The same goes for other summer fare -- watermelons and potato salad, for example.
The good news? Cheaper guacamole. Wine, too, will cost less than last summer. But beer prices? A tad higher.
Here's what you can expect to pay and why. And don't blame us if you get hungry.
Sources: USDA, DOL, Calif. Ext. Service, Md. Dept. of Agriculture, National Watermelon Promotion Bd., Wash. State Fruit Comm., Mich. Farm Bureau Fed., Kraft, Nat'l. Confectioners Assn., World Cocoa Fdn., Allied Grape Growers, SymphonyIRI Group (hot dogs)
1/12
Burgers and Hot Dogs
Look to pay around 5% more than last summer for 90% lean ground beef, although ground beef that's less lean will usually be featured as a "summer special" for under $2 a pound in many supermarkets.
Supplies of the leanest ground beef blends were already tight when a controversy blew up in the spring over the use of chemically treated meat trimmings in ground beef, dubbed "pink slime" by its critics. Many food outlets dropped the beef-based filler, raising costs.
Hot dogs, on average, may cost you about a penny more per frankfurter, based on a national benchmark price of $2.61 per pound as of May, up 13¢ from a year earlier. But hot dog prices run a wide gamut, depending on whether you're buying the mystery meat weenies at the low end or the pricier top- or middle-shelf, all-meat varieties.
2/12
Short Ribs, Steak and Pork Chops
Rib prices can vary a lot, depending on leanness, size of order and how fast a grocer wants to move them. They'll run from $3 to $4.50 a pound most of this summer. Compared with choice cuts of steak -- a lofty $8 to $12 a pound this summer -- that's a good buy.
Ribs are a thinner market than, say, sirloin or ground beef, so grocers don't feature them as specials too often. But shop around and you may find a bargain.
Pork chops, though pricey, will be down 10¢ or more from last summer to $2-$3 a pound, often less. Why the price drop? Supplies of pork loin, the source of chops, will be up 25%-30% over last summer.
3/12
Seafood
Prices will be up 4%-5%, driven higher by rising consumer demand for seafood globally. This year's increase comes on top of a big 8.5% jump in retail prices last year over the year before.
4/12
Chicken
With poultry farms curbing production in the face of high feed costs, wholesale prices of whole birds will be up to 10% higher than a year ago, pushing retail prices as high as $1.50 a pound. Leg quarters for the grill will set you back 75¢ to $1 a pound, up about 10¢ from last summer.
But, as with ground beef, grocers will put chicken on special from time to time to lure customers.
5/12
Sweet Corn
Good news here: Sweet corn will cost just under $5 for a dozen ears, down from an average of $5.75 last year, as corn production continues to rise.
Despite the unseasonably warm weather so far this year, growers are reporting few problems and expect either an on-time or slightly early harvest.
6/12
Potato Salad
Two main ingredients for this popular side dish are potatoes and eggs. Potatoes will cost about the same as last summer. Quality and prices will be shopper-friendly because of huge harvests.
The price of eggs will be up just 1%-2%, after a 9% jump last year. Chicken flocks to produce eggs for eating are a little larger than a year ago, and farms are producing more table eggs. But egg exports are increasing, keeping a floor under prices to American shoppers.
7/12
Guacamole
More good news: Avocados -- the key ingredient in guacamole dip, of course -- range from 90¢ to around $1.35 a pound in supermarkets now, compared with $1.50 or so last summer. Prices will go lower still.
This year's price break will be courtesy of an expected robust crop in California this summer -- the peak harvest period there -- along with a strong supply from Peru. Note that Peru, Chile and Mexico now supply about two-thirds of avocados consumed in the U.S., and consumption has been rising steadily.
8/12
Watermelon
Expect to pay about 48¢ a pound for this summertime treat. That's a few cents more than last summer. The largest increases will be for watermelons grown in the Southeast, mainly Florida, where heavy rains have hurt some of this year's crop.
9/12
Cherries
Cherries from an early harvest in California are now about $5 a pound.
But wait a few weeks and you'll benefit from a bigger harvest, aided by the early, warm spring in Washington and Oregon, the main production region. An expected near-record harvest in the Pacific Northwest will make sweet cherries cheaper this summer -- in the range of $2.50 to $3 a pound -- despite a late-spring freeze that nipped cherry blossoms in another production region, Michigan.
10/12
S'mores
The staples that go into this gooey fireside treat -- chocolate, marshmallows and graham crackers -- will see slight to moderate increases this summer.
With worldwide demand for chocolate surging, retail prices will be 4% higher than last year. Marshmallows will see a 3% to 4% price hike -- in line with the rising cost for sugar and corn syrup. Graham crackers, which hold the concoction together, will rise 2% this year, after remaining fairly flat last year.
11/12
Beer and Wine
Beer prices will be a little higher -- 2% or less -- than last summer, owing in part to a small barley crop last year. But beer imports are on the rise again after dropping off during the recession. That, along with the proliferation of microbrews and regional brands, spells more competition, keeping steeper price hikes at bay.
Increased competition in the wine industry means consumer-friendly prices. Overall, bottles and cases of wine will be priced about the same as last year. More vintners are opening up shop throughout the country, and in California, which grows 80% of the nation's grape crop, winemakers are adding a net 15,000 acres of vines a year. The volume of wine imports will zoom past 300 million gallons this year, compared with last year, when it topped 275 million gallons, double what it was about a decade ago.
Here's wishing you a safe and happy summer. Cheers!
12/12
Editor, The Kiplinger Agriculture Letter
Maixner was a student of news writing, agriculture and public policy before starting as editor of The Kiplinger Agriculture Letter in 2003. Raised on a ranch in western North Dakota, he kept a foot in the family farm and the farm news beat through 20 years with North Dakota newspapers – interrupted to study economics and finance while finishing an MA degree in journalism as a Kiplinger fellow at Ohio State University. Ed worked on legislation in agriculture, natural resources and international trade as an aide in the U.S. House and Senate, then ran a Washington, D.C., agricultural news bureau before joining Kiplinger. He was president of the North American Agricultural Journalists in 2011-12.