10 FALL DESTINATIONS ON SALE
You don't have to head off the beaten path to snag a great deal on travel this season.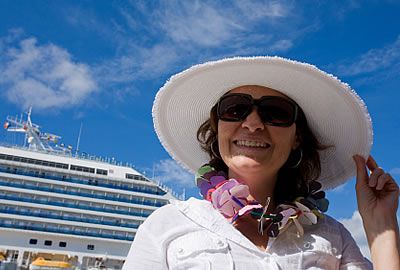 (Image credit: iStockphoto)
You don't have to head off the beaten path to snag a great deal on travel this season. With cooling weather and fewer tourists, many popular locations are offering a bevy of bargains to lure travelers. So take advantage of prime destinations that were too crowded and overpriced in the summer, or that are heading into peak season for the winter.
Take a look at these ten locales and start planning your getaway -- and saving some money:
(Navigation begins at your right)
By Erin Burt
1/10
HAWAII
How about trading pumpkins, brauts and cider for luaus, snorkeling and pina coladas? Hawaii has fantastic year-round weather, so it makes sense to go in the fall when the crowds and prices get smaller.
Airfare to Hawaii typically goes on sale in the fall. For instance, Hawaiian Airlines' fall promotion offers fares as low as $360 round-trip from the Western U.S. And a deal from United Airlines connects many Midwest and Eastern states to the islands for as low as $333. Plus, the U.S.'s economic woes have left autumn hotel bookings down 30%, reports SmarterTravel.com. That means hotels are slashing prices to lure travelers, with some offering perks such as free stays and free groceries.
2/10
ICELAND
Europe is pricey for American tourists lately. But Iceland makes a good alternative getaway considering its currency has dropped to record lows this year versus the euro. Fall gets a tad chilly, but you can still enjoy the wildlife, out-of-this-world landscapes and geothermically heated pools (pictured here). And at night, prepare yourself for the best show in town -- the northern lights are often seen here on cold clear nights from September to March.
You can expect to pay at least 30% less in the fall and winter for a hotel than you'd pay in the summer. Icelandair is advertising round-trip fall airfares for $565 from Boston. The cheapest fare we could find to Paris on other carriers around the same time started at $800.
3/10
LOS ANGELES
Most people think of L.A. as a summer playground. But the weather is mild year-round -- mid-70s in October. That's perfect for exploring the fun at the Santa Monica Pier, lounging seaside in Malibu, strolling Hollywood's Walk of Fame or exploring the city's 4,200-acre Griffith Park.
Or, of course, you could hit one of the area's popular amusement parks, including Universal Studios, Knott's Berry Farm, Legoland and Disneyland. Admission prices don't drop in the fall, but lodging deals abound. For instance, a fall promotion at the Anaheim Courtyard Marriott hotel is offering rooms for up to 25% off the regular rates in September and October.
4/10
BEIJING & SHANGHAI
If the sights from China during the summer Olympics intrigued you, fall is a great time to explore the region for yourself because airfare goes on sale -- and the tourists have cleared out.
Look for a package deal to satisfy your curiosity and save some coin. For instance, at TripWizards.com, we found a November vacation including round-trip airfare from Chicago to Beijing to Shanghai for only $735 per person. The price includes three nights' hotel stay in Beijing and three nights in a hotel in Shanghai.
5/10
PANAMA
It may be cheaper to fly to Panama than to a U.S. destination. So why not take this opportunity to make a tropical getaway? For example, we recently spotted round-trip flights on Kayak.com from Chicago to Panama City in October and November for only $328. Flights from Miami, a main U.S. hub, to Panama were running as low as $238.
Panama isn't just about the canal. Enjoy stunning palm-lined beaches, excellent snorkeling, incredible mountain vistas, beautiful rain forests and bird watching. Summer and fall are the rainy season, but September and October are typically drier than earlier months, so you can still enjoy the sights without paying peak-season prices.
6/10
NEW ORLEANS
Don't let the weather scare you away. Hurricane season winds down by October and November, yet tourists remain scarce. That means you won't have to spend beaucoup bucks to soak up the city's French atmosphere. Lodging is a particular bargain here. For instance, we found four-star hotels starting at only $44 a night. Plus, Southwest recently offered one-way airfare to and from the city as low as $59, for travel through November 19.
That leaves plenty of money for a cocktail at the 200-year-old Napoleon House, a ride down Canal Street on a streetcar and an evening of authentic New Orleans Jazz. Or, go antiquing, strolling or people watching.
7/10
DUBLIN, IRELAND
No matter what time of year you visit Dublin, you'll need to pack a sweater and umbrella. So why not go in the fall when average high temperatures are only a few degrees cooler than their summer peaks, but the tourists have cleared out and prices have dropped? You can soak up the city's charming Georgian architecture, explore its many museums or kick back at a neighborhood pub.
Aer Lingus's fall promotion offers round-trip airfare from Boston to Dublin from $398. And at Kayak.com, we found four-star hotels starting at $79 per night.
8/10
CARIBBEAN CRUISE
The cost of a Caribbean cruise is falling, and there are incredible deals to be had this season.
For instance, on Travelocity, we spotted a deal from Norwegian Cruise Line offering a four-night excursion from Miami to the Bahamas starting at $169 per person for an interior room. And Carnival has a four-night cruise from Fort Lauderdale through the Western Caribbean for only $229 per person.
9/10
LAS VEGAS
Hotel rates in Vegas are reportedly down about 12% this season. And we certainly found some bargains, smack-dab in the middle of the action. For example, at Orbitz.com we looked for rooms for a mid-October stay in a three-star hotel. We got $29 per night at the Stratosphere and $33 at the Tropicana.
Want to live it up in luxury four- or five-star digs? We found deals on Kayak.com for $84 per night at the Golden Nugget, $110 at New York-New York and $125 at the Palms.
10/10
LANCASTER COUNTY, PENN.
Forget the gridlock of New England this fall. Instead, relax a bit further south in Amish country. You'll enjoy the simple way of life and some old-fashioned hospitality, trimmed with serene vistas and farmer's markets brimming with harvest-time bounties.
For a homey experience, stay at a local bed and breakfast. Many go on sale this time of year. For instance, at BedandBreakfast.com, we found room discounts up to 50% off regular rates. Plus, if you're traveling with children, many B&Bs in the area welcome little ones -- and even let them help on the farm. Go to AFarmStay.com to learn more.
NEXT: See More Travel Slide Shows (opens in new tab)
QUIZ: How Far Can You Stretch Your Travel Dollar?