20 Best Values in Tech Gifts for the 2017 Holiday Season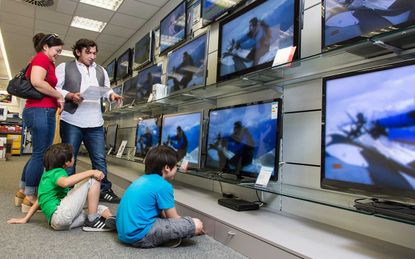 (Image credit: Getty Images)
The 2017 holiday shopping season is in full effect, and you (and your gift recipients) surely are tempted by the many shiny objects -- flashy, must-have high-tech gadgets -- being advertised at ostensibly low, low prices.
But savvy shoppers know a cheap price on a recognizable brand name doesn't always mean it's the best value -- especially when it comes to technology. Value is more than just price; it also includes factors such as functionality, usability, tech support, quality, durability and ongoing cost of ownership.
To help you with your holiday shopping, we've put together a list of 20 of the best values in consumer technology you can find this season -- including many options I've had hands-on experience with as a reviewer for Forbes.com, Wired, InvestorPlace.com and others. Our list includes some of the top names in the technology industry, some that you may have never heard of and prices ranging from under $50 to more than $1,000. There's something for everyone here. All of these high-tech products make great gifts because they represent great value, both to you as the gift giver and to the lucky recipient.
1/20
Best Value in Smart Thermostats
Our pick: Nest Thermostat E
Manufacturer's suggested retail price: $169
A smart thermostat makes a great gift. It not only has an undeniable cool factor, but a smart thermostat also is one of those rare gifts that actually saves people money. Nest adjusts to your preferred temperature to keep your home comfortable when you're there, then automatically adjusts the temperature to save money when you leave.
Nest is the company that kicked off the smart thermostat revolution with its Nest Learning Thermostat. But you can get nearly identical functionality for $80 less by skipping the metal frame and instead opting for the white plastic case of the Nest Thermostat E.
2/20
Best Value in Wireless Security Cameras
Our pick: NetGear Arlo Pro 2 Wireless Security Camera
Manufacturer's suggested retail price: $219.99
Internet-connected security cameras are a hot product category right now. Nest is a big player, and Amazon just released its own Cloud Cam. But I like the Arlo Pro 2, a Consumer Electronics Show 2017 Innovation Award winner from Netgear.
The Arlo Pro 2 is far more flexible than the Nest and Amazon options. It can be used indoors or outdoors (it's weatherproof), and it doesn't require wiring. Long-lasting rechargeable batteries are included, so you can literally stick this true wireless security camera anywhere. If you want to plug it into a power outlet, you have that option, too.
It offers the features that make Internet-connected cameras so popular, including a wide-angle lens capturing 1080p HD video, app notifications triggered by motion, night vision and two-way audio. Arlo Pro 2 also includes seven days of free cloud storage for your video (no ongoing cost), the ability to store it locally on a USB hard drive and a 100-decibel siren to scare away intruders.
3/20
Best Value in Home Lighting Systems
Our pick: Nanoleaf Aurora Rhythm Smarter Kit
Manufacturer's suggested retail price: $229.99
I've tried a lot of smart lighting systems and have the popular Philips Hue installed in my home. But my favorite smart light hands down is from a Canadian company called Nanoleaf, another CES 2017 award-winner.
The Nanoleaf Aurora Rhythm Smarter Kit makes an excellent gift. The kit includes nine triangular panels that are LED-lit with millions of colors. They can be snapped together in any combination, then stuck to the wall or any other surface using included 3M Command strips. Connect the control module to any panel, plug it into power, connect to wi-fi -- and you get amazing, customized, app-controlled lighting. And with the Rhythm module connected, the panels pulse to the beat of music. Smart and entertaining!
4/20
Best Value in Portable Wireless Speakers
Our pick: Libratone ZIPP Wireless Speaker
Manufacturer's suggested retail price: $299
Smart speakers such as the Amazon Echo and Google Home are going to be huge this holiday season. (Apple's Siri-powered HomePod was supposed to put in an appearance, but it's apparently delayed until 2018.) But not everyone needs the "smart," especially when it comes at the cost of decent audio.
If there's a true music lover on your shopping list, skip the big-name smart speakers and choose the Libratone ZIPP instead. This is the most well-rounded wireless speaker I've reviewed this year and a great value. The Scandinavian design with optional removable fabric covers stands out. So does the sound, thanks to a 100-watt Class D amplifier, four-inch woofer, multiple drivers and 360-degree audio. None of the anemic sound that plagues so many smart speakers here.
The Libratone ZIPP is also portable (with a 10-hour battery), supports multi-room audio and offers Bluetooth connectivity in addition to wi-fi. A firmware update coming in 2018 will add Alexa voice support using the ZIPP's microphone -- then smart speaker fans will be able to have their cake and eat it, too. And Libratone is offering a $30 holiday discount on the ZIPP until the end of December.
5/20
Best Value in Turntables
Our pick: Crosley C20 Turntable
Manufacturer's suggested retail price: $559.95
Records continue their unlikely resurgence this year, and, as a result, I've tested more than a dozen new turntables from a variety of companies. If there's a budding vinyl lover on your list, the Crosley C20 is a great value.
You may think of entry-level, suitcase record players when you think of Crosley, but the company has expanded into more serious turntables. The C20 was built in partnership with Pro-Ject, and that means high-quality components including an acrylic platter, an S-shaped aluminum tonearm with sapphire bearings, and an Ortofon OM10 cartridge. It's finished in beautiful Zebrano wood veneer.
The Crosley C20 costs more upfront than an entry-level turntable, but it sounds great out of the box, looks amazing, and offers a solid base that a vinyl lover can easily upgrade later with a different cartridge.
6/20
Best Value in Wireless Headphones
Our pick: FIIL CANVIIS PRO Wireless Headphones
Manufacturer's suggested retail price: $349
Skip the Beats wireless headphones, and give the FIIL CANVIIS PRO instead. They offer a lot more bang for the buck, and any music lover is going to have a lot of fun with these.
I reviewed the FIIL CANVIIS PRO on-ear wireless headphones and found the audio was excellent, with balanced, crisp sound and comfortable ear pads. But the CANVIIS PRO headphones offer a lot more high-tech features than most. The ear cups are touch-enabled for gesture control of music and voice calls. The headphones feature active noise cancellation, and, with the FIIL + APP (free for iOS and Android), music lovers can experiment with spatial 3D audio effects such as a concert hall setting.
Even better, there's enough onboard storage to load these headphones up with 1,000 songs. Combined with their amazing 33-hour battery life, that's nearly three, 12-hour days of music without a power outlet, cable or smartphone in sight.
7/20
Best Value in 4K TVs (50+ inches)
Our pick: TCL 55P607
Manufacturer's suggested retail price: $649.99
TCL's 55P607 proves that you don't have to spend a fortune to get a solid 4K HDR television. (Never heard of TCL? The Chinese TV manufacturer is the world's third-largest. It's been making TVs for other companies, including Samsung, for nearly 30 years. In recent years, it has pushed into the U.S. market with TVs bearing its own nameplate.)
It's been getting kudos for delivering a 55-inch 4K HDR viewing experience, complete with Dolby Vision HDR and even Roku streaming built-in. That means thousands of Roku streaming channels, including Netflix, Hulu and HBO Now. The included remote offers voice search support, and the bezels are minimal.
If someone on your list is hoping for a 4K TV, the TCL 55P607 offers premium features at a bargain price.
8/20
Best Value in 4K TVs (50 inches or less)
Our pick: Vizio M50-E1
Manufacturer's suggested retail price: $599.99
The Vizio M50-E1 is another 4K TV that combines affordability and features in a way that makes it an extremely popular choice. CNET made it an Editor's Choice pick for 2017, saying it outperforms more expensive TVs and offers the "sweetest spot between image quality and affordability."
The 50-inch M50-E1 includes built-in Chromecast capability, and supports both the Dolby Vision HDR and HDR10 standards for high dynamic ratio content. With the money you save buying one of these instead of one of the big-name 4K TVs, you could throw in an extra such as an Xbox One X.
9/20
Best Value in Document Shredders
Our pick: Amazon Basics 12 Sheet High Security Paper Shredder
Manufacturer's suggested retail price: $99.99
After the Equifax security breach, security is on everyone's mind. And while online security tends to get a lot of attention these days, the weakest link for many people continues to be the personal information they toss out curb-side every week.
The Amazon Basics 12 Sheet High-Security Paper Shredder may not be "fun," although watching it chew through a mound of credit card statements can be satisfying. But this is a gift that offers advanced security features for a lot less than the name-brand equivalents.
This shredder can turn 12 sheets of paper at a time into confetti that's virtually impossible to reconstruct. It will also pulverize credit cards, CDs and DVDs. Capacity is 6.7 gallons of destroyed personal information before the bin needs to be emptied. With this shredder, you can give the gift of security for this year and years to come.
10/20
Best Value in Air Quality Monitors
Our pick: Foobot Home Air Quality Monitor
Manufacturer's suggested retail price: $199
Americans spend 93% of their lives indoors. And the EPA says your home could be up to five times more polluted than the outdoors. If someone you know is concerned about the quality of the air they breathe all day, the Foobot Home Air Quality Monitor makes a practical gift with a high-tech cool factor.
Foobot is an Internet-connected smart device that measures the quality of a home's air. It detects the invisible particles that can aggravate asthma, cause lethargy or even be carcinogenic.
Foobot measures all these variables, giving the room its in an air quality score, along with tips on how to improve it. Foobot can also connect to a smart device such as an air purifier and automatically activate it when warranted. I've been testing a Foobot for the past three weeks, and, while my home air scores well, I can see the effects in real time of someone, say, burning a grilled cheese sandwich, or watch the CO2 levels rise by the hour if I work in my office with the door closed.
11/20
Best Value in Video Streaming Devices
Our pick: Roku Express+
Manufacturer's suggested retail price: $39.99
The Roku Express+ is a great example of a low-cost, high-tech gift that offers unbeatable value.
Roku is an online platform that has thousands of "channels" of content -- including apps, paid content such as Netflix and free video from YouTube -- that you can stream to a TV using a connected Roku device. It's the easiest way to add video streaming capability to virtually any TV, even an older set that lacks HDMI inputs.
With both HDMI and composite connectivity, 802.11b/g/n Wi-Fi, Dolby Audio (via HDMI) and a remote control, the Roku Express+ turns almost any TV into a smart TV. As an added bonus, it's small enough to bring along and plug into a hotel TV for video streaming while traveling, in the school dorm, or on vacation.
12/20
Best Value in In-Ear Headphones
Our pick: 1More Piston Classic In-Ear Headphones
Manufacturer's suggested retail price: $24.99
Everyone gets free earbuds with their smartphone. And they are almost always terrible. Or they lose them. Maybe they lose them on purpose because they're so terrible?
A set of replacement earbuds for casual listening can make a great, affordable holiday gift. The trick when spending under $50 is to find a pair of replacement earbuds that aren't worse than the originals.
I've tried a half-dozen headphone and earbud offerings from 1More, and have yet to find a pair that doesn't exceed my expectations. Expect the 1More Piston earbuds to be a pleaser, despite their modest price. They offer a premium-look aluminum alloy body, ergonomic angled ear fittings, three sets of silicon ear tips and a dual-layer composite dynamic driver.
13/20
Best Value in Portable Lighting
Our pick: Goal Zero Lighthouse Mini Lantern
Manufacturer's suggested retail price: $49.95
This cool little LED light from Goal Zero is high-tech, affordable and extremely useful. It would make a great gift.
The Goal Zero Lighthouse Mini Lantern -- designed to look like a traditional camping lantern -- is like a Swiss Army knife in terms of flexibility. Stand it up, hang it from its pop-up hook, screw it onto a tripod or stick it to metal surfaces with the embedded magnet. The LED light is adjustable from a virtual night-light trickle to the point where it can illuminate a small room in a power outage. There's even a built-in USB cable to recharge it, and a USB out port so you can use its battery to top up a smartphone.
And did I mention the LED lights shine virtually forever on a charge? During testing, I gave up counting after 168 hours of constant light. (Goal Zero says it can go for up to 500 hours.) Connect it to an optional Goal Zero solar panel, and you could be giving someone the gift of never-ending light, free of dependence on an electrical outlet.
14/20
Best Value in Digital Photo Frames
Our pick: Aura Smart Picture Frame
Manufacturer's suggested retail price: $399
Digital photo frames are a great idea that never really lived up to their potential. However, I recently discovered one that more than delivers: the Aura frame.
The Aura digital photo frame makes it easier to display photos by connecting through your smartphone and syncing over wi-fi for an unlimited gallery. Share it with connected friends and family, and they can upload their photos, too (with no subscription fee). Photos change automatically or with the wave of a hand. The hardware is attractive with a machined acrylic and aluminum frame surrounding a beautiful 9.7-inch, 1536 x 20478 backlit LED panel. That's iPad sized, extremely crisp and bright, with excellent viewing angles.
Besides its superior display and features, the Aura digital frame makes a perfect gift because you can easily preconfigure it to show photos as soon as it's powered up for the first time. And if you buy multiples -- so you and a friend or family members can share photos with each other -- Aura will discount your purchase. Win, win!
15/20
Best Value in Wireless Speakers for Your Home
Our pick: RIVA Festival Speaker
Manufacturer's suggested retail price: $499
There's another wireless speaker on my list, and this one would make a great gift for the music lover who has limited space, or someone looking to start a multi-room audio setup.
RIVA Audio isn't as well known as Sonos, but I've tested both speaker lines extensively, and RIVA would be my pick between the two. RIVA makes use of multi-driver audio and its proprietary Trillium virtual surround-sound technology to provide superior audio from a single speaker, while also offering multi-room speaker support. Plus, RIVA supports Bluetooth as well as wi-fi, something Sonos lacks.
The RIVA Festival is a monster of a speaker with seven ADX drivers (including three woofers) and a six-channel, 200-watt amp inside a wood enclosure. It's a CES 2017 Innovation Award honoree, delivers the most impressive bass of any wireless speaker I've reviewed, and, with RIVA's current $100 holiday discount, it's an incredible value.
16/20
Best Value in Fitness Watches
Our pick: Fitbit Ionic
Manufacturer's suggested retail price: $299.95
Is there someone you're shopping for this holiday season who wants a smartwatch? As popular as the Apple Watch is, if health and fitness tracking is the primary reason they want a wearable, the new Fitbit Ionic may be a better value.
First of all, the Fitbit Ionic costs less than the Apple Watch, so you'll be saving at least $100 over an Apple Watch Series 3 with LTE. More importantly, the Fitbit smartwatch offers four days of battery life compared to the single day that the Apple Watch manages. Short battery life is a big reason why many smartwatches end up shoved into drawers after a few weeks, instead of being on wrists. Extended battery life means the Ionic can be worn at night to track sleeping. It also plays nice with Android smartphones, not just iPhones -- unlike the Apple Watch. And it's tough to beat Fitbit's health and fitness-tracking software.
17/20
Best Value in Smartphones
Our pick: Apple iPhone 8 Plus
Manufacturer's suggested retail price: $799
Is someone on your holiday shopping list going to be the lucky person who gets a new smartphone? If so, consider the iPhone 8 Plus.
The iPhone X and Google Pixel 2 XL have been getting much of the attention in recent months, but these new flagship smartphones don't necessarily represent the best value. The Pixel 2 XL has been under fire for an OLED display that has color issues. The iPhone X's OLED display has also run into hiccups including a persistent green line on some units and responsiveness issues in the cold. It's also the most breakable iPhone ever. Dropping it from just three-feet will shatter the display and glass back, costing $549 to replace.
The iPhone 8 has most of the iPhone X's features, including a dual-lens optical zoom camera, portrait mode, wireless charging and the powerful A11 Bionic CPU. No Face ID, but Touch ID is still there. The display is tried and true (and class-leading) LCD, so none of those OLED issues to worry about. While still glass front and back, it's a slightly less painful $349 to repair. And as the gift giver, the iPhone 8 Plus will set you back $799 instead of $999 for the X.
18/20
Best Value in Wireless Speakers for Audiophiles
Our pick: Thiel AURORA Home Wireless Speaker
Manufacturer's suggested retail price: $899
Of all the wireless speakers I reviewed this year, the Thiel AURORA Home was the best sounding. In fact, it's probably the best overall wireless speaker I've ever tested, making it well worth the premium price.
During the course of my review of the AURORA Home, the word that kept coming to mind was refined. The audio was superb, but a big part of that was its refinement: a respectable (but not overwhelming) low end, a mid-range with plenty of punch, and crisp highs. Whether at low volume or cranked up, this wireless speaker keeps its composure. For even more expansive sound, you could pair two AURORA Home speakers, or put one in every room (up to 16 speakers) for multi-room audio.
The AURORA Home's refined theme is continued with its design, a minimalist speaker case with visual impact that's compact enough to fit on a bookshelf or counter. My review unit was brushed copper and black, and it's also offered in a white and black combo. Give a music lover one of these wireless speakers, and you will quickly hear the value in investing in premium audio gear.
19/20
Best Value in 4K TVs If Money Is No Object
Our pick: LG Signature OLED TV W7
Manufacturer's suggested retail price: $14,999.99
There is no 4K TV that can match LG's 77-inch Signature OLED TV W7. No other TV received the accolades this one did in 2017, including "Best of CES" awards from publications ranging from Engadget to Tech Radar.
This "picture-on-wall" style TV is ultra-thin, with minimal bezels and no visible wires. The OLED panel delivers extremely high contrast for the deepest possible blacks. The cinema-like viewing experience gets even better with Dolby Vision HDR making colors pop, and 360-degree Dolby Atmos sound driving the upward-firing speakers.
LG's webOS 3.5 is security-focused, while providing convenient access to popular apps such as Netflix and Amazon Video, making it easy to stream 4K HDR content. The value in the LG Signature OLED TV W7 isn't just the initial jaw-dropping impact; it's having the technology and standards support in place to ensure this TV continues to be a living-room showcase for years to come.
20/20
Best Value in Drones
Our pick: DJI Mavic Pro Platinum Drone
Manufacturer's suggested retail price: $1,099
If you give someone a drone as a gift, you want it to be a good one. I've tested a few of the less-expensive drones this year, and the experience has been full of crashes, dozens of lost propellers, a few cuts, frustratingly short flight times, and a box in the closet holding the remains of several destroyed review units. Maybe someday they can all be combined into a single working drone.
There's an important lesson here: With drones, value is defined by much more than a sale price. Save yourself (and the lucky gift recipient) the frustration, and go with the Mavic Pro Platinum from DJI.
DJI is the undisputed world leader in consumer drones. Last year, the company released the Mavic Pro, a model designed to be more affordable, easier to fly, and -- with its fold-up design -- easier to carry. It still offered advanced features such as a gimbal-mounted 4K camera and 40mph flight speeds, making it tough to beat. The new Mavic Pro Platinum carries a $100 premium, but here's where value comes into the equation: you get more flight time, while generating 60% less noise.
Contributing Writer, Kiplinger.com
Brad Moon is a tech industry veteran who contributes to a range of publications including Forbes, InvestorPlace and MSN Money and is an original member of the award-winning GeekDad blog. Over the past decade, he has also written about technology for Wired, Gizmodo, Shaw Media, About.com, The Winnipeg Free Press and others.