7 Things Worth Splurging On
Demand for luxury goods rebounded post-recession -- and as the economy continues to heat up, more consumers are finding the cash for Louboutin pumps, first-class cabins and Michelin-starred meals.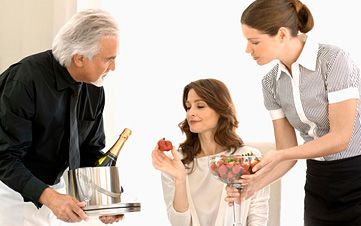 (Image credit: Thinkstock)
Demand for luxury goods rebounded post-recession -- and as the economy continues to heat up, more consumers are finding the cash for Louboutin pumps, first-class cabins and Michelin-starred meals. But even if you have the disposable income to pay for a designer wardrobe or gold credit card, there's no need to sacrifice the proverbial bang for your buck. The things most worth splurging on should offer unbeatable quality, great value and a high return on investment, in addition to a visceral thrill.
We reached out to experts in a number of fields, from fashion to technology to travel, and asked them what luxuries are worth "splurging" on. While some of these items carry big-ticket prices, most will pay you back in one way or another--be it by retaining or increasing in value, or by saving you money in some manner, such as on repairs and replacements. So while others might call them extravagances, we consider them investments.
Check out our list of seven things worth splurging on.
1/8
Kitchen Renovation
The price: $19,588 (average cost of a minor kitchen remodel)
Why it's worth it: High return on investment when you sell
Few of us boast designer kitchens, but if your space is more Julia Child than Paula Deen, an upgrade might be in order. A typical homeowner recoups 72 percent of the cost of a minor kitchen remodel when the house is sold, according to Remodeling magazine's Cost vs. Value Report. That's better than the return on other midrange home improvements, such as basement remodels (67 percent), bathroom makeovers (62 percent) and family room additions (60 percent).
Consider replacing laminate countertops with granite. Potential buyers will expect to see this update at your open house. Other worthwhile splurges include energy-efficient appliances, which will keep you cooking for less in the long haul. A word of caution: Upscale kitchen remodels, of the Viking range and Sub-Zero fridge variety, will only earn back 57 percent of the cost at resale, so it pays to keep your renovation ambitions in check.
2/8
Apple Stock
The price: $596 (cost of a share as of March 23, 2012)
Why it's worth it: Sky-high growth expectations, plus a new dividend
A share of Apple will cost you about as much as the new iPad. But unlike a shiny new gadget, this top-performing stock won't break down, lose its cool or crack when you drop it. Consider this: Apple's market value clocks in at more than half-a-trillion dollars, and consumers continue demanding new Apple products, such as the just-released iPad and the next-generation iPhone, due out later this year.
The stock is already up almost 50 percent in 2012, and most analysts who follow Apple predict more gains ahead. Shares aren't quite as flashy as iPads, of course, but with that kind of predicted growth, they sure make a better investment. That Apple just announced that it'll start paying a dividend to shareholders is icing on the cake.
3/8
Nonstop Flight
The price: $361 (average domestic air fare)
Why it's worth it: Layovers cost time and money
We've all braved that dreaded layover in Houston or Detroit to save a couple of bucks over a more expensive nonstop flight. But unless you're pocketing enough spare change to spring for checked baggage or a night's hotel stay, connecting flights often aren't worth the hassle. "The nonstop is a much better choice -- shorter flight time, plus less chance of delay, missed connections and misdirected baggage," says Ed Perkins, an editor at Smarter Travel.
Dealing with those snafus can cost you, not to mention the overpriced food, coffee and pay-by-the-hour wi-fi you'll need to while away the layover hours. Perkins also suggests upgrading to a semi-premium class, such as Jet Blue's value-priced "Even More Space" or United's "Economy Plus."
4/8
DSLR Camera
The price: $499.99 (retail price of Canon EOS Rebel T3 with 18-55mm IS II lens)
Why it's worth it: Shoot like a pro for a lot less
With cheap point-and-shoot cameras available at every Best Buy and Target, the pricier, semi-pro versions known as DSLR cameras -- DSLR stands for digital single lens reflex -- seem out of range for many shutterbugs. But stop and think before settling for something like a Powershot or Coolpix, says John Biggs, the gadgets editor for mega-blog TechCrunch.
Low-end DSLR cameras, such as Canon's Rebel, last longer, take better pictures and promise a higher resale value than their point-and-shoot equivalents.
5/8
American Express Premier Rewards Gold Card
The price: $175 (annual fee)
Why it's worth it: Rewards points can add up quickly
No one likes paying fees on credit cards. But American Express's $175 annual fee doesn't sound so steep when you weigh the perks: unlimited points on pretty much everything you buy, with no expiration date and easy point transfers to more than a dozen frequent-flier programs. Each dollar spent on airline tickets earns three points, gas and groceries earn two, and all other purchases earn at least one point per dollar (more than 300 major retailers offer more).
Earning double or even triple points on purchases makes it easier -- and faster -- to rack up enough miles for free flights. American Express offers added incentives to new Gold Card holders, including no annual fee the first year and 25,000 bonus points for charging $2,000 in the first three months. Cardholders can also earn 15,000 bonus points by making $30,000 in purchases in a calendar year.
6/8
Cartier Watch
The price: $4,650 (Tank Francaise medium model)
Why it's worth it: A good watch is timeless
The Cartier Tank has been a status symbol since 1917 -- and the current model should stay stylish for at least as long. So says Alison Lukes Teer, a high-end stylist and personal shopper in the D.C. area. "The Cartier watch is so effortless and elegant," she says. "I actually wear my husband's grandfather's -- that's how timeless they are."
The price tag on Cartier's Tank Francaise model clocks in at $4,100 on the low end and $43,250 on the high end. That's not cheap. But the French jeweler has a reputation for watches that keep ticking, so you won't need to purchase a replacement for a very long time, if ever. If you do decide to sell, you stand to make most of the investment back. Used Cartier watches currently go for between $2,000 and $5,000 on auction sites such as eBay.
7/8
Prix Fixe Fine Dining
The price: $24 (for three courses, vs. $37 a la carte at Cotogna in San Francisco)
Why it's worth it: A high-end meal with a lower-end bill
There's nothing thrifty about a three-course dinner at a James Beard award-winning restaurant. But if you're eating prix fixe, you're still getting great value, says Scott Jampol, who handles consumer marketing for reservation site OpenTable. Chefs set the menus for prix fixe meals ahead of time, allowing them to scale down costs and pass along savings to customers. "Dining out can be expensive," Jampol says. "But restaurants have evolved to give you more options."
Take Cotogna, a popular upscale Italian eatery in San Francisco. Since the restaurant introduced a three-course prix fixe meal, a diner gets a starter, entree and dessert for $24. A la carte, the same meal costs $37, or 54 percent more.
8/8