Eight Luxuries You Should Buy for Your Car
Cars are expensive enough, gobbling ever-pricier fuel, but there are times when even automotive skinflints should consider loosening their grip on that dollar.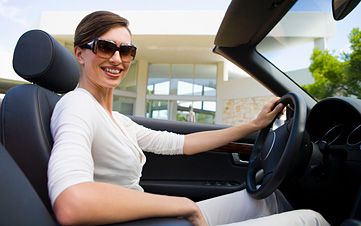 (Image credit: Thinkstock)
Cars are expensive enough, gobbling ever-pricier fuel, but there are times when even automotive skinflints should consider loosening their grip on that dollar. We've identified some purchases -- for car shoppers and car owners -- where the payoff's worth the extra expense. Don't cheat yourself out of safety or the joy of driving.
1/8
Replacement Tires
Tires are notoriously hard to shop for, being universally round and black. Many folks just throw up their hands and buy the cheapest thing that can keep their rims off the pavement. Big mistake: Tires are the single most important thing you can purchase to affect the safety, handling and ride of your car.
We can't tell you exactly what the best tires are for your car: That's part of the problem -- it varies. You'll need to do some homework, and this tool from online vendor The Tire Rack can help. One tip: As you shop around, don't make the tire's wear rating (how long it lasts) your top priority. Look instead for a top traction and temperature rating. Those indicate how well the tires will stick to wet roads and run at high speed under a heavy load (basically, an indication of the tire's resistance to blowing out). Surely that matters more than getting a few more miles out of your donuts.
2/8
Built-In Navigation System
A built-in navigation system can add thousands to the cost of a new car, and that gives many folks pause, especially if they're already holding a GPS in their hand -- their mobile phone. But dealing with a phone as navigation device while driving can be fiddly and dangerous. You wouldn't text while you were driving, right? (Don't answer that.)
The top reason to buy the factory system is safety: not just because navigating with a built-in system is easier, but because it frequently serves as a big screen for a rearview camera. The National Highway Traffic Safety Administration estimates that nearly 200 people are killed each year in back-over accidents. Also, the screen typically serves as a multifunction display that allows you to control your music, climate, and other aspects of your ride more easily (and easier means safer, thanks to less time with your eyes off the road).
3/8
A Nicer Towel
No, not for you, silly -- for the car. For some people, washing the car means taking it to the car wash. For others, it's a driveway ritual involving exotic potions and cotton swabs. And for a lot of us, it's just another chore to squeeze in on the weekend. But you can make that task a whole lot more pleasant, and better for your car, with one of the new microfiber drying cloths. It's a splurge not to use those free old bath towels, but the $10 - $20 you shell out for a few of these will save you time and laundry, and reduce the risk of scratching your paint. A friend swears by Meguiar's Water Magnet Microfiber Drying Towel.
4/8
Safety Options
The federal government has mandated electronic stability control (including antilock brakes and traction control) for all 2012 cars and light trucks. So, that's taken care of. Still, on many cars, there remain options that can enhance your safety. Consider:
-- Blind-spot information systems. Using cameras or radar, these systems let you know if there's something lurking over your shoulder, with a light in or near the mirror -- or by beeping if you put on your turn signal.
-- Collision avoidance systems. There's a car stopping short ahead and you're not paying enough attention (that phone?). But your car is: As the distance closes, it senses that you're running out of time to stop and tightens the seatbelts, makes the brakes more sensitive, pops up any headrests that have been folded down and closes the sunroof -- and warns you with lights and sounds. Some will even go ahead and brake if the situation seems dire enough. These systems are mostly found on high-end luxury cars, but you can add it to one of Kiplinger's 2012 Best in Class picks, the Ford Taurus SHO, as well as the Toyota Sienna minivan.
-- High-intensity discharge xenon headlights. It's rare that these brighter, whiter-burning bulbs aren't part of some other options package, but maybe you should use the safety margin they bring to go ahead and justify the sunroof that comes along with it.
5/8
Windshield Wiper Blades
Most new vehicles feature "beam-type" windshield wiper blades. Owners of older cars can catch up to this technology when it's time to replace wipers, as blade manufacturers such as Trico and Bosch have developed replacement blades that fit your car. Yes, they're pricier, but the extra few dollars spent here will help you keep a better view of the road ahead, with less chance of the blade freezing up in slushy winter driving.
6/8
Synthetic Oil
The argument about how often to change your oil will probably never be settled (we recommend you do whatever the owner's manual says), but the extra cost -- roughly one and a half times -- of synthetic oil can bring peace of mind to two groups of people: a) the folks who want nothing but the best for their treasured ride and appreciate synthetic's resistance to breaking down at high temperatures and better flow at low ones, and b) the people who can't quite remember to get the car in for an oil change on time. We're not recommending you skip service intervals -- particularly if you're under warranty -- but if you know you have a problem remembering, synthetic's durability will buy you a margin of safety to avoid engine damage.
If you lease your car, well, don't waste your money -- unless the owner's manual specifies a synthetic or you know you're going to buy the car when the lease expires.
7/8
Factory-Installed Sound Systems
It wasn't all that long ago that factory-installed sound systems in all but the fanciest of cars were a sucker's bet, such that even a smidgen of shopping on the aftermarket would provide you better sound for less money. But the pendulum has swung in favor of the carmakers, who have vastly improved your choices and, with more-complex dash designs, made it more difficult and costly to retrofit the cars. Spring for the factory-installed system when you buy the car, and splurge on the higher-cost options to get the best sound from makers such as Bose or Harman-Kardon.
8/8
Car Clubs
Splurge or prudent necessity? We're going with splurge here, because cars have gotten so much more reliable that your chances of getting stranded fall every year. Still, tires go flat, keys get locked in, and sometimes it's farther to the gas station when the low-fuel light's on than you imagined. Think of it as buying peace of mind, and consider yourself lucky -- not the loser -- if you don't actually use a tow or roadside service. And there are other benefits: The AAA member card, for example, can be presented for discounts off the road, too -- deals such as 10% to 20% off car rentals at Hertz, 5% off at Marriott hotels and 10% off at on-line jeweler Blue Nile.
Senior Online Editor, Kiplinger.com
In his current role as Senior Online Editor, David edits and writes a wide range of content for Kiplinger.com. With more than 20 years of experience with Kiplinger, he has worked on and written for a range of its publications, including The Kiplinger Letter and Kiplinger's Personal Finance magazine. He is a co-host of Your Money's Worth, Kiplinger's podcast and has helped develop the Economic Forecasts feature.