7 Ways to Lose $100,000 in a Hurry
It may be, as Bob Dylan sang, when you got nothing, you got nothing to lose.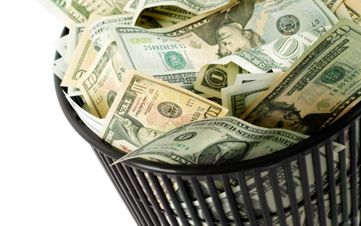 (Image credit: Thinkstock)
It may be, as Bob Dylan sang, when you got nothing, you got nothing to lose. But that's not the case for Americans who are trying to build college savings for their children, or for their own retirement. When you are on the road to building wealth over a lifetime, a market correction of 5% (August 2011) or a plunge of 37% (2008) can set you back quickly,
So what other events can shrink your nest egg -- and your retirement dreams along with it -- in the blink of an eye? Here are seven ways you might easily blow 100 grand in a hurry, and how to prevent that from happening.
1/8
Getting Hit With an Uninsured Home Repair
More than 60% of homes are underinsured, by an average of 18%, according to Marshall & Swift/Boeckh, a data provider serving the insurance industry. That could leave many owners vulnerable to significant out-of-pocket costs after a disaster.
Consider that in 2005, when Hurricane Katrina and subsequent storms destroyed as many as 350,000 homes across the Gulf Coast, the average paid flood claim was $97,028, according to the Insurance Information Institute (III). In 2007, when wildfires in San Diego torched more than 1,500 homes, the average paid insurance claim was $71,875, according to Verisk Analytics, a data source for insurers. Yet, one year after the wildfires, only 9% of homes had been rebuilt. "There are people lacking the $200,000 to $300,000 to rebuild," a recovery official told the San Diego Union-Tribune at the time.
How to protect yourself: Review your homeowners insurance policy annually to make sure you're covered for the full cost to rebuild. Ask your insurer about an inflation guard that is keyed to regional supply costs and, ideally, adjusts your coverage automatically every year.
Also, examine your policy for gaps in coverage: An extra $50 a year will buy you coverage for $10,000 - $20,000 in sewer back-up damages. Flood insurance to cover potential damages caused by water that enters the home from the bottom up starts at $129 a year through the National Flood Insurance Program (opens in new tab). And an earthquake rider will cost about $250 per year (opens in new tab) in regions that aren't prone to tremors.
2/8
Throwing a Lavish Wedding
What parents don't want a beautiful wedding for their little princess (or prince)? Small wonder that parents of the bride and groom covered 56% of wedding costs collectively last year, according to a study conducted by TheKnot.com and WeddingChannel.com, which surveyed 17,500 brides.
But wedding costs can quickly spiral out of control, with four out of every ten weddings exceeding the budgeted estimates. In 2011, there were as many as 85,000 weddings that cost $100,000 or more, according to TheKnot.com. The average wedding in New York City costs $76,687. That's a lot of money for one day of happiness.
How to protect yourself: Work with your adult child on a budget you can afford and stick with it. If that doesn't work, rather than "paying for a wedding that strikes you as excessive," advises Knight Kiplinger in his Money & Ethics column (opens in new tab), "offer to give the couple a significant financial gift to start them off in their lives together." They'd be able to spend the money however they wish -- either on the wedding or honeymoon or for a down payment on a home -- but be clear that it's all they will receive from you in the foreseeable future.
3/8
Blindly Trusting a Financial Adviser
Never forget the 2008 collapse of Bernie Madoff's investment advisory firm -- and with it the loss of more than $17 billion of individual and institutional investors' money. Among the 1,810 individual and family account holders who lost money to Madoff's too-good-to-be-true Ponzi scheme, the average loss was $2.8 million. All those well-heeled investors trusted him blindly. Sadly, Madoff's case is simply the highest-profile among many such frauds.
How to protect yourself: Start with the National Association of Personal Financial Advisors (opens in new tab), an association of fee-only professionals whose recommendations to you aren't swayed by potential commissions. Always conduct a background check on advisers you're considering. Search each firm's name at the SEC's Web site (opens in new tab) to review the adviser's Form ADV (opens in new tab) for any disciplinary actions. Also, ask the adviser for references from other clients with profiles similar to yours. And, most important, remember that if it seems like a too-good-to-be-true opportunity, it probably is.
4/8
Getting Injured or Sick Without Enough Insurance
If you suddenly become ill for six months or more, your nest egg could take a big hit trying to replace lost income.
The odds of you suffering an injury or illness that will keep you from working for an extended period of time are greater than you might think. At age 35, a typical male who works at an office job and lives a healthy lifestyle has a 21% chance of becoming disabled for at least three months at some point during his remaining career. The average length of disability for someone like him is nearly seven years, according to the Council for Disability Awareness.
You may benefit from disability coverage through your employer (opens in new tab), but it probably isn't enough to cover all of your monthly expenses if you can no longer work full-time. Such policies generally max out at 60% of your pretax salary (sans bonuses) and have a monthly cap of $5,000, on which you'd have to pay taxes. An injured worker with a $75,000 salary would get only $45,000 in disability benefits.
How to protect yourself: Add an individual disability policy, which generally maxes out at 65% of your pretax income. Benefits from individual policies are tax-free. The cost of such a policy varies by age, gender and occupation. Remember that healthy 35-year-old male above, working in a white-collar profession? Assuming he makes about $75,000 a year, a disability policy paying $4,000 in monthly benefits would cost $100 a month.
5/8
Striking Out With a New Small Business
Launching your own firm puts you in control of your career. The rewards are all yours -- and so are the risks.
The average cost of starting a small business from scratch is about $30,000, according to the Small Business Administration. However, if you're planning to open a more high-risk operation, such as a brick-and-mortar restaurant or retail store, which requires buying equipment, renting out building space and hiring employees, start-up costs can range from $150,000 up to $1 million. That's a huge financial risk to take considering that just half of all new small businesses survive their first five years.
How to protect yourself: Meet with an attorney to determine the right corporate structure to establish to limit your personal liability. Setting up your business as a limited-liability company, for instance, will shield you from any business debts, although not from lawsuits.
Consider low-cost opportunities to set out on your own. For instance, a mobile business -- see our slide show 8 Intriguing Businesses on Wheels (opens in new tab) -- avoids many of the expenses associated with brick-and-mortar operations. Start-up costs for mobile businesses range from $4,700 for a farm stand to $150,000 for a hair salon. And then there are franchises, many of which have low start-up costs (opens in new tab) and can even be operated out of your home (opens in new tab).
6/8
Seeking an Unnecessary Grad Degree
Obtaining a graduate degree in medicine, law, or education can be a ticket to lucrative new professional opportunities.
However, if you're a few years out of college, and already in an industry that puts a greater emphasis on real-world experience, such as communications and information technology, reconsider whether you really need an advanced degree. You could be setting yourself back by tens, even hundreds of thousands of dollars with no guarantee of higher earnings power.
"Grad school is expensive. You obviously have to pay for the courses, but you also need to consider the cost of living -- especially if you're working less or not at all [to attend]," says Hallie Crawford, an Atlanta-based certified career coach. On average, the cost of completing a two-year full-time MBA program at a top university, minus living costs, is $85,306, according to Bloomberg Businessweek's 2012 Best Business School Rankings (opens in new tab) report. Once you've factored in the full cost of tuition, books, living expenses and lost wages for two consecutive years, the total average cost for grad school jumps to $230,676.
How to protect yourself: Consider getting a certification or professional degree instead, as a means of making yourself more marketable to hiring managers. Learn from others in your field about the most cost-effective programs to advance professionally, Crawford advises. Professional certification programs are a much cheaper way to ramp up your skill set. At Georgetown University, in Washington, D.C., for example, tuition for the six-course certificate of business administration program is $5,370. Their full-time MBA program, which lasts 21 months, costs $157,800.
7/8
Getting Blindsided By a Lawsuit
You never know why or when you might get hit with a civil lawsuit, from being at fault in a car accident to your dog biting a passerby to a contractual squabble with a business partner. A typical automobile tort case can range from $18,000 to $109,000 in legal fees, which includes expert witness, paralegal and attorney fees, according to the National Center for State Courts' Courts Statistics Project. The median cost for a breach-of-contract lawsuit that goes to trial is $91,000. And that's just the cost to defend yourself. The median punitive judgment in civil suits is $64,000, with 13% of judgments exceeding $1 million.
How to protect yourself: Get a personal liability umbrella policy (opens in new tab). Insurers typically require you to have $300,000 in liability coverage on your home or vehicle before you can purchase an umbrella policy, which starts at $1 million of coverage. This type of policy protects you against lawsuits even if your net worth is less than that amount; the policy also covers legal fees. Coverage kicks in once you've used up your homeowners and auto liability limits. The first $1 million of coverage will cost about $200 to $400 annually. If you need an additional $1 million of coverage, that will run you an extra $75 to $100 a year.
8/8
Online Editor, Kiplinger.com
Browne Taylor joined Kiplinger in 2011 and is a channel editor for Kiplinger.com covering living and family finance topics. She previously worked at the Washington Post as a Web producer in the Style section and prior to that covered the Jobs, Cars and Real Estate sections. She earned a BA in journalism from Howard University in Washington, D.C.