8 Intriguing Businesses on Wheels
Mobile business is awfully trendy these days, but the road to success can be pretty bumpy.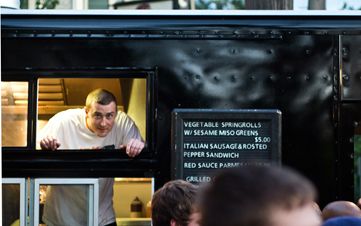 (Image credit: Flickr/reallyboring)
Mobile business is awfully trendy these days, but the road to success can be pretty bumpy. Gas prices. Government regulations. Inclement weather. If you're going to run a business on wheels, you have to prepare for potholes, literal and otherwise.
To help you map a smoother route, we interviewed eight entrepreneurs who run their businesses from the drivers' seats of trucks, buses, vans and, yes, 16-person bicycles. These aren't your neighborhood ice-cream vendors. Jared Rosenthal sells paternity tests from a revamped RV in New York City. Chris Lower, owner of Big Truck Tacos in Oklahoma City, claims to pull in $3 million a year between his mobile taqueria and sit-down restaurant of the same name. While their businesses and business models vary widely, many of their challenges are the same.
Check out these eight mobile businesses, from boxing trucks to bicycle pubs, and see what advice their owners offer to other aspiring freewheelers.
1/9
DNA- and Drug-Testing Lab
Name: Who's Your Daddy?
Location: New York City
Start-up costs: About $10,000
Annual revenue: N/A, but it claims to turn a profit
Monthly gas bill: $2,000
On the road since: 2012
You might say risk is in Jared Rosenthal's DNA. The Bronx-based entrepreneur was the CEO of a $50-million company before he left to start his DNA- and drug-testing lab (opens in new tab), Health Street. Soon he had an unconventional idea: What if he took the lab to the streets?
Who's Your Daddy? is a mobile DNA- and drug-testing lab housed in a retrofitted RV. From the inside of his office-slash-testing-site, Rosenthal can take patient samples, file paperwork and send the samples to a remote lab – for $79 to $599 a pop. Setting up the truck wasn't easy, and Rosenthal struggled to get a loan. But now, he enjoys a steady business at hospitals, jails, job fairs and accident sites across the tri-state area. "We see every possible situation you can imagine," Rosenthal says with a laugh. "I did a 90-year-old man's DNA test once. Rich, poor, every ethnicity and culture – we get everybody."
Operating costs are steep. In addition to paying for gas for the RV and its generator, Rosenthal shells out for frequent maintenance, weekly washings, $400 a month for insurance, employee salaries, and one or two parking tickets each day. In order to save money, he ends up doing a lot of menial tasks, such as driving and fixing the truck himself. "You have to tolerate the roller coaster," he cautions. "It's not always up, up, up -- it's up and down."
2/9
Gym
Name: The Boxing Bus
Location: Raleigh, N.C.
Start-up costs: $5,950
Annual revenue: $40,000
Monthly gas bill: $200
On the road since: 2005
Rick Harper ran a chain of successful gyms for two years before noticing a trend: While business at his boxing clubs and boot camps was pretty brisk, some customers wanted him to come to them. So he bought an old bookmobile for $1,000, installed a new sound system and some gym equipment, and took to the streets of Raleigh, N.C.
Most of Harper's business comes from regularly scheduled home visits, though about one-fifth of his clients are companies that hire the bus for employee use. Harper says it has been a challenge to convince some customers of the value of mobile fitness stations. His bigger struggle, however, is fluctuating gas prices. Adjusted for inflation, a gallon of gasoline cost $2.69, on average, in 2005, the year The Boxing Bus first hit the road. Since then, prices have risen more than 36%, to $3.68 a gallon.
Despite that needling concern, Harper says he turns a tidy profit. His advice to entrepreneurs: "Go for it," even if your business sounds a little far-fetched. "Do not let anyone destroy your dreams."
3/9
Hair Salon
Name: Sterlings Mobile
Location: San Diego
Start-up costs: $150,000
Annual revenue: Too soon to tell, but $7,000 in most recent month
Monthly gas bill: $400
On the road since: 2012
Kush Kapila's switch from product manager to mobile-salon CEO was inspired by – what else? -- a bad haircut. Kapila figured he could improve on the hassle of scheduling an appointment at a salon, while also appealing to the busy professional set that made gourmet food trucks popular. Two years later, after hefty investments from Kapila's family, friends and business contacts, a silver Airbus equipped with its own generator, water tanks and three barber's chairs hit the streets of San Diego.
Unlike many freewheeling businesses, Sterlings Mobile isn't mobile all the time. The company partners with big corporations and office parks, then drops the Airbus off for a day or two each month. While that cuts down on gas, it creates other problems. Kapila says it's hard to market a business that only appears in customers' neighborhoods every once in a while. For that, he leans on the Internet: Facebook, Twitter, a sleek Web site and a handy scheduling app that includes calendar invites and e-mail reminders for busy professionals.
It's a little early to evaluate how well those techniques, and Sterlings Mobile, are doing. But according to Kapila, revenue has grown by about 30% in the salon's first five months – and he's grown a bit, as well. "There is a solution to every problem," he says. "Each problem you solve becomes a barrier, making it harder for someone else to do what you are doing."
4/9
Food Truck
Name: Big Truck Tacos
Location: Oklahoma City
Start-up costs: $115,000
Annual revenue: $600,000 (trucks only)
Monthly gas bill: $200 per truck
On the road since: 2009
If you want to own a food truck, you've got to go the distance. Chris Lower drove all the way from Oklahoma City to Los Angeles to pick up his first vehicle, a $15,000 truck he bought sight-unseen on eBay. Lower already had a long history in the brick-and-mortar restaurant business, owning several successful OKC restaurants before going mobile. In fact, Big Truck Tacos still maintains a sit-down presence, which may serve as a lesson for aspiring food truckers -- Lower says 80% of his revenue still comes from his conventional restaurant space.
So why even bother with trucks? It helps that, in Oklahoma, at least, the market isn't particularly crowded. Big Truck's novelty (and of course, its tacos) have propelled it to local and national fame, with more than 25,000 Facebook followers and a splashy appearance on the Food Network. Plus, Lower adds, the trucks provide flexibility that a fixed restaurant never could.
That doesn't mean it's been entirely smooth driving, of course. "Most locales don't really know how to deal with the new phenomenon of food trucks," Lower says. "A small town near us asked us to apply for zoning, just like a new restaurant building would. Crazy!" For Lower, though, it's been worth the ride(s). "I have opened and operated two of the best restaurants in the Oklahoma City metro area," he says. "But nothing as funky as the taco business."
5/9
Florist
Name: The Flower Truck
Location: Los Angeles
Start-up costs: $15,000
Annual revenue: N/A (declined to divulge)
Monthly gas bill: $300
On the road since: 2011
Retail space in trendy Santa Monica can run as much as $15 per square foot, but in her mobile flower shop, Jenifer Kaplan never has to worry about rent. The Flower Truck, a converted ice cream truck that Kaplan found on Craigslist, picks up flowers at a wholesale market every morning and cruises around Venice, Santa Monica and Beverly Hills, selling bouquets to passers-by.
Kaplan started the business with a $15,000 investment and a little decorating help from her friends. After finding the truck, she spent two months repairing and retrofitting it before hitting the road on Valentine's Day 2011. Though Kaplan is coy about her revenue, the truck has enjoyed an abundance of local press and a packed summer schedule. It makes frequent appearances at street fairs and farmers' markets, as well as at private events, such as weddings and business functions. The best part of running a mobile business, Kaplan says, is that "you can go to the customers rather than waiting for them to come to you."
But it's not all roses for The Flower Truck. Kaplan says it's difficult to find a good, profitable route. And for a mobile business, April showers often result in fewer flower sales. But Kaplan says her love for her work gets her through it. "Choose something you have a passion for," she advises other entrepreneurs. "Even when sales are slow, you'll still have a good time."
6/9
Farm Stand
Name: Diggers' Mirth
Location: Burlington, Vt.
Start-up costs: $4,700
Annual revenue: $5,000
Monthly gas bill: N/A
On the road since: 2009
Organic produce is usually left to upmarket grocery chains and bourgeois farmers' markets. But the people behind Diggers' Mirth, a collective farm in Burlington, Vt., thought a truck could change that. "We'd seen people sell their vegetables off of trucks in other countries," says Hilary Martin, one of the co-owners of the farm. "I think we reach a wider cross section of our community by heading into the streets."
Because of its civic mission, the Diggers' Mirth truck focuses less on business objectives -- and turns less profit -- than many mobile businesses do. The truck operates only 11 weeks out of the year, selling at two farmers' markets, wholesaling to local stores and restaurants, and wheeling through low-income neighborhoods in Burlington's Old North End. In those neighborhoods, the truck sells its crop at wholesale prices, and it always gives away watermelon slices.
Still, Diggers' Mirth has a pretty smart thing going on. Overhead is low – gas, licensing and debit fees are the truck's only expenses – and the farm generates revenue when the truck does not. "Keep it simple," Martin says, "and make sure you're having a good time."
7/9
Tanning Salon
Name: AZ Mobile Tanning
Location: Phoenix
Start-up costs: $20,000
Annual revenue: Less than $75,000
Monthly gas bill: Varies month to month
On the road since: 2011
Alison Carpenter didn't have much start-up capital for her mobile spray-tan salon, but she did have a great idea – and a resourceful, do-it-yourself attitude. She and her husband gutted and redecorated a 13-person shuttle bus themselves, tearing out seats, laying laminate flooring, and installing cabinets and countertops by hand. Three months and $20,000 later, the business was up and on the road.
The drive hasn't exactly been easy: Carpenter says she struggles in a down economy, when many consumers cut back on luxuries such as tanning. She also can't predict expenses, such as gas, from day to day because the "tan van's" daily mileage varies based on where she drives for private parties, home visits and other events. Despite the vehicle's measly ten miles per gallon – and the unsteady price of gas -- Carpenter is glad she went mobile. "I wanted the flexibility to go out into the community and find the business, instead of hoping and praying they would find me," she says.
Has that strategy paid off? Not quite as much as she hoped, Carpenter says. But she's convinced that with a little more time and hard work, the van will turn a bigger profit. "In my mind, tenacity equals success," she says. Those aren't the only factors in her business formula. Carpenter also recommends exhaustive research, including interviewing other mobile business owners, before hitting the road yourself.
8/9
Bar
Name: PedalPub
Location: Minneapolis-St. Paul, Minn.
Start-up costs: $55,000
Annual revenue: $1 million
Monthly gas bill: None
On the road since: 2007
By day, Eric Olson is a business professor at Normandale College. By night, he's a home-brew enthusiast and half the team behind PedalPub, a bicycle bar that runs – you guessed it – on wheels.
Olson first saw the zany 16-person bikes when a fellow home-brewer sent a picture back from Europe. Olson liked it so much that he and friend Al Boyce contacted the Amsterdam-based bike company and ordered one of their own for stateside use. Initially, Olson organized scenic tours and pub crawls around the Twin Cities, but as word got around, so did his business. PedalPub now has 12 bikes and 19 licensees, all managed from Olson's home office. Each of those bikes turns a healthy profit, he says: 240 tours per season, $350 per tour.
Like the business professor he is, however, Olson warns other entrepreneurs not to expect a profit too quickly. "Plan that your business won't make money for the first three years," he says. "Figure out how you'll pay your personal expenses." He also advises against taking out a loan if you can save some start-up capital yourself, and he recommends turning to business organizations such as SCORE for help and mentoring. All that hassle is worth it, though: "My work pays off for me," Olson says. "Not for someone else."
9/9